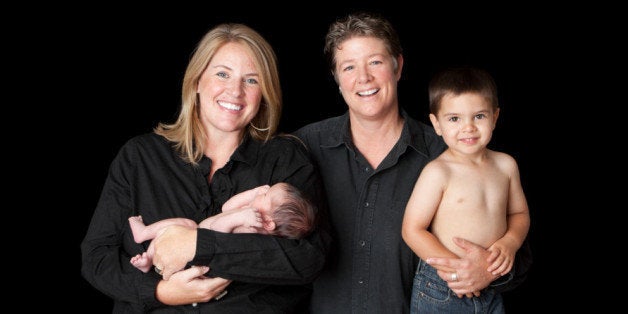 It is more difficult for newly married same-sex couples in Utah to adopt, according to lawyers handling such cases, after the attorney general on Monday began urging judges to reject adoption applications from same-sex couples.
"It feels terrible," said Kathy Harbin, who married her partner of nine years in Salt Lake City last December, a few days after a federal judge struck down the state's ban on same-sex marriage. "The state acts like, if it puts all of these things in place that stop us, there won't be any gay parents. I don't think they know that there are thousands of us who already have children and all they're doing is making it harder for us to give them all the things that parents want to give their kids."
Harbin and Michelle Call wedded with the hope that Harbin could adopt the two young boys the couple is raising together. But less than two weeks later, the Supreme Court agreed to the state's request to stop same-sex marriages until an appeals court hears the case in April. In the meantime, nearly 1,400 couples who wed in those weeks are stuck in legal limbo -- uncertain whether the state will eventually recognize their unions.
Under Utah law, couples must be legally married in order to adopt, said Harbin's lawyer, Janelle Eurick Bauer. Some judges in the state reportedly have granted adoptions to married same-sex couples despite the ruling to stop such weddings. But the memo issued by Attorney General Sean D. Reyes Monday urged judges to reject such applications until Utah's gay-marriage ban is resolved in court.
At a press conference on Friday in Salt Lake City, Harbin joined several other couples who want to adopt. "There is no law whatsoever that prohibits them from adopting their children," Bauer told The Huffington Post.
Missy Larsen, a spokesperson for Reyes, said the office issued the memo after a number of judges sought guidance on these cases. "It's all based on the fact that we just don't know the validity of the marriages, and we won't until the court determines that," said Larsen.
The memo does not "determine what the judges do," she added. "They asked for legal information, but they're not beholden to that information."
After U.S. District Judge Robert Shelby struck down the state's marriage ban, Utah Gov. Gary Herbert was criticized for saying that the decision "created a chaotic situation."
"The governor was really put down for saying that it leads to chaos," Larsen said. "Well, here is some of the chaos that this has led to."
But for Harbin, chaos has been a possibility for a long time; if something happened to Call, who gave birth to Leo, 3, and Louis, 6 months, Harbin would have no legal right to continue raising them.
Even routine matters like doctor visits can be complicated, Harbin said. When it's time for a check-up, Call has to sign off on Harbin as their caregiver. "We knew we'd have to jump through all these different hoops and we'd always live in danger of losing the kids," said Harbin, who is 49 and manages a retail business in Salt Lake City. "But we just felt like we're going to do the best we can to have it work."
Adopting the children would also spare her from further explanation when they get older. "The thing that feels the most uncomfortable," she said, "is for the boys to have to understand that for some reason their family is not as good as somebody else's family."
Popular in the Community