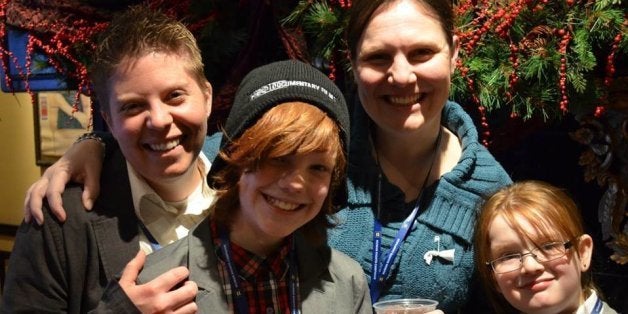 Utah's ban on gay marriage harms the children of gays and lesbians, despite arguments the state has made to the contrary, according to an amicus brief filed Tuesday by a group of national and state gay rights organizations.
The brief includes testimony from some of these children, who talk about growing up with gay and lesbian parents and how the same-sex marriage ban affects them. It was filed in the challenge to Utah's ban now before the U.S. Court of Appeals for the 10th Circuit.
"Family is really important in Utah and [Gov. Gary Herbert and the state of Utah] claim to want to protect families, but it hurts me and my brother to not be able to have married parents," one 12-year-old, identified by the initials R.H.P., told the authors of the brief. "My parents are good moms and are patient with me and are just regular people."
The amicus brief is one of dozens submitted to the appeals court this week in support of same-sex marriage in Utah and the latest to be filed by a coalition of groups led by the Family Equality Council. The coalition has filed similar memos in marriage fights in Nevada and Hawaii and at the U.S. Supreme Court.
Last year, Justice Anthony Kennedy referred to one such brief during oral argument in the Supreme Court's gay marriage cases and in the majority opinion in United States v. Windsor, the landmark decision to strike down the Defense of Marriage Act section that barred federal recognition of state same-sex marriages. Kennedy said that the voices of children of gay and lesbian parents were "important." He wrote that DOMA "humiliates tens of thousands of children now being raised by same-sex couples."
The state of Utah, like many gay marriage opponents before, argued in a lengthy brief last month that allowing gays and lesbians to marry "poses real, concrete risks to children." When the state restricts marriage to straight couples, it encourages "child-centric" marriages and "selfless parenting," the state's lawyers wrote. Their brief suggests that if wedding doors are opened to gays, generations of children will be harmed.
"So many of our opponents have made that argument," Emily Hecht-McGowan, director of public policy at the Family Equality Council, told The Huffington Post. "All of the folks who have been anti-marriage equality have been professing to speak on behalf of our children, but up until the point where we filed our first brief, nobody had actually thought to ask children raised by same-sex couples what their experience had been. Overwhelmingly their experiences have been good."
The Huffington Post spoke to a handful of kids of gays and lesbians in Utah who participated in the Family Equality Council's brief. All were bewildered and upset by the state's argument that growing up with gay parents somehow harmed them.
"I'm perfectly fine. My brother's perfectly fine. There's nothing wrong with us," said Riley Hackford-Peer, a 12-year-old whose moms were married in December.
The state's argument is "kind of bully-like," he added.
All the children interviewed said that the most difficult aspect of having gay parents in a conservative state like Utah has nothing to do with the quality of parental support.
Rieley Frederick, a 14-year-old whose dads were married late last year, said one of her teachers recently told a story about a gay man who was not "loyal" to his partners. The teacher said that gay people shouldn't be allowed to get married.
"It's not true, it's just not true. My dad's been loyal my whole life," Rieley said. She hopes that if Utah's ban is overturned, this kind of talk might stop, eventually. "I think after a while, people would realize that it's just part of life and they can't just talk about people that way," she said.