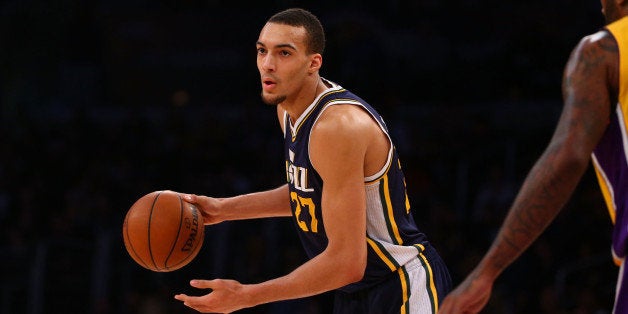 Last season, the Utah Jazz went 38-44 and were generally not a factor in the stacked Western Conference of the NBA. Heading into this season with the second-youngest team in the entire league, with an average of just 24.6 years old according to Real GM, the Jazz will be relying on center Rudy Gobert to be the rock of the squad on the inside.
Last year, Gobert's 8.4 points and 9.5 rebounds per game were certainly not eye-popping numbers. However, if you look past these basic numbers, you'll certainly be impressed and optimistic about the Frenchman's future.
He played in all 82 games and played a lot of minutes for a player of his size at his position. The NBA season is a long, arduous path, especially for frontcourt players, who tend to be more fragile than backcourt players, due to the constant contact down on the block. This showing of durability also put to rest claims that the big man would be facing injury concerns throughout his career, after missing 37 games during his rookie season.
He started 37 games in 2014-2015, due to Enes Kanter's departure midway through the season. In those starts, he was a nightly double-double threat and averaged 10.6 points and 12.4 rebounds per contest.
While as a reserve, Gobert didn't see major minutes, but after he became a starter, he recorded 30-plus minutes in 32 of his 37 starts, including two 40-plus minute nights. As a starting center, he logged 34.4 minutes per game, which is a testament to his physical fitness. Another main reason? He committed just 2.1 fouls per game as a starter, which is remarkable for an interior post defender in today's NBA.
Gobert ranked 3rd in the NBA with 2.30 blocks per game. This is despite not getting major minutes for over half of the season. But, that's just the beginning of trying to quantify his efficiency on the court. In fact, he blocked 7.0 percent of total two-point shots taken against him, good for the second-best mark in the NBA among qualified players (John Henson was first with a 9.2 percent mark).
The three qualified centers who ranked above Gobert's Player Efficiency Rating of 21.6 last year were DeMarcus Cousins (25.2), Brook Lopez (22.7), and Marc Gasol (21.7). Player Efficiency Rating is a measure of per-minute production that's standardized so that the league average is 15.0. For comparison, Gobert ranked ahead of star players like Carmelo Anthony, Kyrie Irving, Andre Drummond, Al Horford, Dwyane Wade, DeAndre Jordan, Klay Thompson, Dwight Howard, John Wall, and Damian Lillard in this regard. This doesn't suggest that he's better than these players, per se, but it does mean that he was more statistically-productive during his time on the court.
He also appeared towards the top of other metrics, finishing 5th among qualified players in Total Rebound Percentage (20.7), which is a measure of the number of available rebounds the player brought in while on the court. Translation: Gobert was hungry for the basketball.
Gobert ranked 15th in the NBA in Win Shares, adding 9.3 wins to the Jazz's season output and ranked 7th in Defensive Win Shares, at 4.3. In addition, he ranked 11th in VORP (Value Over Replacement Player), at a 4.3 mark, thus further bolstering claims that he was one of the most productive frontcourt players in the NBA while on the hardwood last season.
As we have seen with players like Miami's Hassan Whiteside, finding a center who can be the defensive cornerstone of the franchise is a luxury that can't be ignored. Like Whiteside, Gobert is raw offensively, but possesses incredible length and ability on the defensive side of the ball. Unlike Miami, the Jazz don't have key role players to take over the scoring load (Derrick Favors and Gordon Hayward are not Chris Bosh and Dwyane Wade by any stretch of the imagination). Therefore, I fully expect Gobert to have more potential on the offensive side of the ball mainly because he will have more opportunities to score the basketball.
Head coach Quin Snyder also seems to be adamant about Gobert demanding the ball on the low block heading into this season.
Last season, he took 6.7 shots per game as a starter, making 59.4 percent of the high-percentage opportunities close to the rim. Look for him to up these numbers, especially after a confidence-building offseason dominating with the French National Team in international competitions. Defensively, I can see him easily cracking the top 10 in terms of rebounding, and I fully expect him to lead the league in blocked shots.
What's truly amazing is that eight other centers were selected before Gobert in the 2013 NBA Draft. Those general managers must be kicking themselves now, since they passed up on who I think will become the NBA's best French player in 2015-2016 and one of the best all-around centers in the league for years to come.
Look for an All-Star appearance in 2015-2016 for Gobert with many more on the horizon.
Calling all HuffPost superfans!
Sign up for membership to become a founding member and help shape HuffPost's next chapter