A Utah man has been charged with aggravated assault for allegedly beating a Latino father and son outside their tire shop in Salt Lake City after yelling about his hatred of Mexicans.
Salt Lake City police on Friday charged Alan Dale Covington, 50, with two felony counts of aggravated assault, as well as three weapon and drug charges.
Though Covington allegedly shouted about wanting to "kill a Mexican" before attacking the two unfamiliar men, the Salt Lake County District Attorney's Office did not charge him with a hate crime. Utah code prevents charges more serious than misdemeanor assaults from being prosecuted as such.
"Although we want to pat ourselves on the back and say we have a hate crime statute, it's really not enforceable," Salt Lake County District Attorney Sim Gilltold The Salt Lake Tribune. "It's only applicable to the lower offenses."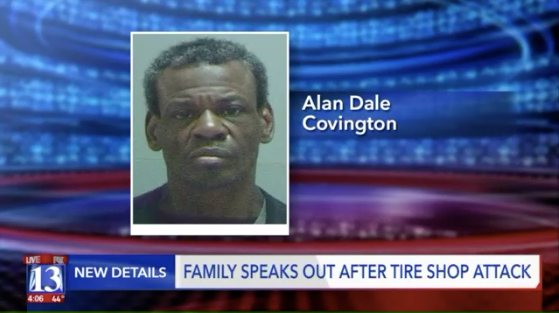 Covington was arrested Tuesday after he allegedly attacked Jose Lopez, the 51-year-old owner of Lopez Tires, and his 18-year-old son Luis Gustavo Lopez outside their Salt Lake City shop.
Covington allegedly approached the son and began threatening him and shouting "I hate Mexicans" and "I'm here to kill a Mexican." He then allegedly asked the teenager, "Are you part of the Mexican Mafia?"
The Mexican Mafia is a notorious prison gang largely based in California. It's unclear why Covington suspected the Lopezes were connected to the gang, though he reportedly told police that he knew the family was Mexican and that "all of them know each other."
Jose Lopez told police he ran outside after hearing the commotion and found Covington with a metal bar in his hand, which he began swinging at them.
Lopez's son allegedly grabbed a rod from a tool chest to defend his dad and himself, but the assailant whacked him in the face with the bar, knocking him unconscious. Covington allegedly continued to beat Jose Lopez and his son until Jose's brother came to check on what was happening after hearing the noise. Covington then fled the scene, police say.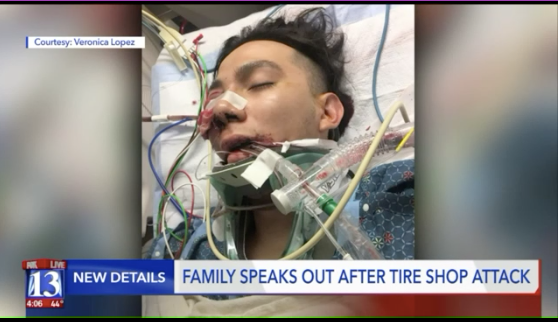 Veronica Lopez, Jose's daughter, described her family members' conditions in a GoFundMe page she set up to raise money for their medical expenses.
"My dad got 8 stitches in his arm and has his back severely bruised due to the blows he received," according to the page. "My brother's right side of his face was shattered, he had a three hour surgery to place a titanium plate from the right side of his face to his nose to be able to attach the bones and keep his eyeball in place and a plate under that."
Police say Covington, who has previously served prison time for assault and domestic violence, harassed employees at a nearby salon before stopping at the tire shop, according to the Tribune. Covington has "some mental health issues" and was under the influence of drugs at the time of the attack, according to officials.
Veronica Lopez told the Tribune that she is "extremely disappointed" that the case won't be handled as a hate crime.
"It makes my blood boil," she told the newspaper. "What do they want next? Do they want him to kill someone to see that he's dangerous?"
Popular in the Community