Utah voters are on the verge of getting a chance this November to do what the state's GOP leaders won't: expand health coverage to an estimated 150,000 low-income adults.
Utah Decides Healthcare, a coalition of activist groups, health care organizations and consumer advocates, submitted enough signatures from Utahns to place an initiative on the ballot this November that would expand Medicaid under the Affordable Care Act, the organization announced in a press release Monday. State officials have to review the signatures and are expected to decide next month whether enough are valid to put the initiative on the ballot.
Utah is one of three states where voters may get an opportunity to go around their governors and legislators to expand Medicaid.
There are similar campaigns underway in Idaho and Nebraska. Mainers voted for the Medicaid expansion last year, making it the first state to enact the policy through direct voter action. Maine Gov. Paul LePage (R), however, has thus far refused to implement the Medicaid expansion.
The Affordable Care Act's authors intended a nationwide expansion of Medicaid eligibility to anyone earning up to 133 percent of the federal poverty level, which is about $16,000 a year for a single person and $33,000 for a family of four. In 2012, however, the Supreme Court ruled that states could opt out of the expansion.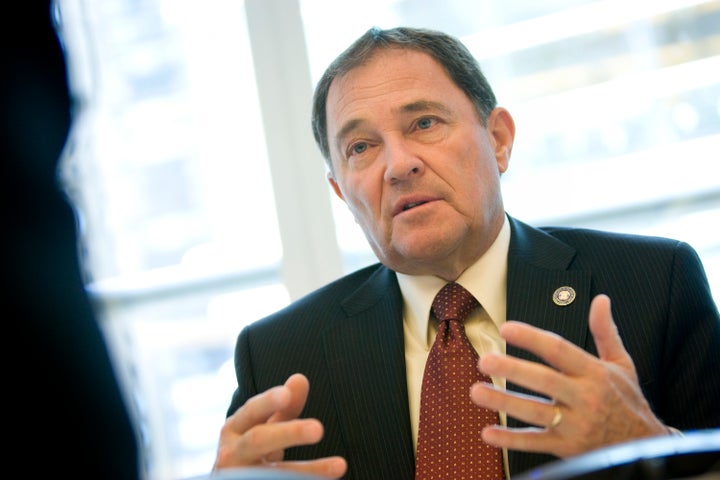 Utah, Idaho and Nebraska are among the 18 states that have refused to participate. The federal government covers at least 90 percent of the cost of the expansion, with states responsible for the remainder.
Medicaid expansion has been a subject of debate in Utah since the Supreme Court ruling. At times, Gov. Gary Herbert (R) has expressed support for some form of expansion, but it hasn't gained enough support in the majority-Republican legislature to move forward.
The Utah Senate approved a privatized version of the expansion two years ago, but the state House didn't act on it. Last year, the state implemented a small Medicaid expansion targeting about 6,000 homeless people and low-income people with substance-use and mental health problems.
In March, Herbert signed a bill that would expand Medicaid eligibility to up to 100 percent of the poverty level, which is about $12,000 for a single person and $25,000 for a family of four. The move would extend coverage to an estimated 72,000 people.
That partial expansion, however, depends on federal approval, which isn't assured.
The Affordable Care Act is explicit that the extra federal money available to states for broadening Medicaid eligibility only applies to expansions to 133 percent of poverty. President Barack Obama's administration wouldn't permit these partial expansions, and President Donald Trump's administration would be on shaky legal ground if they approved Utah's request. The Trump administration last month declined to approve Arkansas' request to scale back its Medicaid expansion to 100 percent of poverty.
Medicaid expansion enjoys the support of a majority of Utahns, according to a poll conducted in January by The Salt Lake Tribune and the University of Utah's Hinckley Institute of Politics.
The survey found that 62 percent of the state's residents want to see Medicaid expanded. That includes 51 percent of Republicans who were polled, along with 93 percent of Democrats, the Tribune reported in February.
Utah Decides Healthcare had to collect 113,143 signatures by Sunday to put expansion on the ballot, a figure that represents 10 percent of the number of Utahns who voted in the 2016 presidential election. In addition, the signatures had to come from across the state, with at least 10 percent of 2016 presidential voters in 26 of 29 state Senate districts.
In the end, the coalition met the geographic requirements and exceeded the overall threshold by gathering signatures from more than 165,000 people, Utah Decides Healthcare announced.
Activists in Idaho and Nebraska are hoping to duplicate these results.
Reclaim Idaho, a grassroots outfit founded last year, has until May 1 to collect 56,000 signatures. As in Utah, they must come from all over the state. The total must be at least equal to 6 percent of the state's registered voters, and they must meet the same threshold in 18 of Idaho's 35 state legislative districts.
In Nebraska, a coalition called Insure the Good Life ― made up of progressive groups and health care advocates, including the Nebraska Hospital Association ― is leading the campaign.
To put Medicaid expansion on the ballot, activists in Nebraska must gather 85,000 signatures, representing 7 percent of the state's registered voters, by July 5. Nebraska also requires that the signatures be from around the whole state, so the activists must get signatures from 5 percent of registered voters in 38 of the state's 93 counties.
CORRECTION: An earlier version of this article misstated the number of counties in Nebraska. It is 93, not 92.
Calling all HuffPost superfans!
Sign up for membership to become a founding member and help shape HuffPost's next chapter