A Utah officer wants to educate the public that animals as well as humans can be victims of drug crimes.
Officers were alerted to check a hotel room, where they found an unconscious man who had an abundance of drugs in his system.
Heroin and drug paraphernalia littered the room, along with stolen checks and stolen personal information. Officers then found a malnourished puppy hiding in the bathroom.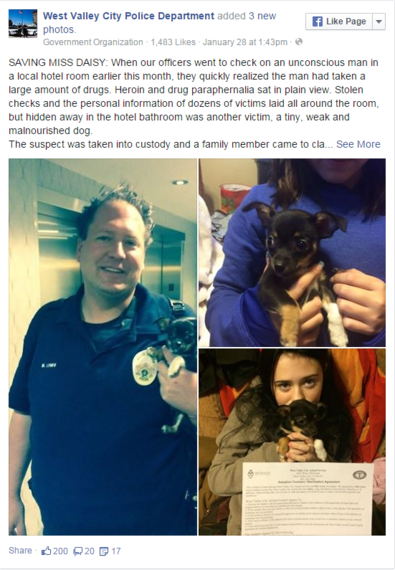 The puppy was brought to animal control by Detective Lynes, who said he couldn't get her out of his head since delivering her to animal control.
After waiting the mandatory time span to see if the puppy was claimed, which she was not, the detective adopted the puppy immediately and named her Daisy.
He and his puppy are very happy together, and he looks forward to bringing Daisy to events to remind the public that animals can also suffer due to drug crimes.
This detective's kindness and generosity are truly inspiring, and no victim is too small to be rescued, for these moments show what we are truly made of. Congratulations, Detective Lynes and Daisy!
REAL LIFE. REAL NEWS. REAL VOICES.
Help us tell more of the stories that matter from voices that too often remain unheard.