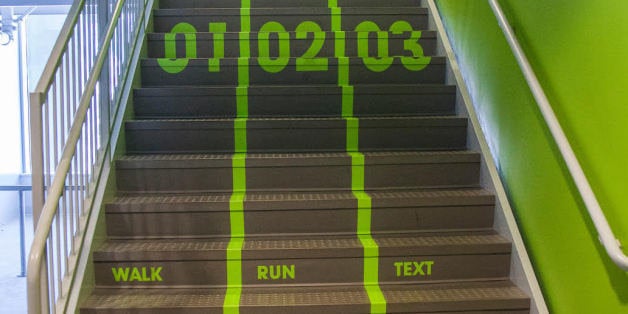 While less deadly than texting drivers, texting walkers are now getting their own public intervention. Utah Valley University unveiled a "texting lane" June 7 with the hopes of calling the attention of phone-absorbed students.
As students head to the new Student Life and Wellness Center at the Orem, Utah, institution, they will be diverted into one of three lanes, labeled "walk," "run" and -– in keeping with the times -– "text." The lanes themselves make up a track that imitates the athletic facilities within the complex.
The school's creative director, Matt Bambrough, designed the graphic mostly to draw students' attention.
"This design was intended to be visual first and functional second," Bambrough told The Huffington Post. "In our research, the most successful environmental graphics... match that formula."
"This graphic is obviously more aesthetic than functional," he said in a press release, adding, "we've noticed that most texters aren't actually following the posted lanes."
The reality is that texting while walking can have legitimate harmful effects. Each year thousands of pedestrians end up in the emergency room due to walking and texting injuries -– a number that increased fivefold between 2005 and 2010, as cell-phone usage surged. More than half of all cell phone owners have experienced "distracted walking" -- bumping into something or someone -- according to a recent Pew Study.
Despite the dangers of looking down, Bambrough insists that the lane better serves the purpose of making students look up.
"This was certainly done in a way that was meant to be fun and not to be a directive of the university," Bambrough explained. "We have 18- to 24-year-olds walking on campus glued to their smartphones, it's the nature of the world we live in."
Utah Valley may be a "text lane" pioneer on campus, but the the concept has been appropriated for publicity stunts on sidewalks all over the world, from Belgium to China to Washington, D.C.
Check out photos of the "texting lane" at Utah Valley University: