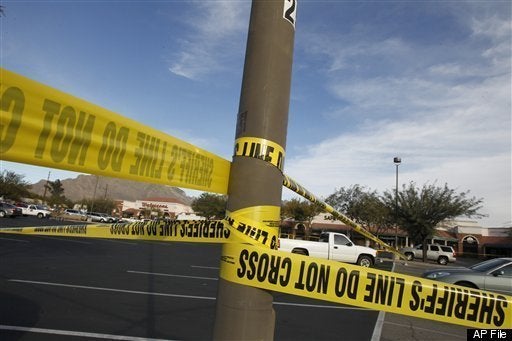 Utah police shot and killed a man within seconds of storming his parents' home, video of the raid shows. The police had a warrant to search for drugs, but found only a small amount of pot and an empty vial that had apparently contained meth.
Local media report that Todd Blair, 45, was a drug addict rather than a dealer, according to friends and family.
In the video, Blair can be seen holding a golf club above his head as police smash through his door. Within seconds, without demanding Blair drop the iron or lay down, Weber-Morgan Strike Force Sgt. Troy Burnett fires three shots into him. The local prosecutor has deemed the killing justified, but his family is planning a federal lawsuit, arguing that police had plenty of alternatives.
Blair's death raises the question of why multiple heavily-armed officers were sent to raid a drug addict -- and why Weber and Morgan counties in Utah would even need a "Narcotics Strike Force." Local police forces are able to keep property they seize in drug raids, often without the necessity of a conviction, creating a perverse incentive to reinvest in military equipment and carry out additional raids.
The Salt Lake Tribune reported that the main focus of the police investigation had been Blair's roommate, who police said in the application for the warrant would destroy evidence if they weren't given authority to carry out a "no-knock" raid. But police were aware that his roommate had moved out.
Police tried to detain Blair so that he wouldn't be in the house when it was raided, but pulled over the wrong person. Despite that mistake, and despite the knowledge that the roommate had moved out, the raid on Blair was still carried out. It was hastily planned, reported the Tribune, diverting from protocol. Burnett, who shot Blair, told investigators that it is "absolutely not our standard" to carry out such a raid with as little planning as was done, according to the Tribune.
It was so hastily carried out, in fact, that police forgot the warrant. According to the Tribune, in the video it obtained an officer can be heard asking: "Did somebody grab a copy of the warrant off my desk?"
Burnett replies: "Oh, don't tell me that." He then complains to the other officers: "He doesn't have a copy of the warrant."
Minutes later, Blair would be dead. "I didn't think about saying words. I just thought about not getting hit, or slashed or whatever," Burnett told investigators, saying that he thought the golf club was "a sword or something." He also said that it did not appear to him that Blair was moving toward him, an admission that could prove crucial in a federal criminal or civil case.
The killer, Sgt. Burnett, had previously told a law-enforcement magazine that he and fellow officers were trained to shoot quickly and at close range. Burnett had previously put the training to use by shooting and killing an armed suspect in 2008.
"Maybe a month before this [2008 shooting], we did our qualification and this kind of scenario was played out in live fire training where we had to quickly draw and fire at close range," Burnett said at the time. "It wasn't quite identical, but it was close. We were simulating taking down information and then all of a sudden had to drop it and fire quickly. I absolutely believe my training played a factor in this situation. I was always confident in my close-range shooting ability, and the ammo I'm absolutely pleased with. It did its job."
The below video of Blair's death, posted by The Salt Lake Tribune, is a graphic depiction of the type of raid that has become commonplace in the United States as a result of the militarization of local police forces.
Popular in the Community