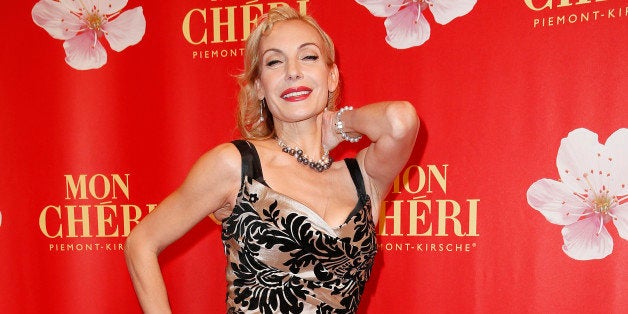 Last month, Ute Lemper, the famed singer and interpreter of works by Kurt Weill, Jacques Brel, Edith Piaf and more, extended her repertoire with the release of her latest album, "Forever: The Love Poems of Pablo Neruda." Recently set to music by Lemper and her collaborators, she is now sharing these poems live with the world through a series of performances, include a brief run this week at the New York City cabaret venue, 54 Below.
I had a chance to catch up with Lemper, who took a break from another recording session to talk about her passion for this latest project and excitement for the upcoming performances at 54 Below.
Lemper explains that as a performer often associated with the works of deceased songwriters and singers, she yearned to have a new collection of music written just for her. She knew that, she "wanted to take something from literature. Like the French and their tradition of taking great literature and poetry and putting it to music." However, she explained that the works had to be meticulously selected for a memorable and lasting impression. "Not some kind of day-to-day lyrics, but something a bit more truly poetic."
How she landed on the works of Neruda was in careful study of South American poets, as she felt drawn to his work. "First of all," she explained enthusiastically, "his life's mission was to fight against fascism, even in exile. His vision was a very political one, rather like [Bertolt] Brecht (German poet and playwright), he was striving for the freedom of people and equality for all... Yet, he had to live in exile for many many years. He was not just a poet, he was a diplomat, he was an ambassador. He was a political person who at the same time made politics with his poetry and through his persona, spoke out."
Although impressed by and attracted to his hunger for equality, despite unimaginable challenges, Lemper made clear that "for some reason, I did not really get too much into his political poetry, but rather stayed in the human poetry that were filled with the sensation of love, thirst and hunger for life."
This album, as with much of Lemper's work, features Neruda's poems in several different languages, including Spanish, French and English. When asked how she feels this will be received, especially at the upcoming performances at 54 Below where the audience will be - at most - bi-lingual, Lemper said that she thinks it part of her appeal. "Especially in New York, I have a very sophisticated international audience who really appreciates the original versions and sounds of these languages from other parts of the world. It's very natural in Europe [where Lemper often plays larger venues] to do this as people speak several languages."
That said, Lemper added, that she hopes it will be of interest to the U.S.' large Hispanic population, due to the exceptional appreciation of his work in South America and Spain. "It is so amazing to see that this poet had such an impact... there are so many people here from Brazil to Argentina, Chile and Mexico that hopefully they will embrace this concept and performance, too."
Lemper, who typically fills symphony halls and other large venues admits, "It's very unusual for me to play clubs. I really only do it in New York, because I live here and I love to perform in my city and be present. I love the directness of course with the audience - sometimes I get a little scared, because it's so close to people... it has almost a spiritual realm but the directness of it is fantastic because you really see every moment of emotion. The audience can witness that, and follow through the emotions with me.
Ute Lemper performs at New York's 54 Below through September 6, for additional date, locations and information visit www.utelemper.com.
REAL LIFE. REAL NEWS. REAL VOICES.
Help us tell more of the stories that matter from voices that too often remain unheard.