In its third edition, the rather new yet ambitious literature festival Eventi Letterari Monte Verità once again delivers a rich program of young autors, essayists and bright analysists of different backgrounds, as well as internationally established writers, such as Nobel prize laureate Orhan Pamuk. All those bright minds will travel to Monte Verità in less than two weeks to transform the famous "Mountain of Truth" -- the literal translation of Monte Verità, nestled in the hills of Ascona in Southern Switzerland -- into a think tank, ready to explore this year's topic and theme: "Utopia and Memory".
The ever changing idea of "Utopia" is the key word and centrepoint around which the festival resonates every spring. And what could sound like an elitist and exclusive gathering for academics is, in reality, the complete opposite. Eventi Letterati is a festival for the general public and everyday audiences, albeit those lucky enough to be on site. Those few, fortunate ones will, in the process, get informally in touch with famed authors like young Italian Paolo Giordano (The Solitude of Prime Numbers, which sold over a million copies worldwide) winner of the prestigious Italian Premio Strega literary award, or Terézia Mora, winner of the famous Ingeborg Bachmann prize, who will present parts of her latest work The Monster at the Eventi Letterari Monte Verità.
Anyone experiencing such magical encounters -- a renowned author reading from his or her work, at the top of this magic hill in the Swiss Alps -- will never forget the intimate atmosphere and the richness of the moment. As the sun sets behind snow covered mountains and the Lago Maggiore becomes calm on the horizon, beautiful memories are bound to be created. It is within those very memories that, in the words of festival curator Joachim Sartorius, a new "territory on which we can still expand and become richer" appears possible. Memories are our keys to a satisfying future.
I caught up with Sartorius, a well-respected cultural figure, curator and professor who grew up in Tunis, and studied law and political science in Paris, Munich and London. And, if that wasn't enough for one person already, Sartorius is also a beautiful poet. It was thrilling to get a bit of his wisdom and I am proud to share it here.
There is a wonderful quote at the center of the mission statement for this year's festival, which roughly translates to "only those who cultivate their memories can create a different future, even one apparently impossible." What are some of the lessons we can learn from if we wish to change our future in this ever increasingly chaotic world of ours?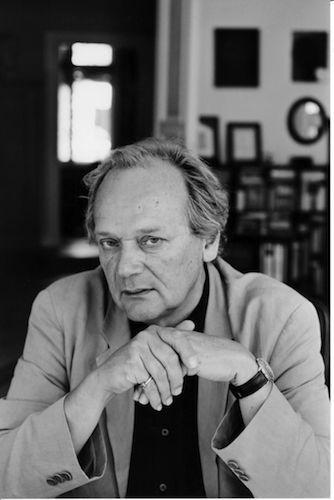 Joachim Sartorius: Remembering is for us humans as important and indispensable as food, love, sleep. We are what we remember, said already [in the 400s AD] St. Augustin, and a large part of literature (from Proust to Nabokov) seems to illustrate this dictum. Furthermore memory is the only territory on which we can still expand and become richer. And by lifting the potentials of memory we can discover the power of imagination and project a seemingly utopian future.
As mostly a film writer, I personally look for movies that take me away, while at the same time, teach me about the world around me. What do you look for in the books you read?

Joachim Sartorius: Well, my taste is rather gargantuan. Certainly I love to be taken away. I like ultralong novels, unusual plots, strange places, melancholic heroes. Travelogues too. What is most important to me is that the writer has a highly original style and that the architecture of the whole -- be it a novel, an essay or a poetry book -- is convincing.
A true Renaissance man, you are also a poet. How does the heart of a poet inspire the work of a literary festival curator?
Joachim Sartorius: As a poet I have been invited myself to many literature festivals. I know personally most of the writers I invite to Ascona from these festivals. I try to create a kind of "republic" of related minds akin to each other. And there is always "a lyric line" in each festival -- the great French poet Michel Deguy this year, after Enzensberger, Grünbein, Magrelli. Perhaps my handwriting is most obvious there.
Why do you feel that Ascona, and Monte Verità in particular, is important as a location for this wonderful reunion of world letterati?
Joachim Sartorius: A hundred years ago Monte Veritá was one of the magic and visionary spots on earth. A crazy and heterogenous group of people gathered there -- anarchists, Dada poets, vegetarians, sun worshippers, dancers -- and proclaimed, tried out and endured progressive life concepts. We hope that referring to this famous past gives to our festival a special aura and authenticity.
For the third year, you open the festival with a Nobel prize laureate. How would you describe Orhan Pamuk, if you had to talk about him to someone who has never read his work?
Joachim Sartorius: Pamuk is a fascinating "product" of the melting pot that is Byzantium-Constantinople-Istanbul. He personifies the amalgam of Western education and Ottoman traditions. His novels, on the surface realistic novels in the great tradition of the European narrators, are more complex, more ornamental and more surrealistic. And they are very precise portrayals of Turkish conditions, past and present. He is a magician and has proven -- read Snow, read Red Is My Name -- that he can hold a thousand and one threads in his hand and even the most daring constructions hold up.
This year, you also programmed a piece by famed choreographer Sasha Waltz, who will dance a solo, accompanied by percussionist Robyn Schulkowsky. How does contemporary dance and literature work together? And, in your opinion, how can dance, a very temporary art form by itself, be related to memory?
Joachim Sartorius: The reason that I asked Sasha Waltz to develop a new solo work for Monte Verità has to do with the past of the mountain. From all the arts practiced there, dance was the most important and rich in consequences. Rudolf von Laban, the Hungarian choreographer, and his students Mary Wigman and Suzanne Perrottet became world famous. Sasha Waltz will not only dance, she will also give a talk about the influences that bore on her work. In a way, she will talk about her memory of dance.
And finally, what do you wish your audiences to walk away with from this event?
Joachim Sartorius: I wish that they spread the news about the wonderful writers and poets they have listened to and that some of them become addicts and turn up again next year.
For the full program of this year's Eventi Letterari Monte Verità, which runs from the 26th to the 29th of March, check out their website.
Photo of Joachim Sartorius by Isolde Ohlbaum, copyrighted. All images courtesy of Eventi Letterari Monte Verità, used with permission.
Popular in the Community