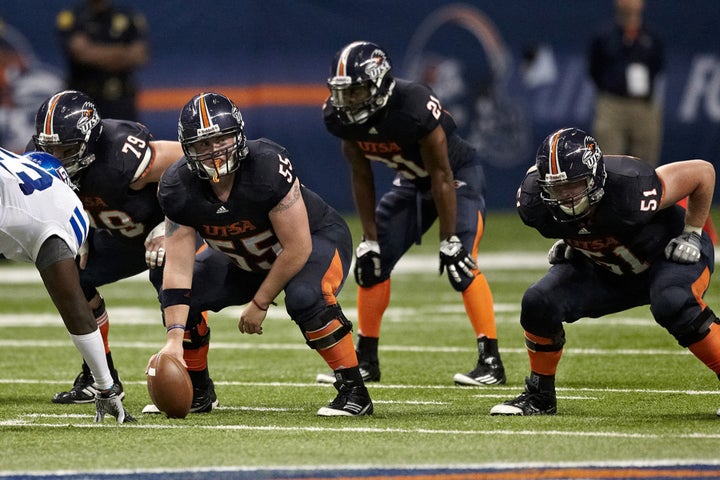 A reporter once asked me what motivates me before games. To be honest, I didn't have a clear answer for him because there are many things that motivate me. Things like winning, the memory of my mother, living out my life dream, making my father proud, not letting down my teammates, glory, allowing my coaches to have faith in me, songs by Five Finger Death Punch turned up full volume, honor, keeping my "Headless Snowman's" jersey clean, pride, not letting my university down and countless others. It's easy to sit here and ramble off items in response to what motivates me, but the more important question is what allows me to be motivated. In my case, it's not what, but who.
His face turns red faster than anyone's I have ever seen, including mine. Sometimes it doesn't even turn red, it just stays red and turns redder. I have never seen him without gel in his hair and I swear if he dove into a pond full of fish, those gel spikes would be able to catch enough to feed the team. He walks around like he is looking for a fight and I feel sorry for the poor soul who is. His clock is slow when we test for speed and agility, yet fast when we condition (a statement that he valiantly denies). I share epic stare downs with him for no particular reason and I just stare at him with a scowl on my face until he finally looks at me. We just stand there and stare. However, it doesn't take long for my scowl to turn into an all out toothy grin because we have an understanding. I know that he loves me and this UTSA football team with all of his being and would do anything for us. Meanwhile, he knows that I love him and would do anything he asks of me.
His name is Travis Reust and he is not only our assistant strength coach, but he is who this team rallies behind.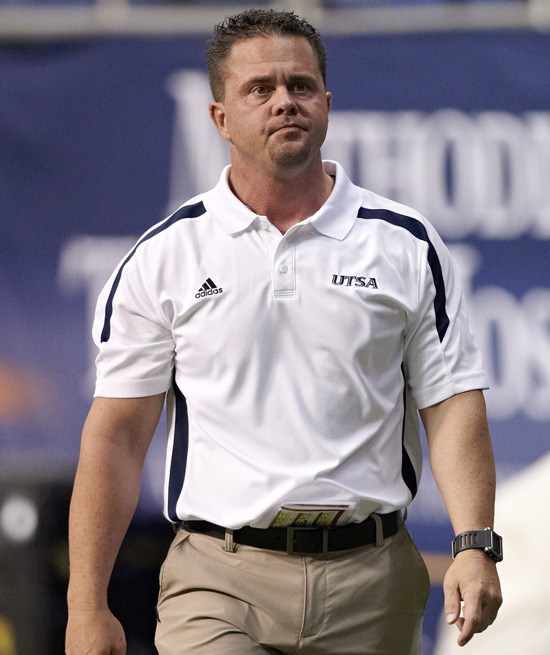 Jeff Huehn, UTSA Athletics
Coach Reust is quite the presence on the sidelines during our games. His job is to make sure that the special teams personnel is correct and prepared to take the field when we need them. He also makes sure that the players are in the players' box and he does this by shouting, "back up!" about a 100 times per game. He is also a mainstay in the locker room, just looking around at all of the boys that he helps become men and getting us fired up to play the game that he loves. When the team found out that Coach Reust wouldn't be at the dome this last Saturday, we knew something was very wrong.
Our head special teams coach, Perry Eliano, informed the team the morning of the game that Coach Reust wouldn't be there with us because he was at the side of his ailing father. He also informed us that although Coach Reust's father was on his deathbed, he still tried to make it to the game to be with his team. That brought that familiar lump to my throat, again. I needed no further motivation. This one was for Reust.
We knew McNeese State was going to put up a fight. We lost to them last year down in Lake Charles and I truly believe that they are a better team this year than they were last year. They also had a lot riding on this game. Their playoff hopes were in the balance and they had to beat us in order to go to the Football Championship Subdivision Playoffs. Our mantra this week was, "We are going to play our best game. They are going to play their best game." Well, they played their best game of the year.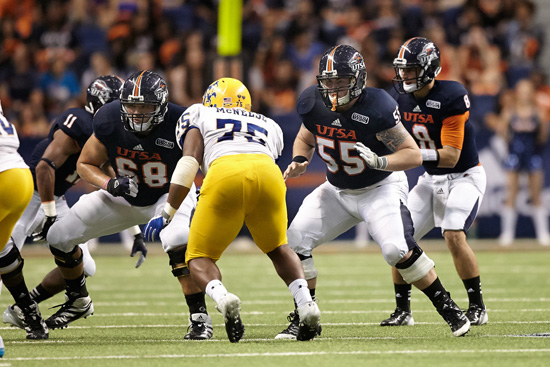 Jeff Huehn, UTSA Athletics
It's difficult to scheme a defense that doesn't have a base front. Granted, McNeese starts in a somewhat normal looking 4-2-5 on first and second downs and manageable distance situations, yet they stunt just about every play. Their defensive line twists, slants, tex's, loops, drops, pops, rolls and doesn't even stay set long enough for an offensive line to get a whiff of bad breath. Their linebackers move around like they have itching powder in their pants and fire like hot pistols. I don't care whose offense you are, a defense like that is going to put themselves into a lot of plays and they did. We went into halftime down, 10-7. I hate halftimes when we are losing.
(Offensive Coordinator) Coach (Kevin) Brown came in all hot and bothered and with a bit of zest in his voice. He repeated the goals we had coming into the game. Start fast. Run the ball. Come down with big shots. He then kindly reminded us that we had done none of that and turned his heat on my offensive line. I think I crushed the waxy Gatorade cup I was holding. We didn't take too kindly to that and that's exactly what Coach Brown wanted. Well, that's exactly what Coach Brown got.
My offensive line accepted the challenge and came out in the second half, helping the offense posting 24 unanswered points. We needed every bit of that cushion, however, as the final score ended up being 31-24. McNeese gave us a fight, but we just had more to fight for.
I texted Coach Reust after the game and told him that we got the "W" for him and his father. He then sent me a response that his father had passed shortly after kickoff. I just held the phone and stared at the screen for a while. I was at peace with the fact that he was right there by his father's side when he passed. There is no connection more special than that between a father and son. It's an understanding. His father, Gerald Harrel, was one of our biggest fans and Roadrunner Nation is blessed to have another angel.
Calling all HuffPost superfans!
Sign up for membership to become a founding member and help shape HuffPost's next chapter