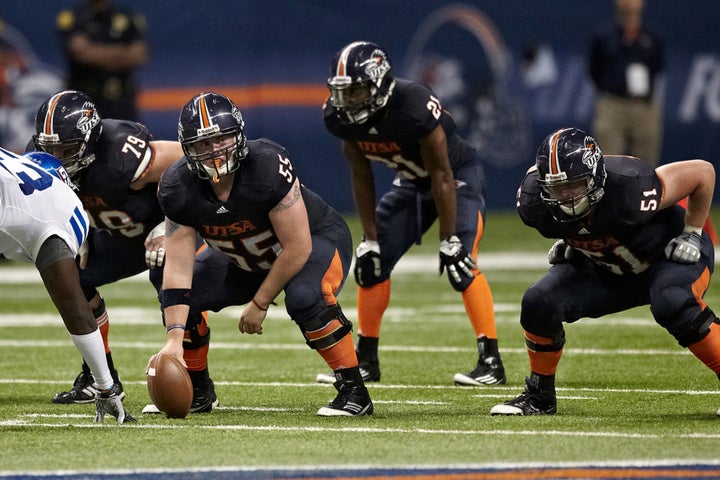 I was on perhaps the biggest stage I had ever been on in my two decades of existence. My hands were clammy as they passed through my shorter and more natural colored hair and my left leg was ferociously bouncing up and down just like it does in the locker room prior to kickoff. The force I was applying to the ground traveled up the steel legs and blue cloth of the table as the water in my glass rippled like the aftermath of hurling a stone in a pond. My khakis were a bit snug, as I had failed to purchase a new pair since high school, revealing powder-white tube socks that clashed with my jet-black Chuck Taylors. A pesky bead of sweat was crawling ever so slowly down the side of my face as I took in the crowd of 150 before me. Compared to the thousands I play in front of on Saturdays, 150 seem miniscule. However, as I sat in front of the University of Texas System Board of Regents, that logic just didn't apply. I waited anxiously for someone to break the silence and a single question fell upon my eager ears.
"Nate, describe to us what it feels like to wear the UTSA Football uniform."
As all eyes were on me in anticipation for a response, I couldn't help but to crack a grin from ear to ear.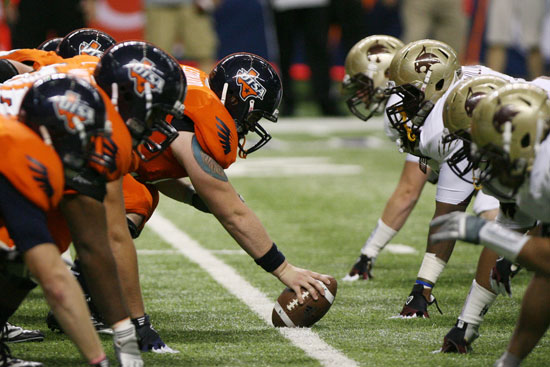 Steve Moakley, UTSA Athletics
We played Texas State this past weekend in what I deemed the most anticipated game on our schedule, the I-35 Rivalry. Anyone who lives in South Texas knows that there isn't much love between Texas State and UTSA when it comes to the three decades of athletics competition. Not only that, but this was the first football meeting between the two schools and we wouldn't play Texas State again until 2016 at the earliest. Moreover, this was grounds for bragging rights, as many players from both schools know each other and have played with or against each other since pee-wee football. In a 12-game season, it was difficult to not look past 11 opponents and start setting the scope on the Bobcats, but when we eventually were able to set our sights, we locked 'em in.
When it comes to rivalry week, there is no such thing as a clear cut favorite. The Bobcats came into the game with a 3-7 record, but they had beaten Houston, which had beaten Rice and Rice put it on us pretty good last month.
We went in to the game at 7-4 and had every opportunity to be arrogant and cocky, but that's just not how this team is or what this program stands for. After working relentlessly for everything we have accomplished, we weren't going to let this opportunity slip away. This game wasn't just about another tally in the win column or years of bragging rights. This game was about the seniors and the fact that this would be the last time they put on the blue and orange of UTSA. The last time they put on football pads. The last time I could take the field with those particular guys and whip some tail.
Their names just kept scrolling across my mind all week. Franky Anaya, Parker Cundiff, Lekenwic Haynes, Patrick Hoog, Sean Luchnick and Brandon Reeves all were going to take the field one last time. I couldn't help but to think about how I am already two years into my eligibility and, that in merely two more years, I will be gracing my body with the UTSA uniform one last time. That familiar lump formed in my throat, but quickly turned to fire in my soul. I wasn't going to let my seniors down. By the end of the game, they would be able to look me in the eyes and know that, without a doubt, I sacrificed my body for the good of their respect.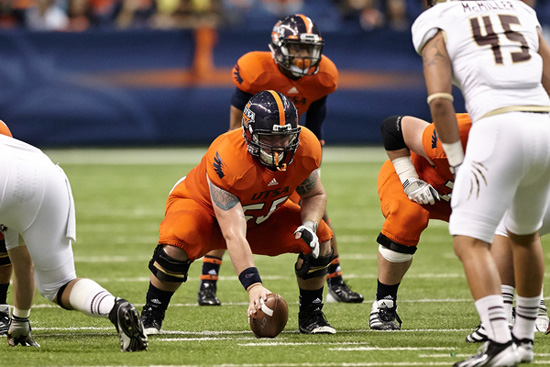 Jeff Huehn, UTSA Athletics
It was a chilly March morning. I was up early because I had to make the bus before it left for the track meet in Little Elm. After carrying out my morning routine, I walked by Mom's room to make sure she was sleeping. The shadows were hitting her face to the point at which I couldn't even tell if she was in the bed or not, so I walked in and gently approached her side. Her quilt had fallen to the ground so I picked it up and pulled it over her, and just as I did so, her eyes opened and met mine. She smiled and I asked her how she was feeling, at which point she disregarded the question and wished me good luck for the track meet. I just grinned, because that's how my mother was. It was never about her. It was always about the other person. I then kissed her on the cheek and, as always, told her I loved her. With serene tranquility, she replied that she loved me and that I was to never forget it.
There was something about that day that made my discus fly farther and my shot travel greater. I never had thrown for such substantial marks and blew my personal bests out of the water. As I was about to return the shots, my throwing coach, Eric Rivas, came up to me with a look that I had never seen on him before. It frightened me, really. He just told me to drop the shots and follow him. You just don't tell a 6-foot-2, 300-pound former Division I offensive lineman "no," so I obliged. As I walked in his wake, I could see my father surrounded by my high school coaches, and at that moment, I knew that something just wasn't right.
My coaches made room for me to get to dad and then they enclosed us. My dad just looked at me and told me, "She's gone. Mom's gone." I didn't know what to do. I didn't want to know what to do. I just looked up and my eyes ironically fixated on the lights of the Little Elm Football Stadium. Stadium lights. I had seen them all my life and had revolved my existence around what they shed light upon. There was nothing to shed light upon in that moment and no light could have illuminated the darkness that overwhelmed me. Coach Rivas was the first to embrace me, and as he did so, he then told me what has held true my entire life ... "Your team is your family."
So you can imagine how easily I answered the question posed to me by the UT System Board of Regents.
What does it feel like to wear the UTSA Football uniform?
Well, quite simply, it feels like family.
Calling all HuffPost superfans!
Sign up for membership to become a founding member and help shape HuffPost's next chapter