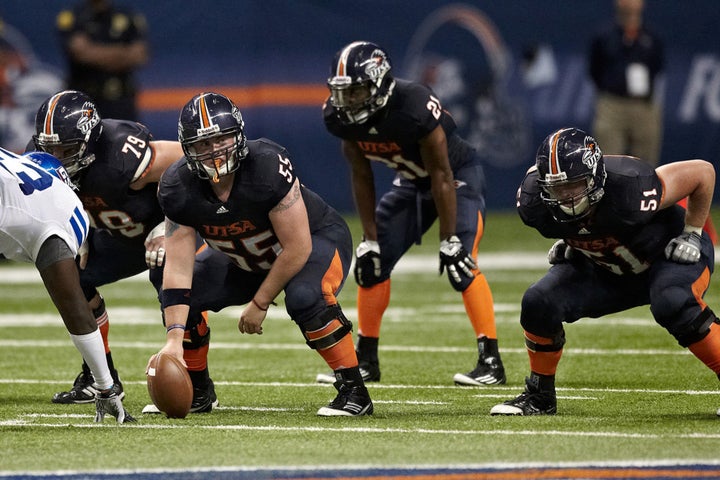 It's been a full week since I turned in my pads and final laundry clip for the 2012 football season. Needless to say, they were not returned in the condition in which I received them. By looking at the front of my helmet, you wouldn't be able to tell that its original color was navy blue as the constant collisions discarded the paint to reveal its gray shell. My facemask shows its appreciation, also ridding itself of coating to reveal an iron skeleton. My shoulder pads need to be quarantined for a while, possibly burned, and shouldn't be in a poorly ventilated room. The same girdle that started out the season a vibrant white was returned an exhausted gray. I went through more than 12 pairs of socks, not including the ones that were stained red from my cracked feet and blisters during fall camp, and another five pairs of cleats. Two hundred eighty-five pounds just doesn't bode well for any footwear. As I mentioned in my first post, I turned in my final laundry clip of last year's season with a bitter taste in my mouth. The same cannot be said this year.
I knew that Mobile, Ala., was going to be muggy and hot, but Mobile introduced me to what "muggy and hot" really means. I'm glad that South Alabama was our first game because my body was at its freshest point all season and I needed every bit of "freshness" to make it through that ball game. I still find it incredible that the game came down to a field goal after a blocked field goal cost us last season's game against the Jaguars. This one went through the uprights and we started off the season with a key win.
The first home game seemed like it would never get here because I was stoked to be back in the Alamodome. First of all, I couldn't wait to play in front of our rowdy fans for the first time this season and I also didn't mind the 72-degree weather inside during September. I was impressed with the way Texas A&M-Commerce played and surprised that we couldn't get more done on offense, but the game never was really in question and we left the dome with our second win of the season.
When the Georgia State game came around, I figured that this would be our first real test. My offensive line was sick and tired of hearing about how physical and dominant their defensive front was. Well, we put an end to all that talk with an impressive showing on the ground and routed the Panthers for our second road victory in school history. A road win that occurred in the beautiful Georgia Dome, I might add.
Coming back home to face Northwestern Oklahoma State worried me a bit but not enough to have me saying extra prayers. I just didn't want us to be lulled into a trap game and get embarrassed at home. I knew better, though, because there was a just a no-nonsense mentality about this year's team. During this particular game, it was an anomaly if our offense took more than two or three plays to score in the first half. The whole second half was an opportunity for our young offensive line piglets to get playing time and they made me proud. Add another tally to the win column.
Week five was a much-anticipated week. This game carried a bit more weight than the others that preceded it due to the fact that it was our first game against an established Football Bowl Subdivision team and our first Western Athletic Conference game. We also didn't have any intentions to tarnish our perfect record. We started the game slowly, but after taking some explosive plays to the house, the game just kind of went our way and we ended up making history, once again, with a win at New Mexico State.
When the Rice game came around, I felt like there was too much talk about our 5-0 record. I fell into it a little bit as well, I'll admit. The media, the students and everyone else was mesmerized by the success we were experiencing and I felt like we went into the Rice game unfocused. It showed, as we really couldn't get anything established on offense and simply got outmanned and outgunned on defense. We suffered our first loss of the season, but it gave us a chance to refocus.
We knew that we were in the thick of our schedule when San Jose State came around. I don't know what it was about this game other than the fact that the Spartans just had our number and really made us look like a first year FBS team. They played sound base defense while establishing an air raid that we just couldn't stop to save our lives. We suffered our first home loss of the season and allowed California boys to come into our house and show us some Texas hospitality.
Personally, I couldn't wait to play Utah State. Don't get me wrong, each and every week I'm more excited to play than ever, but Utah State was a team that intrigued me. I knew that they were going to be the best team that I had ever played in my career and I think that's what excited me the most. They ran such an intricate defensive scheme that they just fell into plays more often than not and, again, we found ourselves struggling offensively. Although we were beat badly, I was proud of the way we finished the game.
Heading to Ruston, La., we had every excuse to feel sorry for ourselves. We just had been handed three losses in a row and, on top of that, we were about to play the first nationally-ranked FBS opponent in school history. Again, this year's team just had no room and no time to feel sorry for our self. We went into that contest more excited than ever to prove our worth at the FBS level and we went toe to toe with the 22nd ranked Bulldogs for an entire half. It wasn't until the fourth quarter that the game really got away from us. Again, I was proud of the way we never quit. We left Louisiana with our fourth loss in a row.
We were tired of losing and glad to be back at the dome to face McNeese State. We didn't forget last year's trip to Lake Charles, La., and losing to the Cowboys. This year, our mentality was that we were just going to take care of business. It wasn't pretty, but we got back on the winning side of things. That gave us much needed momentum heading into the Idaho game.
The Idaho week was intense and it started with the coaches constantly reminding us that a victory against the Vandals would clinch a winning season. We actually got pretty tired of hearing that because we go into each game wanting and expecting to win, so why would this game be any different? I now understand why the coaches were uptight, though. They knew that a winning season would have such a positive impact on our lives, the university and the entire football program. Well, we left Moscow, Idaho, with a win and the first winning season in UTSA Football history.
Our final game of the year was the most anticipated one. Texas State. The I-35 Rivalry was on the line and so were bragging rights for the next few years. This game was personal and we were chomping at the bit to finish strong. With an awesome crowd of the Roadrunners faithful behind us, we ran those Bobcats up and down the gridiron and left no doubt as to who runs football in South Texas.
We finished 8-4 in just our second year of existence. This program is for real and we are here to stay. However, 8-4 won't be good enough next year and we are taking that mentality into the offseason. It's time, once again, to prepare 353 days for 12 Saturdays on the gridiron.
I was still in the clothes that I wore to Mom's funeral and in my lap was a white cardboard box with a label that read "Toni Lou Baggett's Possessions." It was sent over from the hospital after Mom was released, but Dad and I just didn't have the heart to look through it until after she was gone. I opened the box and shuffled through pictures and "Get Well Soon" cards until I got to a leather-bound journal at the bottom. I blew the dust off the cover and then turned to the first page. I believe a tear smudged the ink of mom's handwriting as I realized what I was holding. Everything she was thinking and feeling from the time she was diagnosed until the time she was released from the hospital filled the pages of the journal. Most of it was intended for me in the form of advice and encouragement for the future and I just sat there and absorbed everything I was reading. It was almost like mom was the one reading it to me as I could still hear her voice in my head. I laughed and I cried, but one passage gave me chills, because it was written the day she was admitted to the hospital. A passage that I will never let go of.
"I love butterflies, so when you see them, please think of me. Butterflies are like a new life and it seems this is the direction I am heading."
I guess you could say that I am burying the hatchet with this final post. It's been almost six years since her passing and I haven't really talked about it or shed a tear until now. I've just been holding it all inside and acting like everything was okay, but everything wasn't. Losing someone so close left a hole in my heart and had me a little lost. UTSA Football and the love of my family and friends filled that hole for me and allowed me to find my way. I am honored to say that my heart is full and my life is thriving. Thank y'all for listening and allowing me to mend.
Well, another football season is in the books. The trash can has been emptied of the Gatorade bottles and Band-Aids, but it still emits the aroma of Bengay. My farmers tan has started to even out and my blisters finally have healed. The black rubber pellet trail to my room has started to meander and fade, but one thing has and always will remain constant: my unyielding passion for UTSA Football.
This isn't a goodbye but rather a see you later. Until then, keep your head down and feet moving, and from time to time, look up and cherish being you.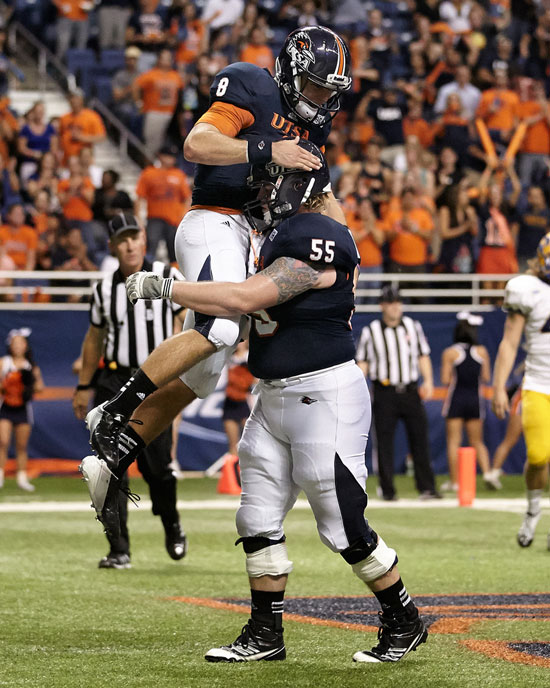 Jeff Huehn, UTSA Athletics
Calling all HuffPost superfans!
Sign up for membership to become a founding member and help shape HuffPost's next chapter