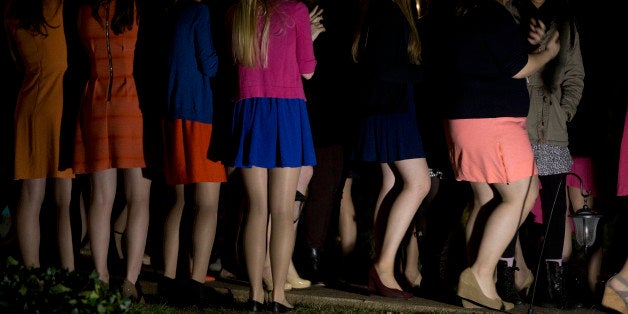 National offices for 16 sororities on Thursday declared they would not back down from their deeply unpopular directive forbidding University of Virginia sorority members from attending this weekend's fraternity parties.
Sororities at UVA were told last week they are prohibited from participating in "men's bid night," one of the biggest party events of the year, when fraternities welcome new members.
Despite a petition drive, a letter-writing campaign and widespread grumbling on the Charlottesville campus, national offices for the 16 sororities with UVA chapters and the National Panhellenic Conference, an umbrella group representing 26 women's Greek organizations, stuck to their declaration that existing policies prohibit sorority women from participating in fraternity recruitment.
"While we value the input our chapter leaders have to offer on this important and ongoing dialogue, our members' safety and well-being must remain our top priority," said a joint statement from the national and international presidents of 16 sororities with UVA chapters, released Thursday through Alpha Delta Pi "That is why we stand by the collective decision of our 16 International Presidents, which supports an existing [National Panhellenic Conference] policy that our organizations will not participate in men's bid day activities on any campus. Per our members' request, we will engage directly with our respective chapters to address their concerns and move forward from here."
In the past, the sorority ban on participating in fraternity recruitment meant women don't wear T-shirts promoting a certain fraternity. This year, it means women shouldn't go to frat parties this weekend if they belong to a sorority on campus. No sorority official would say why the organizations decided to crack down on UVA women this weekend.
Fraternity and sorority members at UVA said they hate the directive.
"It's hard to articulate such a total overwhelming feeling," sophomore Abraham Axler, chair of the university's student council, told The Huffington Post.
More than 2,300 people have signed a UVA student's online petition calling the party ban "gender discrimination." Students also are writing protest letters to fraternity and sorority national organizations. A unanimously-passed UVA student council resolution condemns the national sororities for issuing a directive "without consideration of any students' input [and] disregarding the University's tradition of student-self governance."
Tammie Pinkston, international president of Alpha Delta Pi, sent a letter on Jan. 20 to all sororities at UVA, telling them the national organizations would support them "in becoming change agents" on campus. "We'd like to begin the change with Men's Bid Night," Pinkston's letter continued, saying it presented "significant safety concerns." It instructed sorority women not to go to fraternity parties this weekend.
Sororities should "plan alternative sisterhood events with expectations of full chapter participation," Pinkston's letter said. "It will be very important for the sixteen groups at UVA to stand united in this."
Students told HuffPost that some sorority chapters were given more extreme instructions, requiring all members to be inside their sorority house during certain hours this weekend.
The frat party ban came as the university lifted a suspension of social activities it imposed for all Greek life organizations in November, following a now-discredited Rolling Stone article that included an account of a fraternity gang rape.
Gentry McCreary, a higher education consultant specializing in Greek life and student affairs, said he finds it ironic that the National Panhellenic Council was upset by the school's now-rescinded Greek life ban. "Now, a month later, they're basically trying to do the same thing," he said of the council. "Their heart's in the right place ... [but] I think they're very misguided in what it's going to take to address sexual misconduct on college campuses."
The Huffington Post contacted the national offices for all 16 sororities with UVA chapters. Kappa Kappa Gamma said it would not comment. Pi Beta Phi and Alpha Delta Pi directed HuffPost to the joint statement issued Thursday. The others did not return requests for comment.
Linda Kahangi, executive director of Alpha Phi International Fraternity, told The Huffington Post in a statement that organization is proud that its UVA sorority members wanted to "help drive positive culture changes on campus." She said the sorority ban on bid night stems from a longstanding policy against participating in men's recruitment.
"This has everything to do with reminding UVA chapters of existing policy and nothing to do with our confidence in the smart, strong women who are members of the Alpha Phi chapter at UVA," Kahangi said.
Michelle Bower, acting as spokeswoman for the National Panhellenic Conference, said rules decisions are up to each sorority, but the conference "supports them in doing so."
"We know from experience that such events pose risk management and safety issues," Bower told HuffPost.
No sorority organization would respond to criticisms of student members.
Read The Original Jan. 20 Letter:
Related
Popular in the Community