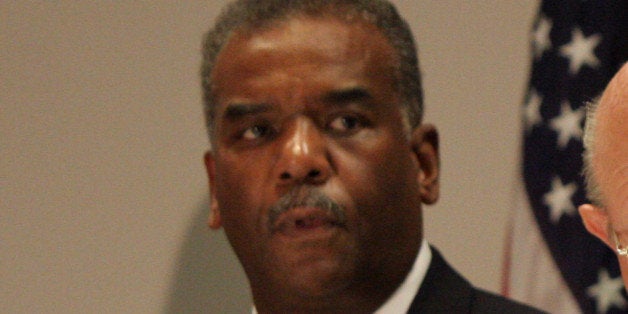 Two high-ranking administrators at the University of Virginia slammed the state's Alcoholic Beverage Control agents for their arrest of Martese Johnson, saying they are "outraged by the brutality."
UVA Vice President for Diversity & Equity Marcus L. Martin and Dean of African-American Affairs Maurice Apprey released a statement Wednesday condemning how the white agents from Virginia Alcoholic Beverage Control treated Johnson, a black student arrested and charged with public swearing/intoxication and obstructing justice. Photos circulated by witnesses show Johnson's face heavily bloodied during the incident.
"His head was slammed into the hard pavement with excessive force," Martin and Apprey wrote in a statement. "The student required medical evaluation and treatment at the UVa Hospital Emergency Department. This was wrong and should not have occurred. In the many years of our medical, professional and leadership roles at the University, we view the nature of this assault as highly unusual and appalling based on the information we have received."
The two UVA officials added that "violence against an individual, no matter the color of his or her skin, gender, religious beliefs, or sexual orientation, is inexcusable and appalling." They also noted that they and others employed by the university would be available for counseling to any students who needed it.
Virginia Gov. Terry McAuliffe ordered an independent investigation into the incident on Wednesday. Virginia ABC has declined to explain what happened to prompt the physical altercation.
Johnson has declined to comment but made an appearance at a rally against excessive police force on campus.
Popular in the Community