Two distinguished historians at the University of Virginia have resigned from its public policy center following the school's recent hiring of a former aide to President Donald Trump, a decision that has also spurred protests among students and faculty.
William I. Hitchcock and Melvyn P. Leffler announced their departures from the Miller Center of Public Affairs on Monday to protest Marc Short, Trump's former legislative affairs director, receiving a paid fellowship at the think tank that also studies the presidency. The professors blasted Short's fellowship as running counter to the center's values.
"By associating himself with an administration that shows no respect for truth, he has contributed to the erosion of civil discourse and democratic norms that are essential to democratic governance and that are central to the mission of the Miller Center," read a letter shared by Hitchcock on Twitter.
Both men will remain as tenured faculty within the Charlotteville school's history department, according to Politico.
William Antholis, the center's director and CEO, said in a statement he was saddened by their departure but that Short's appointment would help promote the think tank's goals.
"As much as I respect the depth of feelings on this issue, the Miller Center's core focus on the presidency, our commitment to nonpartisanship, and our demonstrated ability to promote civil discourse must remain our principal responsibility, especially in trying times," Antholis said.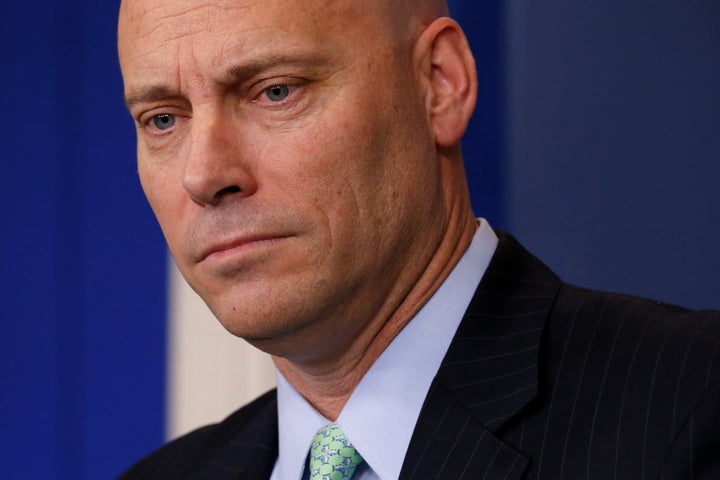 In a statement he issued last week, Antholis said Short would help others at the center "understand and explain this administration, including in its most difficult and divisive moments."
Hitchcock, a Pulitzer Prize nominee and New York Times bestselling author, and Leffler, a recipient of the Bancroft Prize that honors books on the diplomacy or the history of the Americas, objected that the school did not discuss Short's hiring or hold a faculty vote on the matter.
"Had we been consulted, we would have argued that the appointment of Mr. Short violates" the center's values, their letter said.
It's not clear whether such a discussion or vote is university policy. A spokesperson for the school did not immediately address that question when reached for comment by HuffPost on Monday.
The two professors cited other aspects of Short's professional background as red flags of concern, noting he worked for the failed 1994 U.S. Senate campaign in Virginia by current National Rifle Association President Oliver North, as well as for the Koch Brothers Freedom Partners fund.
Criticizing his association with a White House that routinely attacks the free press, the professors also took Short to task over Trump's widely criticized muted response to last August's violent neo-Nazi rally near the UVA campus. A woman died when a car, allegedly driven by a neo-Nazi sympathizer, crashed into counter-protesters, and the gathering indirectly led to the deaths of two state policemen.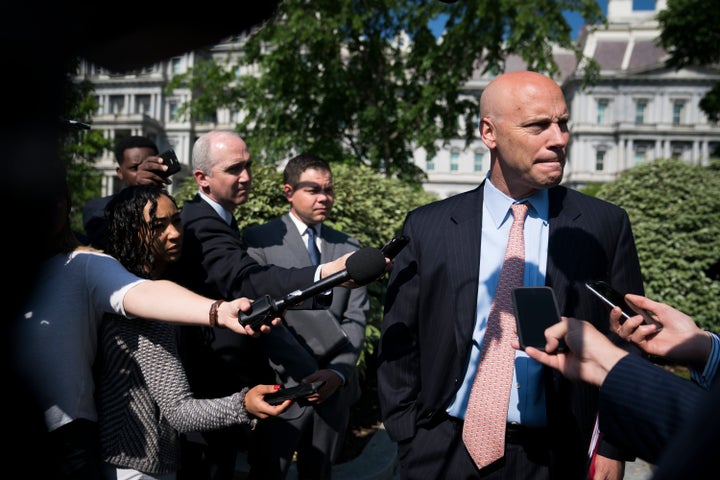 "It seems especially egregious to appoint Mr. Short as we approach the one-year anniversary of the neo-Nazi riots," Hitchcock and Leffler wrote. "In the wake of those tragic events, President Trump failed to repudiate the alt-right and its street thugs. Until his appointment to a fellowship at UVA, Mr. Short did not distance himself from President Trump's remarks.
"By not speaking out at the time, by not emphasizing the threats to human decency posed by the public display of Nazi symbols and racist diatribes in our own neighborhood, Mr. Short was complicit in the erosion of our civic discourse and showed an appalling indifference to the civility of our own city and university."
Short, in a recent statement quoted in The Washington Post last week, said "there is no doubt" the White House could have better handled its response to the rally and the violence it sparked. "We must all be outspoken and unambiguous in our denunciation of white supremacy and racism," he said.
Hitchcock and Leffler's letter added that they welcome people with diverse political views to appear before the center, but not as a "paid distinguished fellow."
An online petition against Short's hiring on Change.org had gotten more than 2,400 signatures as of Monday afternoon. The petition also takes exception to the hiring of Short without "consultation with the many stakeholders affected by that decision."
Popular in the Community