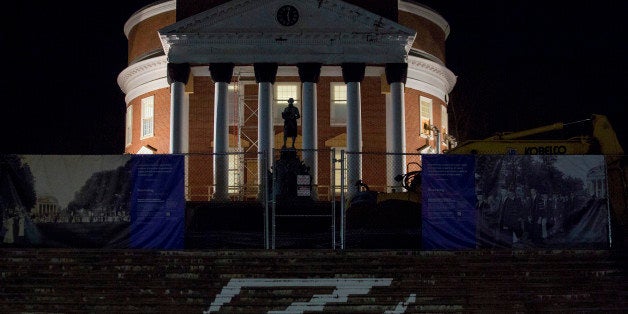 Many students at the University of Virginia think banning sorority members from attending parties celebrating the end of fraternity recruitment this weekend could backfire on the national sorority organizations that issued the restriction.
In fact, some students suggest that the ban could even put students at risk, because sorority women trained in sexual assault prevention won't be able to go to the bid night events. Fraternities could also host unregistered -- and therefore largely unregulated -- events at a later date instead.
"Every sorority woman is trained in bystander intervention," said sophomore Abraham Axler, who is on the executive board of UVA's student council. He is referring to the sexual assault prevention strategy of stepping in to stop a potentially risky situation. To remove sorority women from fraternity events, Axler said, "seems dangerous."
The presidents of the national sorority organizations reaffirmed Thursday that they would not budge on a controversial directive banning undergraduate members from fraternity parties during bid night this weekend. They say the rule is meant to protect female students' "safety and well-being."
If caught at one of the events, sorority members would likely face a fine from their organization, or the entire chapter could be banned from hosting its own social events.
Sororities contend that they have always restricted members from fraternity recruitment events, said Timothy M. Burke, an attorney with Fraternal Law Partners, which counts the National Panhellenic Conference, an umbrella group for all 26 sororities nationally, among its clients.
However, UVA senior Story Hinckley said that the bid night parties celebrate the end of recruitment and aren't recruitment events.
"They're deciding that all of a sudden on Sunday, the fraternities are safe and men are not rapists, but throughout the day and night Saturday it's unsafe," she said. "It's really confusing and strange."
Burke sided with students who argued that frat parties may be even safer than other campus gatherings because of the rules and education programs put in place for members.
"[Fraternity parties are] no more dangerous than the rugby team's parties, for example, and frankly, the national men's groups and the national women's groups are both conducting a great deal of educational programming for their chapters, designed to help them conduct parties safely," Burke said. "Those kinds of safety measures are not being done for other student groups, generally."
The national sororities have all declined this week to respond to the criticism from students.
Tracey Vitters, chair of the nonprofit Students Active For Ending Rape, an advocacy organization against sexual violence and rape culture, criticized the message being sent by the ban.
"Really, the conversation should be less about telling women 'Don't go to this party,' and more about the NPC reaching across the aisle to the fraternities and saying 'You need to do better.'"
Related
Popular in the Community