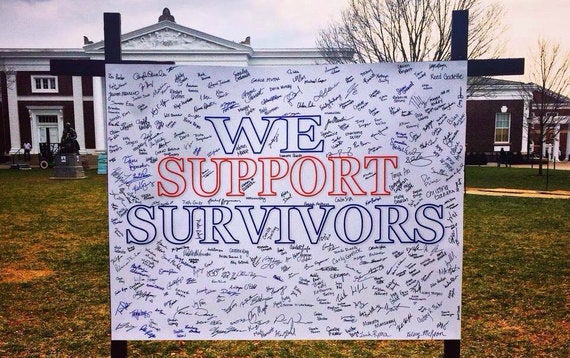 Following an announcement from the federal government that the University of Virginia did not appropriately respond to reports of sexual assault over several years, two campus groups urged their classmates to focus on continuing improvements rather than dwell on past wrongs. 
One Less and One in Four, the main student groups working to prevent sexual assault at UVA, worried that "the representation in the media of how we handle sexual assaults" could result in students mistrusting the administration even more and be a barrier to victims reporting their attacks. But the groups emphasized they feel the school is taking "steps forward in the right direction."
"Although we recognize the many past mistakes with regards to the treatment of survivors' stories and reports, it is clear that the University has made crucial steps towards fostering an environment conducive to reporting and comprehensive, fair adjudication," the groups said Tuesday in a joint statement. "Over time, we hope new increased transparency and collaboration with administration will enable our peers to trust the University to meet their mental and emotional needs and to support survivors during an adjudication process, should a survivor choose this course of action."
On Monday, the U.S. Department of Education's Office for Civil Rights released findings from a four-year-long investigation of how UVA handles sexual assault. It found the university had been in violation of the gender equity law Title IX for years, and the federal investigators had concerns about how dozens of cases were handled. OCR suggested it could have continued its investigation for a longer period of time, but that UVA requested an early resolution last year, before federal officials had looked through all the cases from 2013 and 2014.
However, Catherine Lhamon, assistant secretary for civil rights at the department, conceded the university had addressed many concerns in the school's "exemplary new policy" released in April. Lhamon said UVA President Teresa Sullivan's leadership "sets just the right tone for her students, for which I am deeply grateful."
One Less and One in Four at UVA said there are a number of programs in motion to address sexual violence at the school, including one they started to teach students about dangerous situations, and a university-wide Not On Our Grounds campaign.
"We strive to end sexual assault on grounds and to create an environment that lowers barriers to reporting," the groups said. "Survivors willing to share their story should feel comfortable doing so without fear of repercussions."
Calling all HuffPost superfans!
Sign up for membership to become a founding member and help shape HuffPost's next chapter