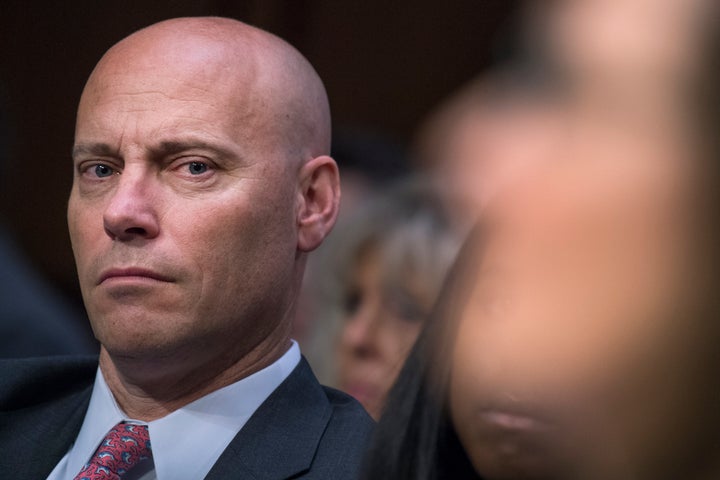 A group of students and faculty at the University of Virginia is attempting to block President Donald Trump's legislative director, Marc Short, from taking a teaching position at the school after he departs the White House on Friday.
A Change.org petition has gathered hundreds of signatures in an effort to protest Short's hiring. Petitioners moved their campaign to the public site after a version made through Google Docs counted well over 100 signees from professors, students and staff. The campus in Charlottesville, which witnessed a deadly white supremacist rally last August, is quickly approaching the anniversary of the infamous clashes.
"While we do not object to dialogue with members of this administration, we do object to the use of our university to clean up their tarnished reputations," reads a petition with around 300 signatures. 
"More personally," it continues. "As we approach the first anniversary of the white nationalist violence against this university, this town, and our friends, neighbors, students, faculty and staff — all of whom are represented among the injured — it is unconscionable that we would add to our university a person who served in a high-level position for the administration that first empowered, then defended, those white nationalists."
Short told Politico that he is "sympathetic" to the petitioners' concerns and thought the administration "could have done a better job expressing sympathy for the victims and outrage at those who perpetrated this evil."
He will serve as a fellow at the university's Miller Center of Public Affairs, a nonpartisan affiliate studying the American presidency, where he will participate in conferences and engage with students and faculty. The former aide has ties to the university, as he received his MBA from its Darden Business School, according to Politico. 
William Hitchcock, a history professor at the Miller Center, told Inside Higher Ed that the university did not allow faculty to give input on Short's hiring. He feels the former aide "doesn't fit the values" of the center.
"He is extremely partisan, and this is a nonpartisan scholarly institution," Hitchcock said. "We examine politics here but we are not participating in any political campaigns."
A representative for the Miller Center defended the decision in a statement to HuffPost, stressing that the center is nonpartisan and Short's inclusion "deepens our scholarly inquiries into the workings of the American presidency."
Yet an associate history professor who signed the petition, Andrew Kahrl, called the center "pitifully naive" for its suggestion that Short will be a positive addition. The blowback was "not about silencing Short or imposing an ideological purity test on potential hires," Kahrl added. 
"It's about whether this university should be burnishing the reputations of members of an administration that has attacked America's democratic institutions and attacked this community in particular," he wrote.
Although Short was one of the longest-serving members of the Trump administration, his departure comes as Republicans risk losing congressional seats in the upcoming midterm elections. Short is also stepping away as the Trump administration prepares for a contentious Senate confirmation battle for its Supreme Court nominee, Judge Brett Kavanaugh.  
Clarification: This story has been updated to clarify Short's relationship with the University of Virginia. Although he may speak at its Darden Business School in the future, Short will not be teaching at that school, as Politico reported previously.
Calling all HuffPost superfans!
Sign up for membership to become a founding member and help shape HuffPost's next chapter