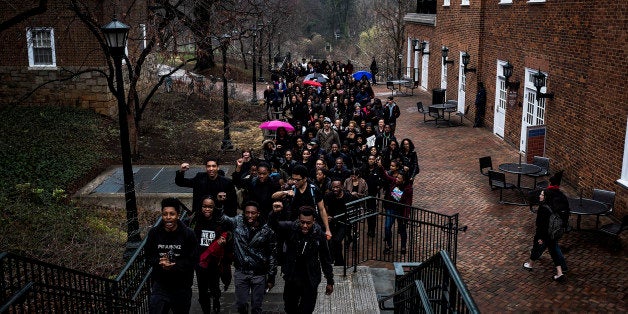 University of Virginia students are pushing the state government to take the power to arrest people away from the Virginia Alcoholic Beverage Control agents following high-profile incidents involving unarmed students.
The UVA Student Council is scheduled to vote Wednesday night on a resolution drafted by student government Chair of the Representative Body Abraham Axler, on behalf of the school's Black Student Alliance, calling on Virginia Gov. Terry McAuliffe (D) to immediately strip ABC agents of their law enforcement authorities. ABC agents oversee state-run liquor stores and liquor licenses, and are allowed to arrest people who are found violating related laws.
"There are times in which arrests are going to have to be made in connection with illegal use of alcohol," Axler told The Huffington Post. "But when that does happen, it should be local law enforcement agencies making the arrest."
Axler said students aren't demanding punishment for ABC employees who did not do anything wrong, but that agents should no longer be allowed to make arrests. He pointed to the arrests of Martese Johnson, a student who was arrested by ABC agents after a bloody altercation earlier this month, and Elizabeth Daly, who was arrested two years ago after ABC agents erroneously accused her of buying alcohol while underage, to illustrate why he believes McAuliffe should adopt the UVA students' proposal.
"At the very least, ABC officers should no longer have power to target individuals on the street and should focus on enforcement against businesses," Shirazi wrote in the petition.
McAuliffe's office did not respond to requests from HuffPost to comment on the student council resolution or the petition.
However, the governor did sign an executive order Wednesday ordering the immediate retraining of ABC agents in the "use of force, cultural diversity, effective interaction with youth," and asked the state's secretary of public safety and homeland security to convene a panel to review the agency's law enforcement. Last week, McAuliffe also ordered a state police investigation into Johnson's arrest.
Johnson, 20, plans to plead not guilty this week to charges of public intoxication/swearing and obstructing justice, Johnson's attorney said Monday in a statement to reporters. ABC agents arrested Johnson outside of Trinity Irish Pub on March 18 because they suspected he had a fake ID. Last week, Johnson's attorney said the student did not have a fake ID, and Trinity employees issued a statement that said Johnson was cooperative and did not appear intoxicated when they spoke with him just before ABC agents forced him to the ground and arrested him.
That 2013 arrest, coupled with the treatment of Johnson this month, are both "graphic incidents of why the ABC should not have law enforcement authority because they don't have that trust" of members of the Charlottesville community, Axler said.
Around 500 UVA students attended a forum with law enforcement officers Friday demanding answers about how a regulatory agency could justify its excessive use of force.
Virginia ABC did not return request for comment.

Related
Popular in the Community