CHARLOTTESVILLE, Va. ― Jonathan Mack was eating in Qdoba at The Corner, a restaurant-lined stretch of Chancellor Street, near the thriving hub of the University of Virginia, when he heard yelling and saw flames.
It was the Friday evening before the massive Aug. 12 rally that brought neo-Nazis and other white supremacists into downtown Charlottesville, Virginia, and ended in a deadly incident. Mack, a black student entering his second year at UVA, was back on campus earlier than most students because he works with the football team.
Torch-bearing bigots were already starting to gather that night, near a statue of former President Thomas Jefferson on campus.
"You could see torches and you could hear yelling," Mack recalled in an interview at the same restaurant. "I was like, nope, going home. Doesn't look good."
Mack and his fellow UVA students are still processing the events that took place at their campus as they began classes this week, with the university still in recovery mode. Members of the University of Virginia's community were injured over the chaotic weekend: a UVA employee had a stroke after being hit by a tiki torch, and a second-year student at the university sustained a skull fracture and facial wounds when a car driven by a white supremacist plowed into a group of counterprotesters downtown, killing one woman.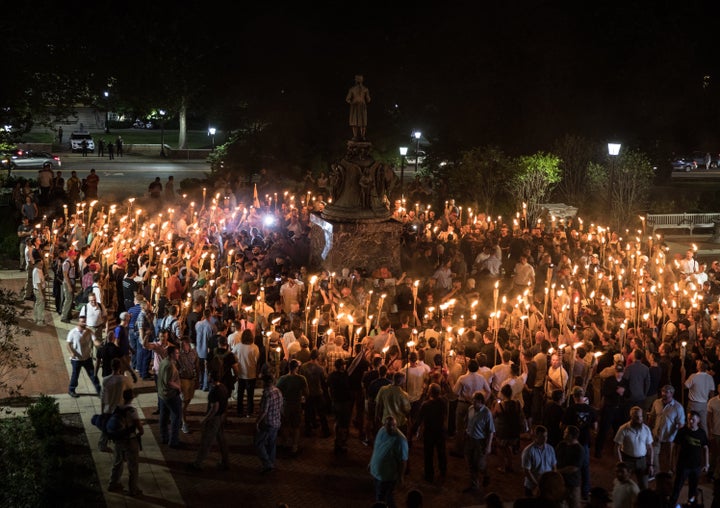 More broadly, "Mr. Jefferson's University" is grappling with its history and its future as an institution closely affiliated with a slave-owning founding father and now with frightening images of marching white supremacists.
Mack said he'd had a positive experience at UVA and was worried about the impression others may have of the university because of the images that filled social feeds this month. "UVA is definitely nowhere near associated with that," he said.
But the open display of racism on UVA's campus has reignited discussion about diversity at the university, which has long been an issue of concern. A black student didn't graduate from the instition until 1959, long after many schools had integrated. And today, the school's percentage of African-American students lags behind what might be expected for a public university in a state where 22 percent of public high school graduates are black.
UVA says it has made progress on the diversity front. The incoming class of freshmen ― or first-years, in UVA parlance ― is the "most diverse class" in the institution's history, the university told HuffPost in a statement this week. (That claim evidently factors in socioeconomic diversity.) The school said that preliminary data shows a slight increase in the percentage of African-American undergrads, up to nearly 8.5 percent from 8.1 in 2016, and that black students make up 9 percent of the incoming class.
Marcus Martin, a UVA vice president and chief diversity officer, said that the school has made significant progress on enrolling and graduating African-American students. "The University of Virginia is strongly committed to an inclusive, welcoming and respectful environment," Martin said.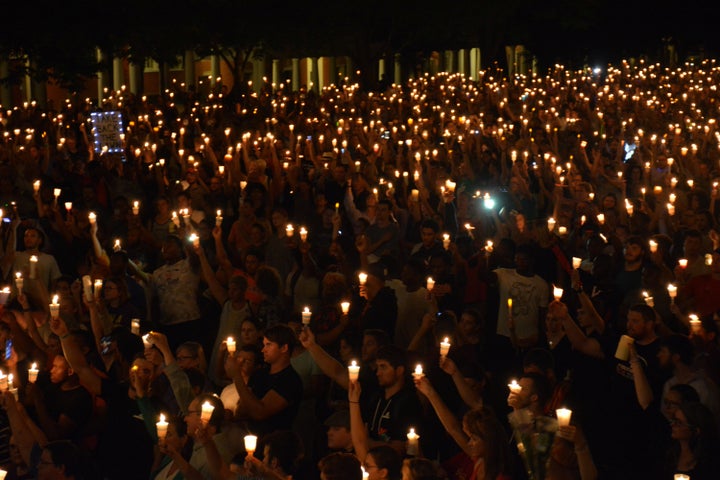 Still, UVA alumni have expressed concern about how the events earlier this month would impact incoming students, particularly students of color. A group of black alumni authored an open letter to the incoming class of 2021, telling them that they had all "experienced or witnessed racism and prejudice" during their time at UVA. However, they were able to "triumph over each situation through the help of the University, alumni and most importantly, through our relationships with one another in a community filled with love and support," the letter states.
A group of black alumni came back to campus last Friday to help new students move in. Among them was 2011 graduate Yolanda Beasley, who recalled feeling like a bit of an outsider when she first arrived at UVA and wanted to make sure that new students felt welcome.
"We wanted to be those faces when students of color came to see us. We're here, we're present, we're not hidden, we're not in the shadows," Beasley said. "We're here, we're strong, we're taking a stand, and this is going to be the environment you're proud of ― you're going to be proud to be a part of."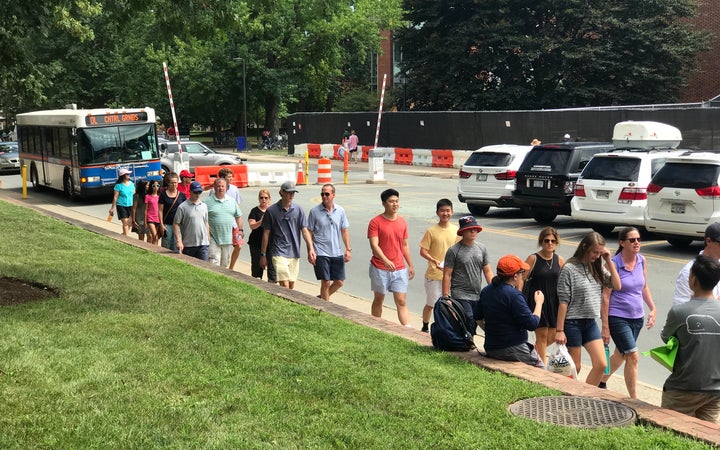 She said it was hard to believe that the white supremacists she saw in photos from the rally were walking the same streets she had as a student.
"All these happy memories that I have of this place kind of got tainted and spit on, honestly," Beasley said. "This is what the whole UVA community is in the process of — reclaiming our ideals and affirming them not only to each other, but to the outside community."
Timara Jones, a 2012 graduate, said it was "heartbreaking" to see the place where she had some of her most positive experiences taken over by bigots, and necessary for alumni to "be here to greet all students, but particularly our students of color."
"As a black woman in the south, I'm not unfamiliar with seeing Confederate flags or Nazi flags or seeing division and hate. But to see it on my grounds, coming down my lawn, in places, streets that I've walked ― that was just like, 'Woah,'" Jones said. "Anytime it happens in your own backyard or places you consider home, I feel like the feelings are magnified by 1,000."
Many students and alumni said they have been concerned by the university's reaction to the march. Some want UVA, which was built and maintained by thousands of slaves, to do more to acknowledge its own history. Student organizations also held their own "March to Reclaim Our Grounds" on Monday, where they presented a list of demands that included adding a plaque to UVA's Jefferson statue that specifically notes its history as an "emblem of white supremacy."
University administrators say they're working to make the grounds more reflective of the school's history, pointing to a forthcoming $6 million memorial to enslaved laborers that they hope to unveil in 2019.
But even as they push UVA to confront its history and further diversify its student body, alumni who spoke with HuffPost said they are determined to make sure black students don't feel pushed out of the university.
Brandy Mokhtar, a Richmond resident who graduated from UVA in 1996, traveled to UVA for a candlelight vigil last week. She told HuffPost she felt "compelled" to help "cleanse and wash away all the hatred that was spread across the grounds."
Mokhtar said UVA is generally "a very safe place," and what happened there is not representative of the school. She said every university has "growing pains," and that she felt the university responded well to incidents that took place when she was on campus two decades ago.
"I wanted to make sure that other students coming here in the next couple of days, the next couple of weeks, and also those who were considering coming to the university felt like they could have that experience as well," she said.

America does not do a good job of tracking incidents of hate and bias. We need your help to create a database of such incidents across the country, so we all know what's going on. Tell us your story.
Before You Go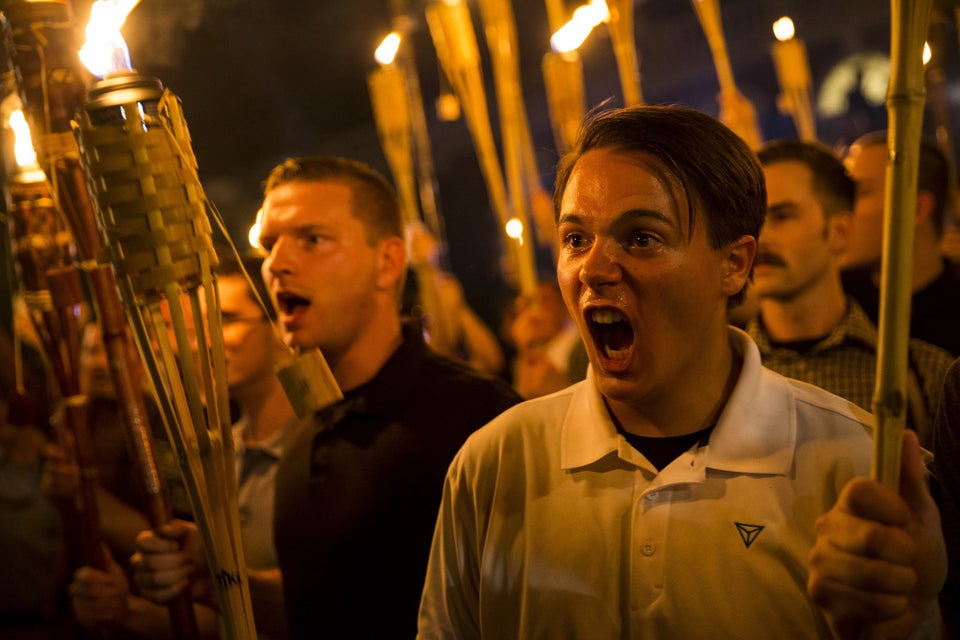 Clashes In Charlottesville
Popular in the Community