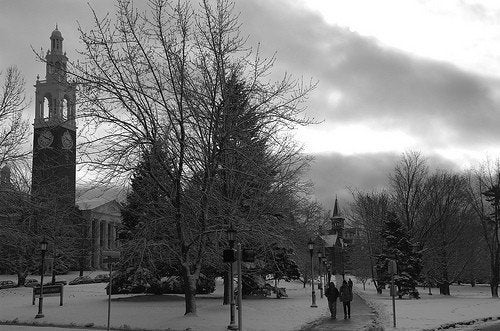 The wife of the president of University of Vermont was relieved of her university duties after allegations of an inappropriate relationship with a staffer surfaced during his divorce proceeding, the Burlington Free-Press reported on Tuesday.
For 6 years, Rachel Kahn-Fogel wrote amorous letters and emails to Michael Schultz, UVM's associate vice president for development and alumni affairs. In 2010, these letters were discovered by Schultz's wife, Pauline Manning, who ended her marriage as a result of them and brought them as evidence in her divorce.
Kahn-Fogel and Schultz struck up their relationship after working together in the development office, (Kahn-Fogel worked as a volunteer development events planner for the university). Their connection deepened, and letters were exchanged. Schultz eventually hired a private post office office to receive the missives.
According to an email obtained by Seven Days Magazine, in November 2004, after the two went out together, Kahn-Fogel wrote to Schultz," I felt as if the evening were surrounded by lake and kisses. It could not be topped. From lake viewing to lake viewing, from kiss to kiss ... I will never, never forget last night and the happiness I felt with you."
After a public records request from Seven Days Magazine, alerted the university to the allegations, UVM is initiating an investigation to see if the relationship violated any of the school's policies.
The examination will determine, among other things, whether UVM funds were misused in connection with the conduct of Kahn-Fogel and Schultz, [UVM chief spokesman Enrique] Corredera said.

He also said the school's Provost's Office will look into how Schultz's doctoral thesis was undertaken. After his personal relationship with Kahn-Fogel began, Schultz decided to write his doctoral thesis on how the spouses of college and university presidents are involved in fundraising programs, Schultz testified in court proceedings in his divorce case. The thesis, completed in 2009, was titled "Elucidating the Role of the Presidential Spouse in Development and Alumni Relations."
In response to the investigation, President Fogel released a statement. In it, he calls the allegations "profoundly disturbing" and revealed that his wife wanted it to be publicly known that she has had a history of "serious mental health issues."
Fogel and Kahn-Fogel were both the offspring of Cornell staff members and were in the same homeroom class in 7th grade. In his statement, Fogel said they are "dealing with the impact on our marriage."
Popular in the Community