University of Wisconsin-Whitewater Chancellor Beverly Kopper is facing a backlash for sending a campus-wide note this week condemning an image on social media as a "disturbing racist post," though the students in the photograph deny the characterization.
"Last night a disturbing racist post that was made to social media was brought to my attention," Kopper wrote in a message circulated Thursday morning. "This post was hurtful and destructive to our campus community. While social media can certainly bring about positive change, it can also be a place that deeply hurts and harms others."
The image she was referring to was posted on Snapchat and showed two students standing in a dorm wearing dark facial skincare treatments, which she interpreted as blackface. The students, however, say the post wasn't meant to be racist, it was just a picture of them wearing exfoliation masks.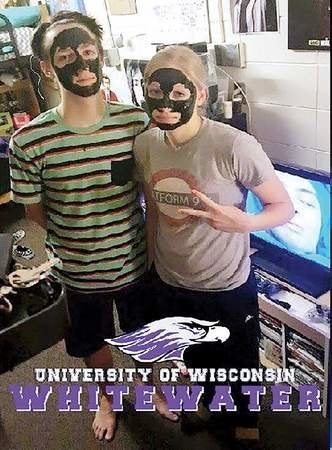 State Sen. Stephen Nass (R-Whitewater) put out a statement Thursday condemning Kopper's reaction: "The [chancellor's] official statement misled students, parents, and the public by confirming that a racist event had occurred, even though it really hadn't."
"The racial over-reaction of Chancellor Beverly Kopper and other UW-Whitewater administrators without first checking the facts of the situation is a stark example of how political correctness has warped the mindset of highly educated university administrators," Nass continued. "Frankly, these are the people responsible for educating our sons and daughters, but they seem incapable of applying reason or common sense."
The UW-Whitewater chancellor's office did not immediately respond to a request for comment or clarification on the statement about the Snapchat photo.
Kopper told local media that she spoke with the students in the photo after issuing her statement.
"They indicated they had no negative intention, that this was a facial," Kopper told NBC affiliate WTMJ-TV. "They expressed remorse, not realizing the reaction that would come from this post."
Mike Mikalsen, an aide for Nass, told The Huffington Post the state senator was upset that the chancellor issued a statement without first speaking with the students to fact-check whether or not there was any racist intent.
"Senator Nass is very upset about that because they should not have to apologize for doing nothing," Mikalsen said.
Kopper conceded to Nass' office that upon re-evaluation, she found that the students did nothing wrong and will face no punishment.
In Kopper's Thursday morning message she said she'd held an open forum Tuesday evening where dozens of students attended and "shared with me some truly upsetting stories about their experiences on campus including the use of racial slurs and microaggressions."
Black students reported finding a racial slur written on their doors this semester, according to the Associated Press. Kopper promised more forums so that school administrators will continue to hear from students, and said that a working group is in place to search for solutions to address racism on campus.