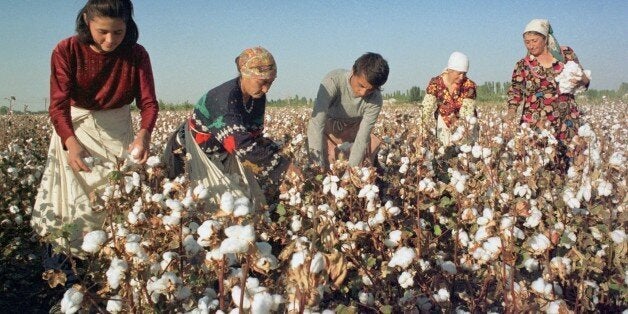 On October 19, a range of US companies, likely to include General Motors, Coca-Cola, General Electric, and Lockheed Martin, will talk with Uzbekistan's business and government leaders about their investments in the Central Asian country. The American-Uzbekistan Chamber of Commerce (AUCC), which organizes the event every year, will again seek to highlight investment opportunities while avoiding serious questions about human rights abuses in the country's largest export sector, cotton, and the role of multinational companies.
Uzbekistan is the world's fifth-largest cotton exporter, yet sales benefit the government elite on the backs of the Uzbek people. Right now the Uzbek government is forcibly mobilizing students, teachers, doctors, and nurses to pick cotton under threats of suspension from school and losing their jobs. Just this month, the Cotton Campaign documented six deaths associated with this year's harvest. This included a 2-year old boy while his mother picked cotton under threat of losing her job as a kindergarten teacher, a 17-year old boy and 3 others when the cargo truck transporting them to the cotton fields rolled, and Dr. Yusuf Esirgetov, who died of a heart attack after the regional governor jailed him for two days for not fulfilling the cotton harvest quota assigned to the hospital he directs.
This is the world's largest forced-labor system of cotton production, and the Uzbek government has ensnared multinational corporations in it. Last month, the Swedish telecommunications giant Teliasonera announced plans to pull out of Uzbekistan, a year after acknowledging all companies were required to contribute to the cotton harvest as a prerequisite for doing business in the country. Also ensnared, General Motors' Uzbek employees have reported that during each of the past three years their managers sent them to pick cotton under threat of losing their jobs.
The Uzbek government tries to cover up its use of forced labor by harassing, detaining, and imprisoning citizens who report rights abuses in the cotton sector. On September 29, human rights defenders Elena Urlaeva and Malohat Eshankulova were subjected to body-cavity searches during a 14-hour detention. Muhammad Bekzhanov, who pioneered reporting on the Government's forced labor system, has spent 15 years in prison and is currently the world's longest imprisoned journalist. Salijon Abdurakhmanov, a journalist who reported on government corruption, and Azam Farmonov, a human rights activist who defended farmers' rights, are both sentenced to ten or more years in prison. Some AUCC members may argue that their engagement can incentivize change, but partnering with human rights violators such as the Uzbek government undermines the earnest efforts of human rights defenders in the country and places the companies' investments at risk. Such partnerships also undermine the principles these companies espouse; Coca Cola, for example, cites its human rights policy as a foundation for managing their work. Some companies have already decided to disassociate themselves from Uzbekistan. The French commodity trader Devcot stopped trading Uzbek cotton, and the global bank BNP Paribas suspended financing its trade. Over 175 retailers and consumer brands, many American, have pledged to avoid using Uzbek cotton until forced labor is ended. Yet AUCC members remain silent.
When the Uzbek and U.S. business leaders gather for the AUCC meeting, they will hear from the United States Department of State, which is currently developing the U.S. national action plan on responsible business conduct. As an OECD member and endorser of the United Nations' Guiding Principles for Business and Human Rights, the U.S. government has a duty to help U.S. companies avoid complicity in human rights in their operations around the world. They can start by breaking the silence.
We thus urge U.S. businesses operating in Uzbekistan and the U.S. government to use the AUCC event to speak out against human rights abuses in Uzbekistan and denounce the harassment of human rights defenders in the country. At the very least, the AUCC members can and should publicly commit to not contribute to the forced-labor cotton harvest and establish independent human rights monitoring of the businesses' operations in Uzbekistan.
Co-author: Matthew Fischer-Daly, Cotton Campaign coordinator, International Labor Rights Forum *The Cotton Campaign is a coalition of business associations, human rights NGOs, investors and trade unions working to end forced labor in the cotton sector.
Popular in the Community