Uzbekistan, the native country of the suspect in Tuesday's terrorist attack in Manhattan, is a former Soviet Union republic that under a repressive government has become a hotbed for radicalism, Islamist extremism and terrorist recruitment.
This year alone, one Uzbek national shot 39 people to death at an Istanbul nightclub on New Year Day, and in April another plowed a hijacked truck into pedestrians in Stockholm, killing five.
In the New York attack, Sayfullo Habibullaevic Saipov, 29, allegedly drove a rented truck onto a bicycle path, killing eight people and injuring 12 others. Saipov, who is in custody, reportedly moved to the United States in 2010 on a green card, which allows him permanent residence.
Details on Saipov's ideology and ties to his native country remain unclear, but authorities say that in a note found at the scene, he claimed he attacked on behalf of the so-called Islamic State militant group. Saipov had become "radicalized domestically" after coming to the U.S., according to New York Gov. Andrew Cuomo (D).
Terrorist groups like ISIS have drawn many fighters from Central Asian nations, especially Uzbekistan and Kyrgyzstan. Neither country is included among those directly affected by U.S. President Donald Trump's travel ban or refugee restrictions, though he said Tuesday that he had ordered the Department of Homeland Security "to step up" his administration's "extreme vetting program" for immigrants.
Regional issues including a deep economic recession, corruption and state-sanctioned persecution in Uzbekistan have fostered an environment of desperation, increasing the likelihood of its citizens being radicalized by groups like ISIS.
The country, situated north of Afghanistan and with a population of about 32 million, has long grappled with threats posed by domestic terror groups, like the Islamic Movement of Uzbekistan. The group was created in 1988 to establish an Islamist state. It sought to overthrow longtime authoritarian leader Islam Karimov and his anti-Islamist policies, but has repositioned itself as an ally of al-Qaeda and the Taliban and publicly pledged allegiance to ISIS in 2015. The U.S. designated the IMU as a foreign terrorist organization in 2000.
Uzbek President Shavkat Mirziyoyev, who came to power following Karimov's death in 2016, responded to Tuesday's attack by extending his condolences in a letter to Trump, and offered "to use all the forces and means to assist in the investigation of this terrorist act." His election marked Uzbekistan's first major political transition since it gained independence in 1991.
Under Karimov, Uzbek authorities detained thousands of political prisoners, regularly tortured inmates, violently repressed dissent and waged other forms of abuse against citizens, including children, according to Human Rights Watch.
Mirziyoyev "has taken some positive steps to improve the human rights situation" in Uzbekistan, according to a recent report by the human rights group, such releasing political prisoners, easing certain restrictions on free expression and increasing government accountability. But the government "should now transform [those steps] into institutional change and sustainable improvements," the report said.
Mirziyoyev's government remains concerned about the infiltration of violent extremists from neighboring nations including Tajikistan and Turkmenistan, and has focused on improving cross-border relations with these countries, according to the U.S. Department of State. However, Uzbek authorities restrict information on internal matters, the department said, which makes it difficult to understand the extent of the country's terrorist threat and the effectiveness of its counterterrorism efforts.
Related
Before You Go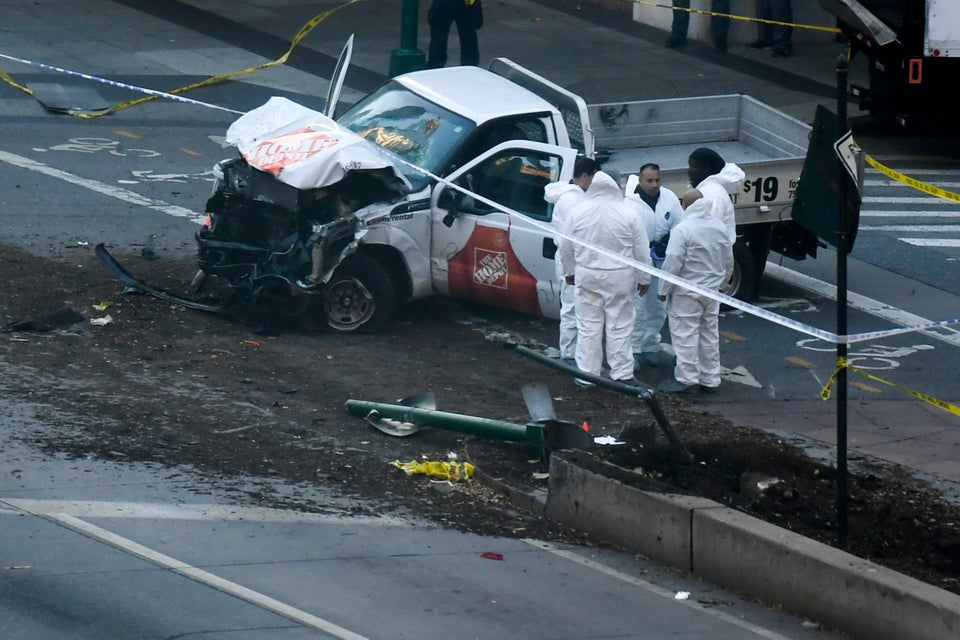 Multiple People Killed After Truck Plows Through New York City Bike Path
Popular in the Community