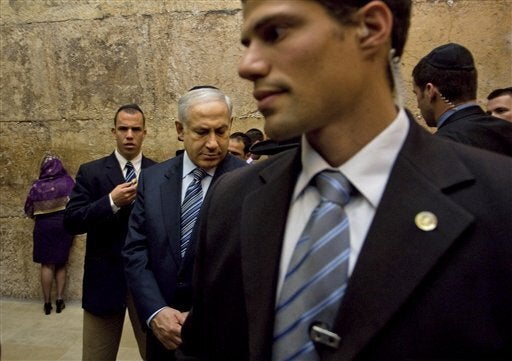 WASHINGTON, Apr 2 (IPS) - The first official test of wills between the administration of U.S. President Barack Obama and the new Likud-led government of Israeli Prime Minister Benjamin Netanyahu could well be waged over the issuance, or restoration, of a simple entry visa.
For the past two years, Dr. Uzi Arad, the former director of intelligence for Israel's Mossad, has been denied entry into the United States based on a 2004 meeting he held with a Pentagon official who has since been sentenced to 12 years in prison for passing classified information to Israel. Under a long-standing section of the Immigration and Nationality Act (NA), foreign individuals suspected of engaging in espionage or sabotage against the U.S. cannot be granted a visa to come here.
Netanyahu, who was sworn in for a second stint as prime minister Tuesday, has long said he will appoint Arad director of Israel's National Security Council, a critical post that will almost certainly require frequent consultation with top U.S. officials.
Any reversal of U.S. policy regarding his visa status is likely to be read both here and abroad as yet another indication that Obama remains wary of confronting Netanyahu and his right-wing supporters in the so-called "Israel Lobby" here, even on issues of serious concern to U.S. counter-intelligence officials who have long complained about Israeli spying.
Arad's status will likely add to anticipated tensions between Netanyahu's new right-wing government and the Obama administration, which has repeatedly made clear that progress in Israeli-Palestinian peace talks is a major priority.
Netanyahu's choice of Avigdor Lieberman as foreign minister has already provoked expressions of concern by the Lobby's leadership that his presence could make their work much more difficult. Lieberman, a former member of the outlawed Kach party and West Bank settler, has, among other things, called for Palestinian Israelis to take loyalty oaths or lose their citizenship. Just this week, he repudiated commitments made by the previous government in the Annapolis peace process launched by President George W. Bush in November 2007.
U.S. officials are also likely to find Arad, a long-time Netanyahu loyalist, difficult to deal with, apart from his intelligence past. Like Netanyahu, he opposed Israel's pullout from Gaza and as recently as last month suggested that he was against any territorial compromise with Palestinians, telling one television interviewer, "We want to relieve ourselves of the burden of Palestinian populations, not the territories."
The question of whether and how Arad will be received here comes on the heels of last week's withdrawal by ret. Amb. Charles "Chas" Freeman as chairman of the U.S. National Intelligence Council (NIC) after a three-week campaign by key elements of the Lobby against his appointment.
Freeman, a former ambassador to Saudi Arabia and one of the most highly regarded diplomats of his generation, came under heavy fire from Likud's supporters here for criticism of Israeli policies, especially toward Palestinians in the occupied territories.
With Freeman out of the way, Arad's status could well mark the next test of how much influence Netanyahu and his supporters here can hope to exercise on the Obama administration.
Already, the former spy has provoked at least one remarkably awkward situation during the visit to Israel last month of Secretary of State Hillary Clinton.
Along with Obama's Special Envoy George Mitchell and U.S. Ambassador to Israel James Cunningham, Clinton visited Netanyahu in his office shortly after he was tapped to form a new government following the Feb. 10 elections. In addition to Netanyahu and Israel's ambassador to the U.S., Sallai Meridor, she and her delegation were introduced to Yitzhak Molcho, who is expected to become Netanyahu's informal channel to the White House, and Arad.
Clearly briefed on Arad's status and his identity as the "foreign official" cited in court records in the 2005-06 prosecution and conviction of former Pentagon official Lawrence Franklin, Clinton reportedly suggested that each side limit itself to three people. To her surprise, Netanyahu reportedly agreed and then asked Meridor to leave the room.
According to sources quoted by foreignpolicy.com, Clinton was uncharacteristically tight-lipped during the exchanges that followed. Significantly, Meridor resigned several days later.
It is not hard to understand why Netanyahu wanted to have Arad present for the meeting with Clinton. By all accounts, he is a man of remarkable intellect and energy. Among other achievements, he is the founding head of the Institute for Policy and Strategy at the Interdisciplinary Centre in Herzliya, Israel's most influential national-security think tank, and has served as a top adviser to both the Knesset Foreign Affairs and Defence Committees and to Netanyahu during his first term as prime minister, from 1996 to 1999. He served 25 years as Mossad's research (intelligence) director.
While he was a professional staff member at the hard-line neo-conservative Hudson Institute in the U.S. in the 1970s, he was awarded graduate degrees by the Woodrow Wilson School at Princeton University and even wrote a book published by the New York-based Council on Foreign Relations in 1979.
For all of his academic and professional accomplishments, however, Arad showed remarkably poor judgment in his meeting with Franklin at the cafeteria in the Pentagon "on or about February 20, 2004," as stated in the federal criminal indictment filed in federal court in August 2005. In that meeting, according to the indictment, Arad ("...a person previously associated with an intelligence agency of Foreign Nation A") and Franklin discussed "...a Middle Eastern country's nuclear program."
In 2003-04, Lawrence Franklin had been the Iran specialist in the Department of Defense Policy Division headed by Undersecretary Douglas Feith, himself a long-time Likud supporter. Franklin worked in a unit called the Office of Special Plans (OSP), which was tasked, among other things, to make the case that Iraq posed a major - and soon-to-be-nuclear - threat to the U.S.
As that case fell apart in the aftermath of the 2003 U.S. invasion, Israel began warning about Iran's alleged nuclear-weapons programme, which was apparently the subject of Arad's tete-a-tete with Franklin, who was under covert surveillance by the Federal Bureau of Investigation (FBI).
When the Washington Times disclosed shortly after Clinton's encounter with Arad that his application to renew his entry visa had been denied in 2007 under that part of the INA related to suspected espionage, Arad insisted in an interview with Associated Press that the cafeteria visit was "superficial" and that he and Franklin "had coffee and ...talked about the agenda of the day - nothing classified, nothing secret, nothing related to espionage." Had he not previously worked for Mossad, he said, "They would not have noticed me."
He also predicted that the visa issue would soon be resolved to his satisfaction, although, given the embarrassment of his encounter with Clinton, the outcome remains somewhat uncertain.
One former senior U.S. counter-intelligence official told IPS that, based on his experience, "(the FBI) may do a Department of Justice white paper on the damage Arad has done to our national security interests" when he applies for a visa.
"But in the end the White House and State Department will make the visa decision, probably on the basis of politics," he noted, suggesting that the combination of the Israeli government and its backers here would likely prevail over the recommendations of the FBI's counter-intelligence officials.
At the same time, he added, the FBI may recommend that the visa be granted to "let him run," while surrounding him with heavy surveillance.
Jim Lobe contributed to this article.
*Stephen Green is a freelance journalist and author of "Taking Sides: America's Secret Relations With a Militant Israel" (1984) and "Living By the Sword: America and Israel in the Middle East, 1968-87" (1988).
Popular in the Community