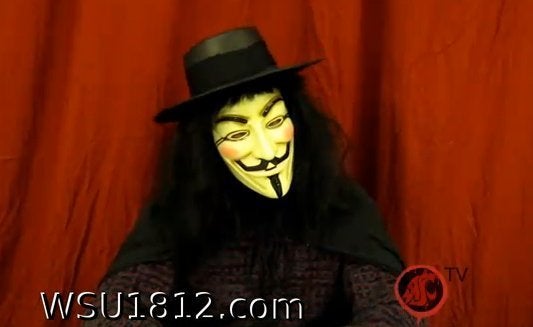 A sophisticated hacker managed to infiltrate dozens of Washington State University classrooms last week with a video featuring a call for student involvement from someone dressed as V from the film V for Vendetta last Friday.
After hacking into the university's academic media system, which manages classroom-presentation and distance-learning technology, the as-of-yet-unidentified culprit or culprits programmed motorized screens to unfurl themselves and scheduled projectors to broadcast the five-minute-long video once every hour. The video--ostensibly a diatribe against campus squirrels and a call to end student apathy--interrupted lectures and cut off access for distance-learning students until the IT staff was able to shut down the program in the early afternoon.

According to Darin Watkins, the university's executive director for external communications, IT officials in some cases had to unplug computer hard drives in order to stop the hack. "It was a rather sophisticated program," he said. "Traditional ways of shutting down the software wouldn't work."
The video features the web address for WSU 1812, a blog purporting to have "have grown tired of this university's disregard for the opinion of it's [sic] students" and naming the school's student government as a "prime culprit in this problem."
According to a column in the Daily Evergreen, some saw "V's" grievances as "trivial." But in a later e-mail, "V" stated that his video intended to serve as a launching pad for discussing. "I was hoping that everyone would generate their own list of problems which they are passionate about," "V" wrote in the e-mail. "If everyone only realized we are all surrounded by the same small common problems, we might just be able to solve them. From there, who knows where we could go."
WATCH the hack video here:
Calling all HuffPost superfans!
Sign up for membership to become a founding member and help shape HuffPost's next chapter