V. K. Torston's debut romance novel, Defiant Attraction is an atypical stepbrother romance. The novel releases today.
MW: How did you start writing romance and what made you decide to dive headfirst into the stepbrother subgenre?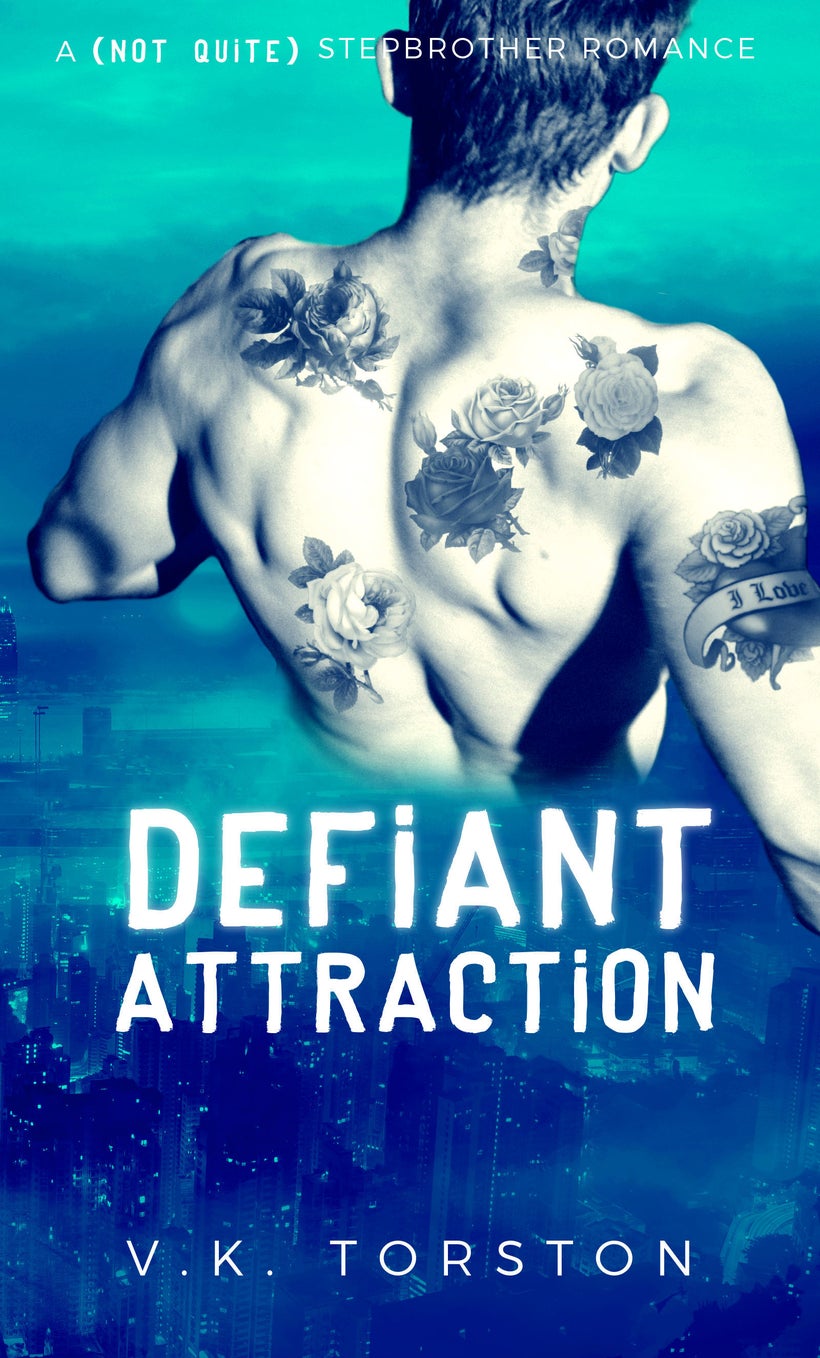 VT: I have a weird amount of aunties, so when I started writing seriously, I had two Romance Author Aunties ready to wave me in. (I never did take them up on offers to help though, because: sex book.)
To me, the appeal of the Stepbrother subgenre was never about taboo, but the tension of forced proximity. Essentially the setup goes: "Here's a hot guy who's face you would totally kiss. Now you have to share a bathroom with him, but you're definitely not allowed to kiss his face." The same force that brings the characters together also forbids them from getting together, which is fascinating to play with.
And unlike other "forbidden" pairings, Stepbrother stories don't assume unequal power dynamics. Boss/Employee or Professor/Student romances can be done really well (see: Unrequited by Saffron Kent), but critical issues like sexual harassment and abuse of authority have to be carefully negotiated. With Stepbrother, the stakes can feel just as high, but the ethics are easier to navigate.
This subgenre also comes with its own set of tropes and cliches, and there's nothing more fun than subverting a trope or eschewing a cliche!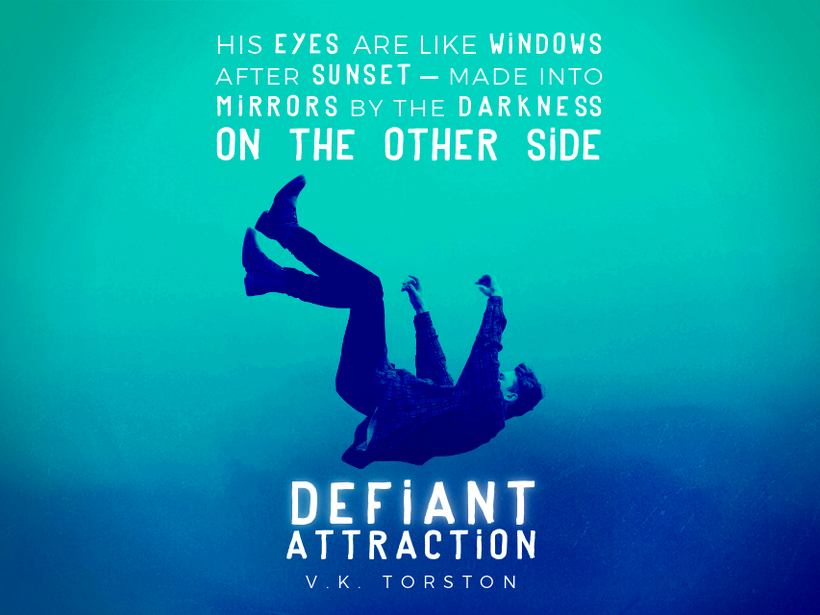 MW: What is your reading and writing background? Are you a believer in Happily Ever Afters? VT: Across all genres, I have a preference for contemporary authors. While I love a lot of classic novels too, I can only tolerate so much casual racism and misogyny. Like, Fitzgerald is a master wordsmith, but he just can't with women.
I'm a sucker for optimistically open endings and I love when characters are left with limitless possibilities. That said, there is nothing more satisfying than a perfectly executed Happily Ever After. In my own writing, that is what I aspire to.
MW: Was there any particular novel or film or song that inspired you to create your characters Dan and Sophie or their storyline? VT: "Sprawl II (Mountains Beyond Mountains)" by Arcade Fire definitely became a "character anthem" for Sophie. And while I doubt Dan would appreciate it, his anthem is probably AWOLNATION's "Sail".
Emily Brontë's Wuthering Heights was another major influence. There are key similarities between the stories, but instead of wild Yorkshire moors, Defiant Attraction is set in an industrial wasteland studded with abandoned factories. The books and lyrics in Defiant Attraction also underline the characters' anxiety, and often present similar relationships with tragic resolutions. These background references are like a voice whispering, "No good can come of this. Look what happened to them."
MW: Is there any of Sophie Ramos in you, or are you more of a Dan?
VT: Oh man! I was a Valedictorian like Sophia and a rebel like Dan, but I'm talkative while Sophie is reserved, and I never got into the kind of trouble Dan finds himself in.
It's easy to find comparisons with my friends and family, though. Most of the people in my life are mixed race like Sophie. Many of my friends dropped out of high school like Dan, and some had experiences with "adolescent treatment programs". I even copied a lot of my friends' tattoos!
MW: There are dark romance tones in Defiant Attraction, mainly because of the character's home life. Why was this important to the novel?
VT: I knew Defiant Attraction would be an angsty story, but I always end up going darker than planned. Once the characters felt real to me, their grit and complexity pushed the narrative in new directions. And I come from a working class background myself, so I'm no stranger to the way addiction and familial dysfunction can go hand-in-hand with economic disadvantage. It was like, as soon as I put all these elements together, angst just became inevitable.
Then again, this chaotic environment gave Dan and Sophia's attraction a kind of purity. If their homelife had been more stable, the central romance would have taken on a taboo slant. Domestic disruption allowed them to relate not as siblings, but as unlikely allies struggling to survive.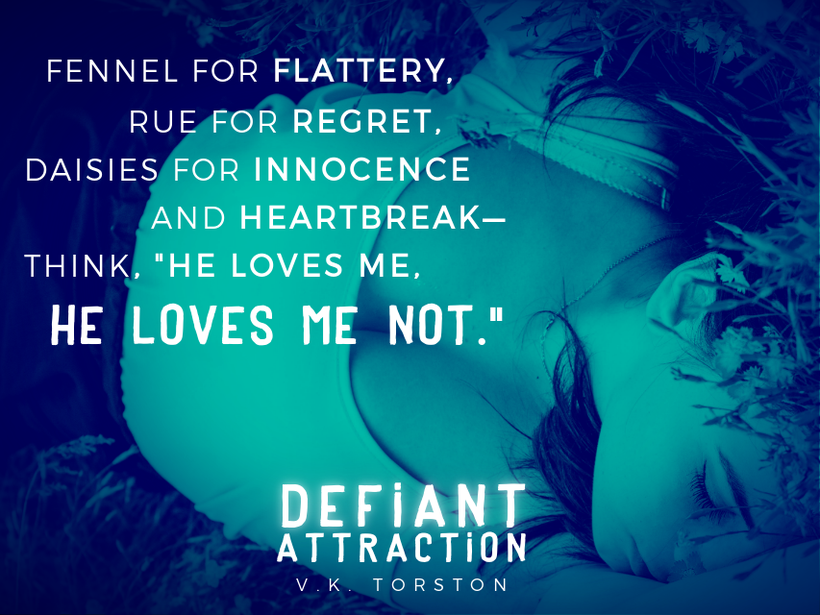 MW: Talk to me about Victorian Flowers.
VT: Basically, Victorians used flowers like emojis. Flowers took on coded meanings, and carefully crafted arrangements carried secret messages between lovers. These "talking bouquets" could say something as simple as "you're beautiful," or as complicated as a rambling drunk dial to an ex. Some flowers even had hilariously contemporary-seeming connotations. The gladiolus, which signifies both personal integrity and a desperate desire to be given a chance, was probably the favorite of self-proclaimed "nice guys" frustrated by the Victorian equivalent of the "friend zone."
MW: What do you do when you're not writing?
VT: Either taking care of my nieces and nephews, climbing on scaffolds, snuggling my kitties, watching local bands, or binging Netflix with my roommates. On Mondays, I eat salad in a park with my gay bestie because we don't believe in eating salad alone.
MW: Can you tell us some of your all-time favorite romance authors and/or novels?
VT: B.B. Easton's 44 Chapters series is an unparalleled angst-romp through alternative youth culture of recent decades. Saffron Kent is a master of anti-heroines and gray characters. Miranda Silver smartly balances the steam of erotica with the heart of romance. Eliza David kicks ass, takes names, and refuses to compromise. Mara White is what would happen if Junot Diaz wrote edgy erotic romance. Brittainy Cherry has the raw and heartfelt touch of someone who doesn't distance herself from her work.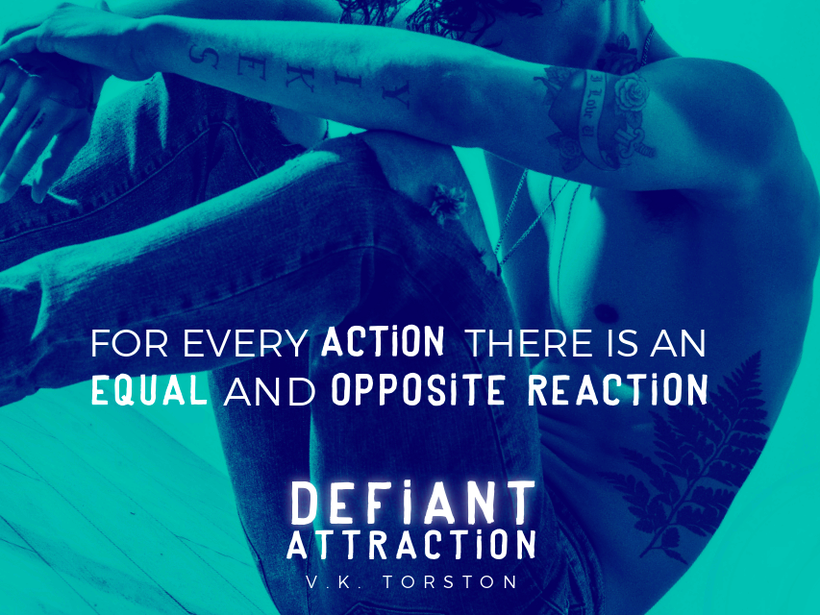 MW: Are you working on your next project? Will we get to see more of this couple? VT: I developed a ton of backstory for Dan that never ended up in Defiant Attraction, so I'm currently working on a companion book from his perspective. The Diary of Daniel Cole is presented as journal entries and introduces brand new scenes and side-plots. And because this is Dan's POV, it's funnier, angstier, kinkier, occasionally unreliable, and deeply felt.
Mara White is a contemporary romance and erotica writer who laces forbidden love stories with hard issues, such as race, gender, and inequality. She holds an Ivy League degree but has also worked in more strip clubs than even she can remember. She is not a former Mexican telenovela star contrary to what the tabloids might say, but she is a former ballerina and will always remain one in her heart. She lives in NYC with her husband and two children and yes, when she's not writing you can find her on the playground.
Calling all HuffPost superfans!
Sign up for membership to become a founding member and help shape HuffPost's next chapter
This post was published on the now-closed HuffPost Contributor platform. Contributors control their own work and posted freely to our site. If you need to flag this entry as abusive,
send us an email
.