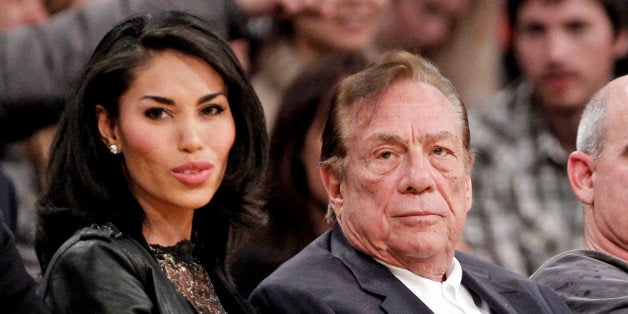 LOS ANGELES, March 26 (Reuters) - The woman whose recording of former Los Angeles Clippers owner Donald Sterling making racist remarks that cost him his NBA franchise testified in court on Thursday that she loved him but insisted again that they never had a romantic relationship.
V. Stiviano, 32, described herself instead as a onetime confidante, personal assistant and platonic companion of the 80-year-old billionaire real estate mogul, who she said chose to give her large sums of money and expensive gifts as gestures of his love and appreciation.
Stiviano was called to the witness stand in Los Angeles Superior Court on the second day of the non-jury trial of a lawsuit brought by Sterling's wife, Shelly, seeking the return of more than $3.6 million in joint marital assets she claims her husband was swindled into furnishing Stiviano without her permission.
A forensic accountant called as an expert witness by the plaintiffs testified that gifts from Donald Sterling to Stiviano included a $1.8 million duplex in Los Angeles, $1.2 million in cash payments and several luxury cars.
Stiviano's lawyer, Mac Nehoray, however, questioned the documentation of many of the cash deposits and credit card purchases the plaintiffs asserted that Donald Sterling made on her behalf.
The judge indicated at the end of Thursday's session that he found the money trail murky for all but about $700,000 of cash payments and credit-card purchases acknowledged by Stiviano. Testimony was expected to conclude on Friday.
Shelly Sterling, who accused Stiviano of fraud when she took the stand on Wednesday, said in her lawsuit that Stiviano was essentially a gold digger who seduced her husband into lavishing her with money and gifts.
Stiviano did not dispute Donald Sterling's generosity but denied she used sex to manipulate him.
"We developed a relationship of love for each other but it wasn't romantic," she said under questioning by Shelly Sterling's lawyer, Pierce O'Donnell.
It was Stiviano who recorded a now-infamous conversation with Donald Sterling in which he berated her for associating with black people and urged her not to bring minorities with her to Clippers games.
In the furor sparked when the recording was made public - Stiviano has said it was leaked to the media by a friend - the NBA banned Sterling from the league for life, and he was ultimately forced to sell the Clippers franchise he had owned for 33 years. (Reporting by Steve Gorman; Editing by Eric Beech)
Calling all HuffPost superfans!
Sign up for membership to become a founding member and help shape HuffPost's next chapter