 HUNTINGTON, W.Va. -- Eric Shinseki triumphed over a severe combat wound in Vietnam, outmaneuvered the crusty Old Guard in the Pentagon and stared down an icy Donald Rumsfeld.
But now this courtly, soft-spoken, stubborn soldier is engaged in the biggest gamble of his career -- and hanging in the balance is the well-being of millions of veterans and their families.
Drafted four years ago to fix what President Barack Obama called the "broken bureaucracy" of the Department of Veterans Affairs, Shinseki wagered that as VA secretary, he could eliminate the scandalous backlog of veterans' claims for benefits, a mountain of paperwork so bad it has become a reliable staple of national comedy.
Rather than tinkering at the margins as previous leaders of the VA had done, Shinseki has led a direct attack on the department's 19th century practice of processing claims with paper and stubby pencils. His intent is to demolish the old system and replace it with something any user of Amazon or Google would recognize: automated, interactive digital processing that is light-years ahead in speed and accuracy.
In a bold move unusual for Washington, where ducking accountability is an art form, Shinseki set himself a public deadline: By the end of 2015, clerks using the new system will process all claims within 125 days, with 98 percent accuracy.
Three years into the effort, Shinseki believes the results are promising. But not there yet.
Shinseki recently visited Huntington, W.Va., a Rust Belt river town deep in Appalachia, for a pep talk to some 200 VA clerks and claims specialists. He readily acknowledged the hard work it will take to reach his goal.
"I'm gonna continue to ask more of you," he told them, just days before his May 15 order that all VA claims specialists start putting in an additional 20 hours a month to chip away faster at the backlog. "Because we serve veterans, and until we get rid of the backlog, we've got work to do. And we're gonna get it done."
He believes there is reason for confidence.
The new digital system, called the Veterans Benefits Management System (VBMS), has been installed and workers trained in its use at most VA offices, and it should be up and running department-wide by the end of the year. That would give the VA two years before Shinseki's deadline to erase the backlog.
Two other new digital systems are already operational: ebenefits, which 2.6 million veterans are using to file and track claims for health and education benefits, jobs, insurance and home loan certificates; and an online site to apply for benefits under the Post-9/11 GI Bill.
The do-it-yourself ebenefits system is shifting work normally done by VA clerks to the veterans themselves, while the GI Bill site has enabled the VA to handle a tidal wave of new claims for education benefits. In 2009, the VA processed 173,000 GI Bill claims using the old paper system; today, its automated system is handling 950,000 such claims a year.
Shinseki often cites the success of these two programs as the basis of his conviction that VBMS will transform the way the VA has done business. "We know what we're doing," he told The Huffington Post in an interview here.
But with most claims still arriving on paper, VA workers are caught in the transition, having to process both paper and digital claims at once. And Congress in the past several years has authorized the payment of compensation to tens of thousands of Vietnam veterans exposed to the herbicide Agent Orange, and to veterans of any war suffering from post-traumatic stress disorder. These new claims are now piling up in VA mailrooms across the country.
Under the deluge of claims, VA managers have pushed their clerks to work ever harder. In 2010, for the first time ever, the department processed 1 million claims. In the door that year came 1.2 million claims, leaving them 200,000 claims behind. The next year, with clerks frantically experimenting with the new digital system, the VA again pushed out 1 million claims; in came 1.3 million.
Over the past four years, the VA has processed 4.1 million claims, paying out $203.9 billion in compensation and pension benefits. But during that period, it took in 4.6 million claims -- half a million more than it could handle.
Gradually, the VA has been sinking under the weight of accumulating claims, a politically volatile total "backlog" that has roller-coastered from 630,615 in January 2009 to 489,345 in January 2010 to 873,680 today.
Into this grim picture, Shinseki has been gradually inserting the VBMS automated processing system, even as software engineers issue patches and new versions. As of mid-May, roughly 18 percent of the VA workload, or 150,000 claims, is being handled by the new system, VA officials said.
Here at the Huntington regional office, where VBMS was installed last November, the staff is clearly struggling. Half of the workload comes on paper that has to be dealt with by hand. Some older files have been scanned into the new system. Clerks are hustling to keep the flow going in both systems at the same time.
Not surprisingly, productivity has dropped. Last November, as VBMS was being introduced here, clerks were processing claims in an average 173 days; this month, claims were pending an average of 230 days, according to VA data gathered by the Center for Investigative Reporting. That still beat the entire VA average of 277 days.
"Everybody in this office wants to do this," said one young VA claims specialist who rose to confront Shinseki. "We want to do the best we can. But it's very difficult to do the claims faster -- you'd better not make a mistake. And to be honest, everybody is so scared to death to make a mistake. But you have to make your numbers.
"The stress levels are going through the roof. We're afraid our jobs are on the line," she said.
"It's not perfect, I know that," Shinseki responded. "I am asking you to work as hard as you can and as accurately as you can."
And he drew laughter by asking, "Anybody here think you can process paper faster?"
Outside the VA, West Virginia veterans reflect a caution born of long and sometimes difficult experience.
"The VA people treat everybody very nice, in my opinion," Wes Sheppard, commander of the Huntington chapter of the Veterans of Foreign Wars, told HuffPost. "But they'll tell you themselves they don't want you to leave your claim there with the understanding anything's going to happen right away. It might take a year or more. Well, a lot of people in that year, they may die. And the benefits they are supposed to get, then they don't get it."
Another West Virginia veteran who helps file and track claims on behalf of a service organization said the VA employees in Huntington "are really struggling, trying to get a handle on it," referring to VBMS. "I'd say six months down the road, when they get all the bugs worked out, the process will be quicker. But the folks there don't like it." (He asked not to be identified because he works closely with the Huntington VA.)
Actually, given the staggeringly backward system the department has used to process paper claims, it's a wonder anything gets done.
More than a million paper claims pour into the VA every year from veterans with diabetes, bad teeth, broken bones, pancreatic cancer, coronary heart disease, PTSD, traumatic brain injury, soft tissue carcinoma, kidney failure, bleeding gums, fallen arches and more.
Each claim requires medical examinations and verifications, typically from the Defense Department, VA medical centers and the veteran's private physician or behavioral health counselor. It may also require the veteran's service records, if they exist; birth, marriage and divorce certificates; letters of eligibility; verification of employment; addresses back so many years; legal status; and financial records. Incomplete claims have to be sent back to be redone. As the claim inches along, it acquires bulk, sheaves and reams of paper. It may be sent to the "claims bank" to be held awaiting a doctor's report or Department of Labor form. All this is mandated to certify that a veteran is being properly compensated for service-related medical conditions.
Eventually, someone puts rubber bands around the file to keep papers from slipping out.
Yet the file may still get misplaced or lost -- a common complaint.
When all the paperwork is assembled, sorted, stamped, certified, misplaced and rediscovered, and filed, clerks begin figuring out how much money the veteran will receive in compensation. They wrestle open a 15-inch book of "ratings" to find out what the VA pays for each specific, narrowly defined problem. Thus, the loss of two ribs is a 10 percent disability; the lost of six ribs is 60 percent. If you have a piece of your skull removed by surgeons or an enemy bullet, that's a 10 percent disability -- if the hole is less than the size of a quarter. But a dime-sized hole in the head plus two missing ribs doesn't add up to 20 percent; there's a complicated formula for figuring that out.
Then, there are charts that affix dollar amounts to disability percentages. Currently, a veteran with a 10 percent disability receives $129 a month; 50 percent leads to $810 a month; and a 100 percent disability is worth $2,816. Unless condition A, section B-22, sub-paragraph 19(b-f) applies ...
All this is eerily similar to the hopeless mess of paperwork that Charles Dickens memorably described in his novel Bleak House. Small wonder that dragging this process into the digital age has been something of a culture shock for the VA.
VBMS gathers and holds all these records in a searchable database, and figures out the disability percentage and compensation amount automatically. And instantly. VBMS will also enable veterans -- all veterans, not just those using ebenefits -- to check online the status of their claims, relieving the VA of the 15,000 to 20,000 calls it receives each day with questions like "Didja get my form?"
But that's when the system is fully operational.
The director of the Huntington VA regional office, Leanne Weldin, a decorated Iraq War veteran, acknowledged that having her employees' workload split between paper and digital processing has been stressful. "We are treading water," she said. "VBMS hasn't slowed us down, but it's a matter of getting the confidence to switch back and forth."
A claims specialist, who said she's been processing veterans' claims for 10 years and who VA officials insisted not be identified by name, described the difference. "It takes me 20 or 30 minutes to check through a paper file to find a document," she said, referring to a bulging 7-inch-thick, rubber-banded claim folder. "With VBMS, I can use a keyword search and it takes seconds."
Still, department officials are reluctant to claim that VBMS is already achieving what it promises: increased speed and accuracy.
"The jury is still out," said one senior official responsible for implementing the new system. "We are seeing efficiencies. I'd hate to throw out a hard number." The VA declined a request by HuffPost to name this senior official.
In the meantime, Shinseki is facing a deluge of criticism.
His insistence that he will meet his 2015 deadline has been met with catcalls and hoots of derision. A letter to President Obama demanding a "clear plan" to end the backlog, which ignored Shinseki's initiatives, was signed by 67 senators. The group Iraq Afghanistan Veterans of America flooded Capitol Hill with veterans demanding a presidential commission to investigate and clear the backlog. Time columnist Joe Klein even advised Obama to fire Shinseki.
The critics focus on the backlog as "a national disgrace" that seemingly leaves combat veterans languishing penniless while the VA ignores them. But VA data show that most of the claims making up the backlog come from veterans who are already receiving benefit from the VA. About 60 percent of the claims in the current backlog are supplemental -- for instance, requesting to add a dependent.
That's the case for Art Davis, a 36-year-old Navy veteran who was assigned to Iraq in 2007 to track and shoot down mortar shells and rockets fired toward the Green Zone in Baghdad. Out of the service in 2009, he applied for VA compensation for his diagnosed PTSD and other ailments, and within six months he began receiving a monthly check for about $1,100 as well as GI Bill benefits for college tuition and support.
In March 2012, he filed a supplemental claim for benefits for his wife and three children, worth about $400 a month. More than 450 days later, he is still waiting. He even buttonholed President Obama during a campaign stop in Ohio last year. The president promised to get him help -- and nothing happened.
"Shinseki keeps saying 2015, 2015! But he hasn't come out with a plan for helping people right now," Davis told HuffPost. "People are frustrated by the claims process and feel rejected -- people are committing suicide, and you can't tell me some of that isn't a result of this whole process."
Also typical is the experience of Jeff Kohler, a Navy veteran who was assigned to Iraq for a year on Army convoy missions. He returned home diagnosed with PTSD and mild traumatic brain injury (mTBI) and filed for disability in February 2010.
Inside of 13 months he began receiving some disability payments, but the VA denied his claim for brain injury and he appealed. A year later, the VA raised his payment for PTSD but again denied his claim for brain injury. He appealed again, and again the VA raised his compensation for PTSD. This March it finally granted his claim for mTBI. Rated at 70 percent disabled, Kohler receives about $1,200 a month in disability payments. He is 27.
Stories like this cut Shinseki to the quick. He holds a deep, almost mystical belief in the nobility and honor of military service, forged over his 38 years in uniform from West Point (class of 1965) through two combat tours in Vietnam, where he lost part of his right foot to a land mine and successfully fought to avoid medical retirement, becoming one of the first amputees to remain on active duty. He went on to command at the brigade, division and corps level, led U.S. and NATO forces in Europe, and was selected by President Bill Clinton as Army chief of staff, a position he held until June 2003.
At 70 years old, he feels responsible for the young soldiers he recruited and trained for combat, too many of whom were killed or badly wounded in Iraq or Afghanistan.
The VA's mission -- and his crusade -- is to get all veterans all the benefits they've earned.
"I shipped kids off to war, and this is a chance to take care of them when they come home and to take care of the kids I fought with in Vietnam," he told HuffPost last fall. He is not, he added, just going to "walk away from them."
Critics and doubters of Shinseki's quiet determination may have forgotten that in the spring of 2003, just before the U.S. invasion of Iraq, he was the only senior officer who reluctantly, but publicly, dismissed the Bush administration's war plan as inadequate. Under questioning by the Senate Armed Services Committee, Shinseki acknowledged what most senior officers knew but wouldn't say: that a war in Iraq would take roughly twice as many troops as Defense Secretary Rumsfeld had authorized. After an initial invasion, Shinseki testified, "ethnic tensions could lead to other problems" that would require a "significant ground force presence."
He was right -- but not forgiven. When Shinseki retired a few months later, Rumsfeld flaunted his displeasure by refusing to attend the traditional retirement ceremony. Shinseki has never mentioned the snub in public.
Critics may also have forgotten that it was Shinseki who foresaw the end of the era of heavy armored warfare in the late 1990s and forced the Army's infantry and armor units, and their heavyweight backers in the Pentagon, to accept a nontraditional weapon, the eight-wheeled Stryker fighting vehicle. It was used to good effect a few years later in Iraq and Afghanistan.
So Shinseki is undaunted. "I'm not leaving," he told HuffPost. "This is a big crossover year for us. The sooner we get into VBMS and the old paper stuff out, then our performance will go up, productivity and efficiency and accuracy will go up because we'll be focused on one thing."
"If you're going to make a change, make it big and bold -- walk up to the biggest guy on the block, stand in his face, and get it started," Shinseki said, explaining how he designs a tactical assault on bureaucracy.
As for the critics, he adds, "You always have folks that, you know, see the half-empty glass. You gotta just fight through it. They're not bad folks. They don't have the mission I do.
"Determination is 80 percent of most operations."
Before You Go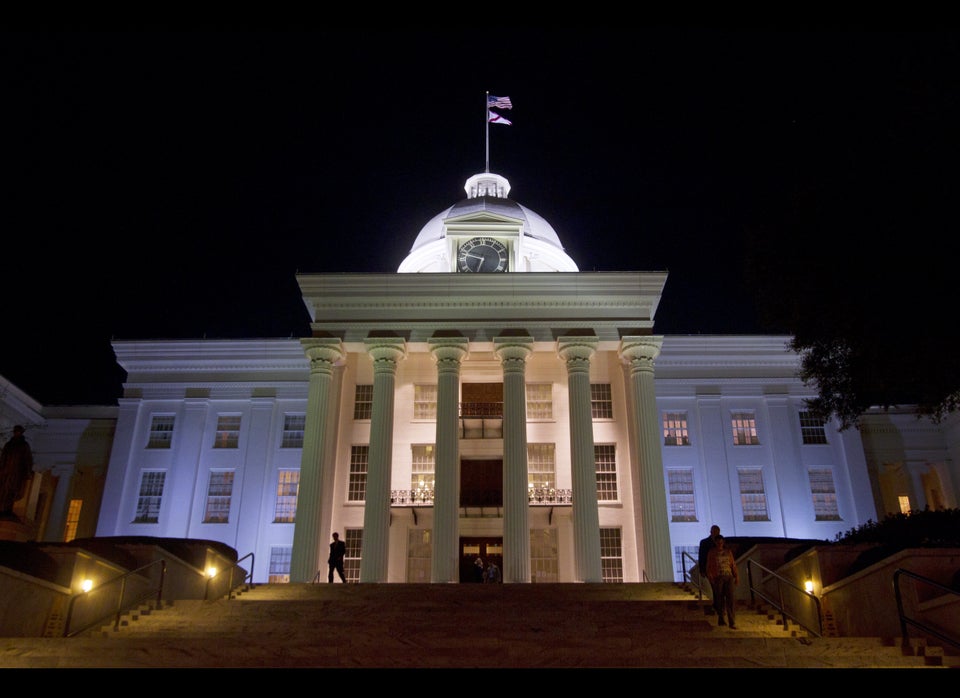 U.S. State Capitol Buildings
Popular in the Community