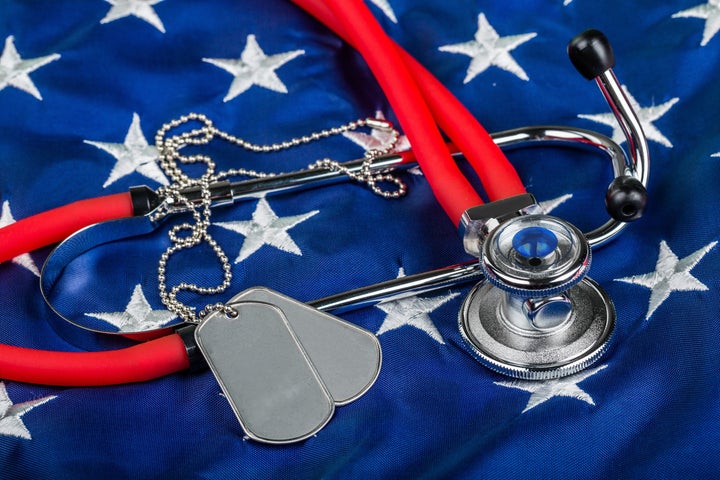 Right now, there is a healthy debate between privatizing or preserving the Department of Veterans Affairs (VA) health care system. At the center of this discussion is the Veterans Choice program. This program allows veterans to seek care outside of the VA health care system. Veterans Choice has emerged as the "tipping point" on partial privatization of the VA.
On one hand, veterans want the convenience and flexibility of Veterans Choice. On the other, veteran service organizations, like the American Legion, have drawn a line in the sand to defend VA health care.
As this debate unfolds, VA Secretary David Shulkin, this week, said he wanted to eliminate the mileage and wait time restriction for the Veterans Choice Program making it easier for more veterans to use.
There's a significance behind this debate. There are 21 million U.S. Veterans, and while their total number is on the decline, there's an increase in applications for VA health care. As this conversation evolves there's a clear need to understand the different viewpoints to create the best long-term solution.
Veterans Want Veterans Choice
There are key opportunities with Veterans Choice and it is in high demand among veterans.
A 2016 survey of 2,401 veterans, found 75 percent want to participate in Veterans Choice. Their primary reasons include shorter distance to travel for care (26.8 percent), avoid wait times (24.5 percent), and quality of care (24 percent).
The research found that 15.9 percent of veterans participate in Veterans Choice. Almost half of those participating have household incomes under $50,000 with 77 percent being over the age of 50. Two-thirds of participating veterans report a chronic illness or ongoing condition as well.
And while veterans want Veterans Choice, there is confusion around the program. Over 84 percent of veterans state they are not currently participating in the Veteran's Choice Program, yet one-third (33.1 percent) report having a Veterans Choice Card. Furthermore, of the 15.9 percent of veterans currently participating, only 58.1 percent state they have used their Veterans Choice Card.
"As Veterans Choice expands, the confusion around the program that persists among veterans must be addressed with dedicated outreach and education."
Argument to Keep a Strong VA
Veterans service organizations have long championed the preservation of the VA, and make compelling arguments why it should remain intact. The main fear is that privatization lowers the quality of health care for veterans. They cite multiple studies showing VA health care outperform the private sector in quality of care.
Some go so far as to argue fully privatizing the VA would amount to an insult to the service of millions of veterans who risked their lives to defend our country.
The veterans organizations do acknowledge areas of opportunity within the VA, and that the trust of veterans has been damaged. But these same organizations believe privatization cannot meet the complexities of the VA. They uphold the VA's problems can be fixed and that trust can be restored with veterans.
The change is from VA-centric to veteran-centric resulting in a system with both strong a VA and a Choice program. Veterans are individuals and offering them choices will put them in charge, ultimately driving unprecedented engagement, better health outcomes and unmatched satisfaction with the VA.
It's clear that the VA has strengths in areas such as behavioral health care, spinal cord injury care and prosthetics. These will likely continue and grow the meet the changing needs of veterans.
But it's also clear that specialties, such as orthopedics, urology, podiatry and cardiology, are an early success for Veterans Choice in its current form. Speeding care for veterans in these specialty areas will likely expand.
Additionally, national providers such as ATI physical therapy are already integrated with the VA and providing convenient care options for veterans that reduce the strain on VA resources.
As Veterans Choice expands, the confusion around the program that persists among veterans must be addressed with dedicated outreach and education. Part of this needs to be a listening/ learning program that applies the feedback of veterans to guide this period of program expansion.
With veteran insights, consumer science, and social networking solutions we can put the veteran in charge, enabling them to "have their cake and eat it too." Value is defined uniquely by the veteran with ability to choose the best approach for me; quality of care, speed of service, convenience, and cost - all factoring into the equation.
It's still unclear how far Veterans Choice will ultimately go, but a healthy debate will help leaders make the best decisions for the future of veterans health care.
Popular in the Community