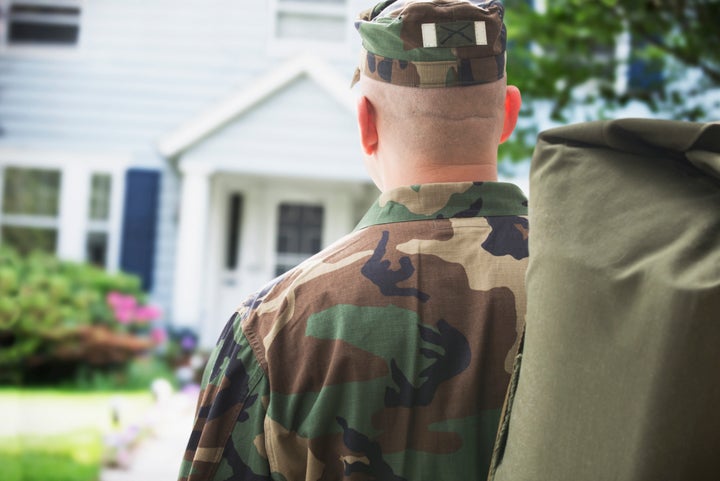 One of the promises we make members of the military is that in exchange for their service, we promise to ease their transition back into civilian life when the time comes. For over seven decades, a major element of that deal has been the VA loans that veterans can use to buy a home.
These loans require no money down and can be obtained with much lower credit scores than other mortgages. But the much-vaunted program, which began under the GI Bill of 1944, has hit a snag.
The Mortgage Bankers Association recently warned the Department of Veterans Affairs that the program may be hurting the very vets it was designed to help.
Here's The Deal
Under the VA loan program, veterans can borrow up to $417,000 ― or $625,000 in designated "high cost areas," like parts of California ― without putting any money down for a house that will be their principal residence. That's a good deal considering the median home value in the U.S. is currently $200,700, according to Zillow.
Among the program's other attractions, there is no maximum debt ratio ― meaning that the borrower's monthly mortgage payment can exceed the typical lender's restriction of no more than 28 percent of gross monthly income. There is no minimum credit score requirement either, while most other home mortgages require a credit score of at least 620 for conventional loans or 580 for most Federal Housing Administration loans. A VA loan can also be used to refinance an existing loan. And vets can get these loans more than once.
The VA home loan program is one of the key reasons that 79 percent of veterans own their own homes, compared with just 63 percent of the non-veteran population, according to Trulia.com.
But recent vets don't seem to be taking advantage of the program in large numbers. Just 36 percent said they had applied for a VA home loan in a 2014 survey of 2,000 members of Iraq and Afghanistan Veterans of America.
Pressured Not To Use VA Loans
Real estate agents have long complained that the VA's hurry-up-and-wait requirements when it comes to appraisals and inspections, associated red tape and extra hoops to jump through compared with conventional loan programs ultimately hurt veterans' efforts to purchase homes in a competitive market.
Now the Mortgage Bankers Association is highlighting the problem of delays in the appraisals that the VA requires. There is a shortage of available appraisers, which has led to longer wait times and missed contract deadlines.
Add the appraiser shortage to the fact that it's just faster and simpler to work with other buyers, and some home sellers and their agents shy away from dealing with VA loans. As a result, the mortgage bankers group said, veterans are under pressure to bypass the benefits of a VA loan and seek conventional financing instead.
Steve O'Connor, senior vice president of the Mortgage Bankers Association, laid out his group's concerns in a Sept. 5 letter to the executive director of the VA's Loan Guaranty Service, who oversees the loan program. He said that veterans often can't close a VA loan and are forced "to choose other loan programs to meet certain deadlines or face other adverse outcomes."
Finding alternate home funding means having to come up with as much as a 20 percent down payment, meeting tighter credit standards and walking away from a promised benefit they earned when they put their lives on the line for their country. A non-VA loan can also cost the veteran an additional "tens of thousands of dollars of interest payments over the life of the loan," O'Connor wrote.
The VA did not respond to questions emailed by HuffPost or make a spokesperson available for comment by publication time.
Appraisers Are Upset
While the Mortgage Bankers Association letter was sparked by anecdotal evidence provided by its members, the group is not the first to note the impact of changes to the appraisal industry ― changes that have not set well with current appraisers and may have discouraged new ones from entering the field.
Almost 75 percent of the 2,248 appraisers surveyed in a 2017 study from the National Association of Realtors said they planned to leave or have already left the business because of greater regulation and an industry shift away from working directly for lenders to working for larger companies that manage groups of appraisers. These appraisal management companies take as much as 50 percent of what home buyers pay in appraisal fees.
The Dodd–Frank Wall Street reform law of 2010 put in place new federal guidelines that required banks to have a "firewall" between lenders and appraisers to avoid conflicts of interest. These appraisal management companies blossomed as the new middlemen, but the actual appraisers ― the people who do the hands-on work ― saw their pay cut. Appraisers also contend they're unfairly taking the blame when the companies "gouge" buyers with excessive fees, according to housing writer Kenneth R. Harney.
So appraisers are unhappy these days, and the assignments they most don't want to accept are those involving VA loans, according to the National Association of Realtors study. The double whammy of red tape and low compensation was the given reason.
To address the problem, the Mortgage Bankers Association offered a series of recommendations to the VA: use a virtual desktop appraiser to supplement the traditional process of on-site visits, grant property inspection waivers, and lend its support to a proposal from the Appraisal Qualifications Board to reduce licensing requirements.
"The damaging impact to the veteran community is clear and the VA should act quickly," the group wrote.
Related