WASHINGTON -- The problems veterans experience getting Veterans Affairs medical care also exist with VA mental health care, where veterans with post-traumatic stress disorder and even those at high risk of suicide face long waits, according to VA staffers and internal investigations.
At some VA medical centers, qualified mental health professionals, nursing staff and bed space are in such short supply that some mental health patients are discharged early. "The turnaround on patients has gotten faster -- there's a lot of pressure to get them in and out and a lot of them aren't ready to leave," said a VA psychiatric nurse, who added that patients are sometimes discharged "AMA" -- against medical advice.
This senior nurse, a 23-year Army veteran who serves at a major VA medical center, said she had a mental health patient who was discharged without his medication, without a discharge plan and without transportation. "I just happened to find him sitting in our lobby with his stuff, with nowhere to go," she said. "I sat with him three or four hours until his mother came."
Such stories are legion -- and illustrate longstanding, systemic problems within the VA's vast health care system. During the past decade, the VA has struggled to meet the growing demands of veterans for mental health care, hiring hundreds of professionals, opening community clinics, expanding the veteran crisis hotline, and contracting for outside mental health care.
But shortages persist. The VA currently is advertising to fill 1,563 mental health job openings, and VA staff are not encouraged to send distress signals to VA headquarters in Washington to report shortages.
Although the VA purports to enforce the No Fear Act intended to protect internal federal government whistleblowers, VA employees said the protections are routinely ignored by supervisors.
"There is no such thing as 'no fear' within the VA," said a mid-level VA employee, who like others quoted in this article asked not to be identified by name or location for fear of retaliation. "They do give us all this training on No Fear so they can let the people in D.C. know they've done the training. But I've been retaliated on lots of time. People try to send in a complaint and the people they report to, report to their chief, and next thing they are fired."
Investigators for the VA's independent Office of the Inspector General have consistently found that scheduling clerks and their supervisors were not reporting their inability to meet the tough new standards imposed by VA Secretary Eric Shinseki. Two years ago, for instance, the inspector general examined the VA headquarters claim that 95 percent of the patients referred for a full mental health examination were being seen within the required 14 days. In fact, Shinseki and his staff had no idea whether that claim was true because clerks only reported when evaluations were completed -- not when they were scheduled, the inspector general found.
In reality, the inspector general found, fewer than half of veterans needing a full mental health exam got one within 14 days; the rest waited about 50 days.
Such delays can have deadly consequences, of course.
Joseph Schiano served two tours in Afghanistan with Charlie Company, 1st Battalion, 6th Marine Regiment, his final tour in very hard fighting outside Marjah in early 2010. He came home convinced he was responsible for an incident in which Afghan women and children were killed during a battle. Haunted by nightmares and diagnosed with PTSD, he completed his time with the Marines and went home to Connecticut, where he sought help from the VA in January 2011.
When Schiano called the VA, he was told to send an email request, according to an account provided to The Huffington Post by his mother, Debbie. As she remembers it, her son received a VA letter two weeks later saying they'd get back to him in eight or 10 weeks. Two months later, as he continued to agonize over his combat experiences, Schiano's car ran off the road and he was killed. The VA never had gotten back to him. (The VA said it was unable to confirm this sequence of events.)
VA guidelines require that patients considered at high risk of suicide not only be seen immediately, but that they be seen in four follow-up evaluations within 30 days of being discharged from a VA hospital. In 2012, Shinseki set a goal that 85 percent of patients meet this metric. The IG reported in 2013, however, that "patients deemed at high risk for suicide did not consistently receive post-discharge follow-up at the required intervals." Of 215 patients whose cases the inspector general investigated, 65 didn't get the required follow-up appointments.
The VA has reported that perhaps 22 veterans take their lives every day, and that recently, the suicide rate is increasing among younger veterans and female veterans who are enrolled in VA health care.
Despite such problems, many veterans now are voicing qualified support for Shinseki, a combat-decorated, wounded veteran of the Vietnam War. Around a dinner table recently, a group of wounded Iraq and Afghanistan war veterans agreed that the VA has deep problems -- "I got disgusted waiting, so I use my private health care," said one -- but that Shinseki deserves more time to sort things out.
"I can sense some good behind him," said the VA psychiatric nurse. "I want to give him a chance to prove it, that he had nothing to do with this (allegations that VA officials faked wait times). My personal military opinion is that it's about time things began to happen."
Meantime, when she needs health care at the VA, she said she uses her VA employee identification to secure an appointment. "Without that, I'd be waiting five, six months. I've seen that happen."
Before You Go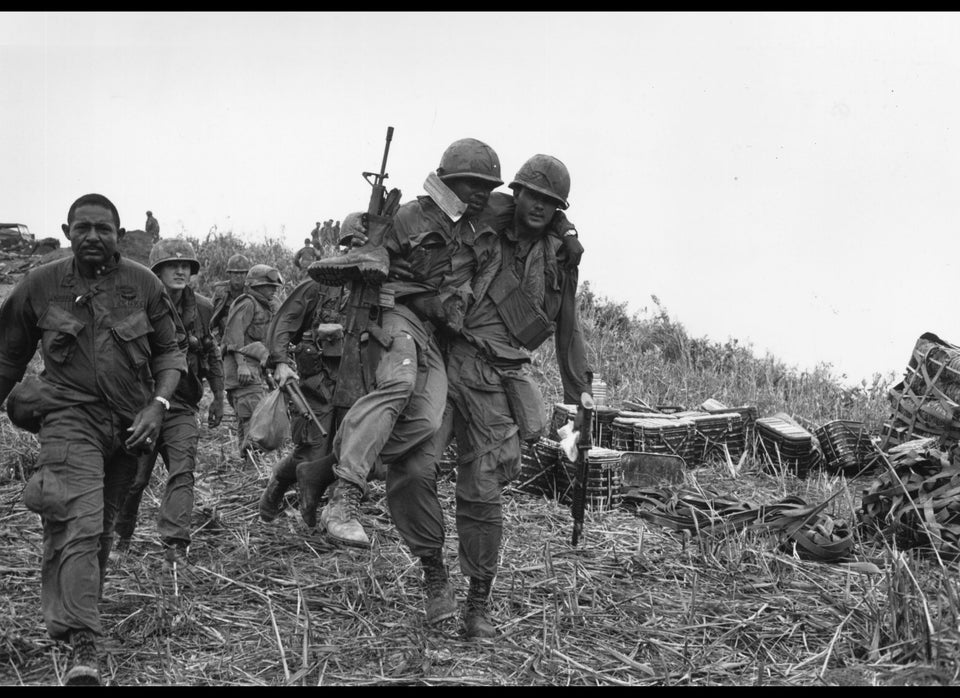 40th Anniversary Of Vietnam Withdrawal
Popular in the Community