WASHINGTON -- The scandal-plagued Department of Veterans Affairs is systematically overpaying clerks, administrators and other support staff, according to internal audits, draining tens of millions of dollars that could be used instead to ease the VA's acute shortage of doctors and nurses.
The jobs of some 13,000 VA support staff have been flagged by auditors as potentially misclassified, in many cases resulting in inflated salaries that have gone uncorrected for as long as 14 years.
Rather than moving quickly to correct these costly errors, VA officials two years ago halted a broad internal review mandated by federal law. As a result, the overpayments continue.
Moreover, in the two years since thousands of misclassified jobs were identified, hundreds of additional positions have been filled at improperly high salaries. Internal VA documents obtained by The Huffington Post show that between September 2013 and May 2014, for instance, overpayments in annual salaries for the latter jobs alone came to $24.4 million, not counting benefits.
In May alone, senior VA classification specialists identified 284 probably misclassified positions newly posted on the federal jobs site, USAJobs. Once filled, those jobs would result in estimated overpayments of $3.3 million per year.
For that amount of money, the VA could instead hire five neurosurgeons, 10 psychiatrists and five suicide prevention case managers at the average salaries currently offered on USAJobs.
The pattern continued in June, with more than a quarter million dollars of overpayments involving jobs at the Veterans Health Administration headquarters, according to an internal VA report.
Perhaps the worst news is that the department's ability to quickly stop this financial outflow is limited. Even if the improper pay grades are eventually downgraded, VA officials said that employees will be able by law to keep their higher salaries, meaning the VA will be saddled with these excessive costs for years.
Almost all of the newly documented overpaid wages and salaries involve employees of the VHA, the section of the Department of Veterans Affairs that operates 150 major medical centers and 820 community health clinics on a budget this year of $55.2 billion. It was inside the VHA that the waiting-list scandal erupted this spring, after investigations revealed that VHA employees were systematically hiding the requests of some 57,000 veterans for medical appointments that couldn't be scheduled because of the shortage of medical staff. Scheduling clerks and other administrative staff have said they kept the lists secret for fear of reprisal by superiors.
The VA's medical professionals are hired and paid under a separate accounting and oversight system from the administrative staff, and there is no indication of systematic overpayments to doctors, nurses or other health care providers.
The widespread misclassification of jobs has created a deep and systemic problem at the VA that will require massive job and pay turbulence to resolve -- and will surely set off angry protests within the ranks. The General Schedule, or GS, sets pay grades and rates for all federal employees. Even if they keep their higher pay, the loss of a GS grade can affect employees' future promotions and retirement pay.
Evidently alarmed at that looming employee reaction, senior officials at VA headquarters in Washington ordered a halt two years ago to any review and correction of misclassified jobs that might lead to lowered pay grades and smaller salaries. Paula Molloy, the senior official at the VA's Office of Human Resources Management handling the issue, told HuffPost that once the VA begins to examine the misclassified jobs, it will be at least 15 months before any corrective action could be taken.
"We are not going to be able to do these reviews overnight," she said.
That means VA communications clerks, for instance, will keep receiving overpayments. These jobs were misclassified above the proper civil service grade in 2003. All such clerks across the VA have been overpaid since then, at a total cost of $33,715 for each clerk in the last decade. Checks will also continue to go out for air conditioning equipment operators who were improperly classified in 2000, resulting in overpayments for each of those jobs of $67,172 over the past 14 years.
The VA has not stopped advertising jobs at inflated grades, according to internal documents. In May, for instance, VHA managers at the Orlando, Florida, VA medical center advertised on USAJobs for two supply technician positions at a GS-7 level, which pays roughly $39,000 a year. But senior classification specialists found the actual work should have been classified at a GS-5 level, at roughly $31,000 a year. The recurring, annual overpayment for just those two employees: $15,048.
In another case in May, VHA managers at the regional administrative center in Albany, New York, offered a health systems specialist job at GS-14, which pays $96,948 a year in base salary. The classification specialists examined the job offer and determined that it described a GS-12 position paying $69,000. Annual overpayment: $27,679, according to an internal VA spreadsheet.
Altogether, senior VA classification specialists identified 284 probable misclassified jobs newly posted for hire during May alone, which would lead to estimated overpayments of $3.3 million per year.
Once people are hired into these jobs, federal law protects their inflated salaries. An employee whose position is downgraded to correct a GS misclassification will continue to receive the original, higher salary. "Their pay is protected," Molloy told HuffPost, because it is "no fault of the employee that the position was misclassified."
The problem of the thousands of current misclassified employees will be resolved through attrition, said Molloy.
AN UNACCOUNTABLE BUREAUCRACY
Sorting out this giant pay tangle will likely fall to the man President Barack Obama has nominated to fix the VA: Robert A. McDonald, former CEO of the consumer products giant Procter & Gamble. He is expected to replace Eric Shinseki, who resigned under fire as VA secretary in May. McDonald, who once served as a paratrooper with the 82nd Airborne Division, was himself forced to retire after 33 years at P&G because of slumping earnings and a failure to trim P&G's infrastructure.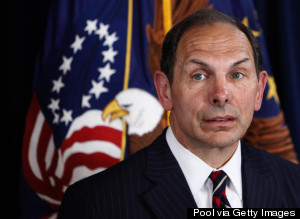 Robert McDonald has been nominated to serve as the next VA secretary.
Among the difficult issues that will face McDonald is how to manage a VHA workforce of over 200,000 employees that is already suffering from sagging morale and now faces considerable job upheaval. And he has to do it with an entrenched bureaucracy reluctant to change.
The overpayment problem is surfacing just as the White House is absorbing a new report detailing a "corrosive culture" within the VA, a habit of deceit and mismanagement in its personnel practices. The June 27 report from Deputy White House Chief of Staff Rob Nabors describes a bureaucracy "that tends to minimize problems or refuse to acknowledge problems all together" and is "resistant to reforms."
Nabors, whom Obama had dispatched to the VA in May to probe the depth and scope of management problems, also found "a lack of accountability across all grade levels" and a "history of retaliation toward employees raising issues."
The misclassifications of VA jobs appear to violate strict federal guidelines at the heart of the civil service system. VA officials are required by law to adhere to standards issued by the overseer of the civil service, the Office of Personnel Management. VA and other federal officials must certify that the job descriptions they issue comply with OPM specifications. Those specifications are extremely detailed; the job description for an equal opportunity officer, for instance, can run to 60 pages.
Around the VA, some 300 local classifiers check the job descriptions proposed by managers to ensure compliance. The positions are then advertised on USAJobs and usually filled quickly.
Oversight of this process has been provided by eight senior classification specialists charged with monitoring job descriptions and requesting corrections of those that have been misclassified. These senior specialists, with decades of experience, also handle any appeals. Their examination of a complex job description might take a month or two, and their assessment often runs 50 pages long. OPM reviews cases and has final say over appeals.
It was during an OPM review more than two years ago that three VA job categories were identified as misclassified at a higher pay grade than warranted. Under federal law, the VA was then required to immediately examine all similar jobs to ensure they were not also misclassified and correct those that were overgraded.
As it began to sort out the mess, the VA identified 14 other job categories that were apparently misclassified. In all, the 17 misclassified job categories account for some 13,000 employees, including police officers, custodians, boiler plant operators, human resources assistants and clerks.
In June 2012, seeming to acknowledge the uproar that a potentially massive series of job downgrades would cause, senior VA officials in Washington took an unprecedented step: Rather than beginning the broader review immediately as mandated, the the department ordered a "temporary" halt to any reclassification that would lower salary grades. In a June 29, 2012, administrative letter, Tonya Deanes, then deputy chief human capital officer, said that the VA was working to figure out how to "balance classification standards and equal pay for equal work with the potential number of resulting changes to lower grade."
The classification specialists, who are required by law to certify the accuracy of job and pay grades, began to push back against Deanes' order, which, in effect, prohibited them from doing their jobs. In some cases, the classifiers insisted that VHA managers downgrade misclassified jobs despite the order to halt. Complaints from the managers rattled windows in Washington.
"I do not know what the answer to this issue is," Elias Hernandez, senior workforce management officer at the VHA, wrote in a June 2013 email to colleagues. "But we need to develop some sort of communication strategy ASAP before this is briefed to the USH [VA under secretary of health] and VA Secretary."
In February 2013, the union weighed in. The National Veterans Affairs Council, which is part of the American Federation of Government Employees, filed an unfair labor practices charge to prevent reclassification from going forward without its input. This May, Molloy -- who had replaced Deanes last year -- and the union reached an agreement enabling the VA to begin examining and correcting the misclassifications, but allowing the union to bargain over how the changes will be implemented.
In the meantime, Molloy had extended the halt order in October. In an Oct. 24, 2013, memo, she directed that any reclassification to a lower grade "should continue to be held in abeyance" until the order is rescinded.
As a result, none of these improper GS grades have been corrected. With the senior classification specialists blocked from carrying out reviews and corrections of new job descriptions, misclassified posts continue to be advertised and filled. "I've had nine misclassified job descriptions come in just in the last two days," said a senior classification specialist, who, like other VA employees who spoke with The Huffington Post, asked not to be named for fear of retaliation.
At the VA central office, meanwhile, the review of those 13,000 jobs has not yet begun, Molloy said. And the overpayments continue, leaving classification specialists fuming.
"There is no basis in law or reg that allows for the indefinite hold," one senior classifier wrote to colleagues in June 2013, adding disconsolately, "We have advised and Management has chosen a way forward."
Across the federal government, the GS classification system is set up for maximum oversight. But at the VA, it hardly ever worked that way, longtime department officials said. Misclassifications would be caught and corrections requested, but only sporadically would jobs actually be downgraded. The problem of inflated job descriptions goes way back -- "for as long as I've been here," said one official who has logged many years at the VA.
The result is a patchwork of misclassified jobs and wildly varying salaries. "There are whole organizations within the VA that are overgraded," said a senior classification specialist.
Why would managers deliberately inflate job descriptions and salary rates? A human resources assistant in Boston, say, might learn that her counterpart at the medical center in Dallas was paid more and push her boss to rewrite her job description to justify a raise. The system as it actually operated gave managers little incentive to resist such pressure.
One senior classification specialist described a manager struggling with underperforming assistants but anxious to avoid the delay and paperwork involved in firing one of them. Instead, the specialist told HuffPost, the manager inflated the job description for a new assistant to get a higher salary that might lure a better-qualified applicant.
Once misclassified jobs became commonplace, managers likely felt they had to go along with the inflated pay structure just to attract and keep qualified employees.
In the current situation, Molloy said, it was important that her classification specialists not examine questionable cases in order to maintain their appearance of neutrality. "I cannot afford to have the appearance that those individuals who will be providing classification oversight for these 17 occupational series have already made a foregone conclusion that these positions are misclassified," she said.
Asked if anyone had complained that the classifiers were biased, she said the union "had raised those concerns."
Indeed, the National Veterans Affairs Council is fighting to prevent the classifiers from examining misclassified jobs, according to Ibidun Roberts, staff attorney for the council. "We absolutely believe they [the classifiers] are not neutral. It's the classifiers who misclassified these positions, so you'd have the same people who made the mistakes correcting them," she told HuffPost.
Roberts said the union would insist in bargaining that a "different set of eyes" be responsible for reviewing job classifications. She declined to say who should be given that responsibility.
Nonetheless, Molloy insisted that oversight of jobs being filled at the VHA "has not been shut down."
VA classification experts bristle at accusations that they are not neutral.
"Our classification policy staff is attempting to fulfill the mandate of our positions and do the right thing -- be good stewards of taxpayer funds and correct the misclassifications present," wrote one furious classifier in an email to VHA headquarters with the subject line, "Intentional Misclassification of Engineering Positions in San Francisco."
"There is no other agenda for what we do," this official wrote, "other than guide, temper and shepherd the direction of classification in the VA, as OPM directs and as law requires."
The classifiers say they are being squeezed between their professional responsibilities -- to certify that job descriptions are accurate and legal -- and Molloy's refusal to allow them to adjudicate classifications. They cannot now provide the needed oversight, several senior classifiers said, leaving them in what they feel is legal limbo.
"Do I follow the law, or do I follow guidance?" a worried classifier asked in another email to colleagues.
Speaking to HuffPost, Molloy challenged the notion that her senior classification specialists could accurately identify misclassified jobs from the information posted on USAJobs. "They in fact have not done the review that allows them to say a job is misclassified," she said, without mentioning that on her order, they are forbidden to do such reviews.
Besides, she said, "Classification is an extraordinarily complex art. You can have two very, very experienced classifiers coming to different decisions."
Classifiers themselves say the difficulty lies elsewhere.
A local classifier told HuffPost that she is "constantly being put in situations where the managers want you to compromise your integrity. My director would call me into the office and say, 'You will make this position this particular grade, no matter what.'"
One supervisor insisted on making a secretarial job a GS-7. "I said no, that job isn't even a GS-6," this classifier recalled. "When I went on leave, my supervisor made my replacement make it happen. It's like a good ole boy system where they scratch each others' backs." Senior managers, she said, "get kudos from the higher directors, get the nice bonuses because they don't get any complaints and they'll do whatever it takes to keep the higher-level managers happy."
The official, who is in her early 40s, came to the VA from the military. "As a veteran, this is heartbreaking," she said. In her region, she said, "We have over 2,000 employees identified as overgraded. In the military, you follow the law. Everything is done by regulation. Crossing over to the VA, I was dumbfounded. How do they just blatantly ignore the law?
"Some days you go home in tears and you can't sleep because you have no recourse. Management does not support you," said the classifier.
Asked why she doesn't push her objections up the chain of command, she snorted. "When you have kids to put through college, you fear reprisal."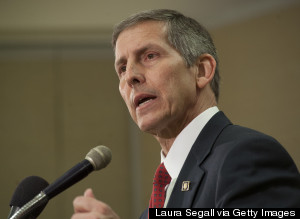 Acting VA Secretary Sloan Gibson has said whistleblowers will be protected.
Across the VHA, the fear of retaliation is pervasive.
The U.S. Office of Special Counsel, while investigating the waiting-list scandal at the VHA, found what it politely described as a "years-long pattern of disclosures from VA whistleblowers and their struggle to overcome a culture of non-responsiveness."
The independent agency -- which is charged with protecting all federal employees against unfair practices -- is looking into allegations of retaliation against 37 VA employees. The agency said it is currently blocking disciplinary action that the VA was poised to take against three of those workers after they disclosed wrongdoing. It noted that one-fourth of its whistleblower caseload comes from the VA.
Acting VA Secretary Sloan Gibson told employees in a June 13, 2014, memo that whistleblowers will be protected. "Intimidation or retaliation against whistleblowers -- or any employee who raises a hand to identify a legitimate problem, makes a suggestion or report[s] what may be a violation of law, policy, or our core values -- is absolutely unacceptable. I will not tolerate it," Gibson said.
But such assurances meet with disbelief out in the field. "We get a lot of pressure from supervisors and managers to be flexible and compliant to the desires of those we serve," a senior classification specialist said. "They either say it directly, or they'll hint that we need to make this or that person happy -- a lot of times meaning that we have to do something wrong."
"This is chronic," said the specialist.
Some have tried to warn senior VA officials. "Our team has brought to Senior VA HR Officials multiple instances of waste and abuse with the VA's current delegation classification authority," one frustrated classifier wrote in an email to a superior. "Our classification team is doing everything we possibly can to document the waste and abuse of taxpayer dollars."
However, she added, "When these issues are presented to senior VA Leadership it is perceived we are communicating in a negative manner and offending VA officials.
"We are not allowed," she said, "to hold managers accountable for their actions."
Before You Go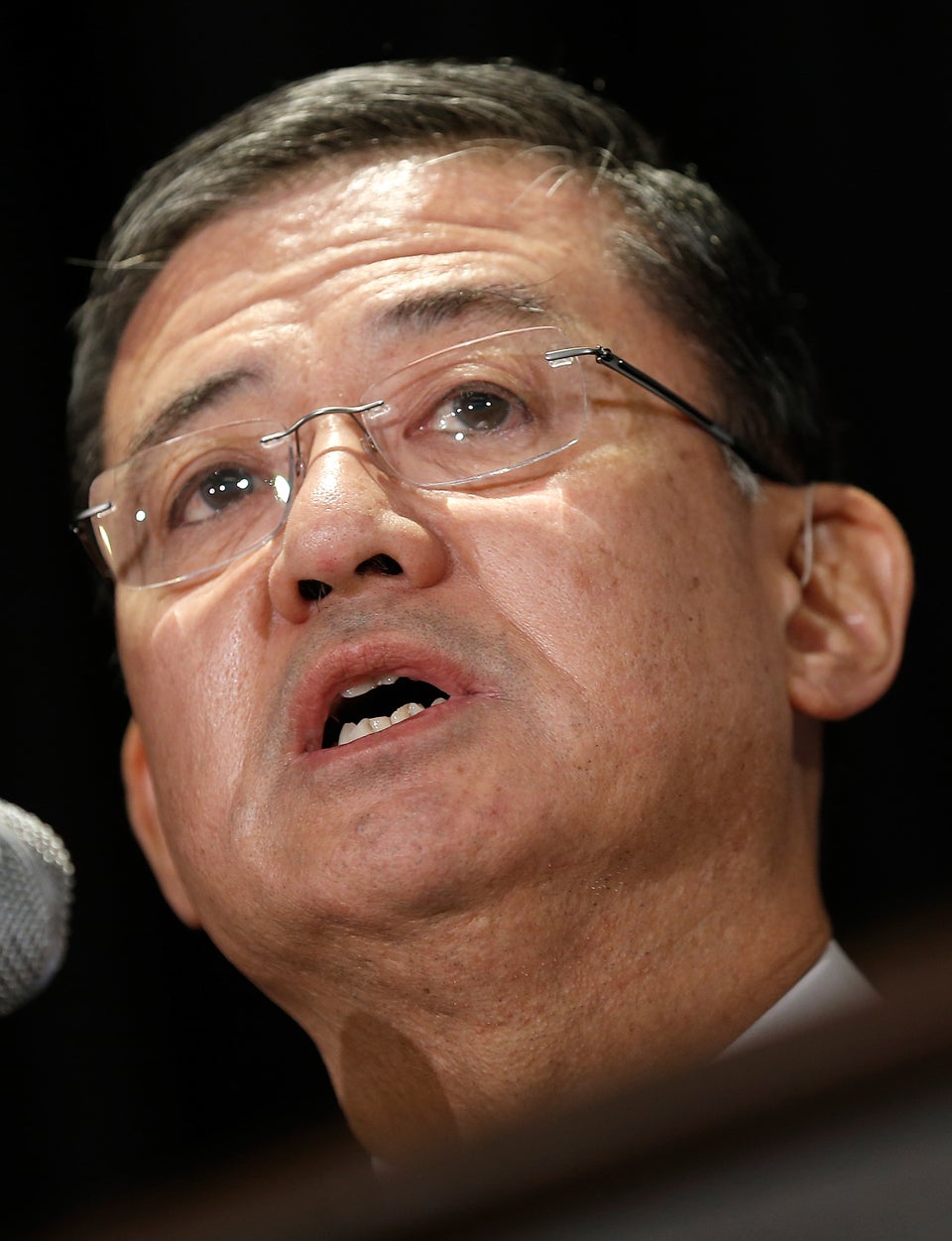 Veterans Affairs Secretaries
Popular in the Community