WASHINGTON -- Sen. Bernie Sanders (I-Vt.), during an interview Wednesday night, criticized President Barack Obama for naiveté in congressional relations. The White House, the senator told Larry King, routinely underestimates Republican opposition, often spinning its wheels in a fruitless effort to craft a legislative compromise.
On Thursday, Sanders told reporters he may have been similarly victimized by that opposition.
Sanders, chairman of the Senate Veterans Affairs Committee, announced that after weeks of trying, negotiations between him and House Veterans Affairs Committee Chair Jeff Miller (R-Fla.) over legislation to reform the Department of Veterans Affairs had ground to a halt.
The disagreement wasn't only substantive -- though major details still needed to be hammered out. Rather, Sanders accused his Republican counterparts of not being honest brokers. He chastised them for valuing political theater over actual negotiation, and insisted they were demanding votes only on their proposals.
Miller's "idea of negotiation is: 'We have a proposal. Take it or leave it,'" Sanders said on the Senate floor. "Any sixth-grader in a school of the United States understands, this is not negotiation."
The disintegration of VA reform negotiations, bursting into public view on Thursday, has been abrupt and dramatic. With just days remaining before Congress adjourns for August recess, it may prove irreversible.
Just one week ago, such a blowup wasn't widely envisioned. Sanders and Miller were working on bridging the divide between Senate and House reform proposals. Talks were described as generally moving in a productive direction.
The two men spoke on Monday for an hour. Miller was in Florida and phoned the conference committee room, where Sanders and Acting VA Secretary Sloan Gibson sat around a table. The discussion centered on the costs of a VA reform bill. The Congressional Budget Office had scored the Senate bill at $50 billion and the House measure at $54 billion -- astronomical figures that the lawmakers disputed.
The money was mainly to allow veterans without quick or close access to VA facilities the option of going outside the system for medical treatment. But at some point, the discussion moved to a separate funding need. Gibson explained that after assessing disrepair at the VA, the department needed $17.6 billion for fixes that include refurbishing old facilities, building new ones, hiring new personnel and updating records systems.
Gibson said he would provide further detail by the next day, according to notes provided by a Republican staffer. He did, but later than promised. The staffer said that the "information was vague" and, at that point, "Chairman Miller decided he couldn't go along with the $17.6 billion request, based on what he knew."
Still, on Tuesday, the brewing trouble was not so evident. Senate Majority Leader Harry Reid (D-Nev.) expressed worry during a press conference that VA reform wouldn't get completed prior to the recess. But behind the scenes, he gave Sanders room to meld the differences. The calculus was that making too big a show of the growing rift would alienate Miller further.
Sanders never actually backed Gibson's $17.6 billion request. He made clear his belief that the VA needed an infusion of cash to deal with the influx of veterans returning from combat. But he also said Gibson's request could be reduced. Moreover, Sanders said he was willing to find ways to lower the cost associated with allowing veterans to get care outside the VA system and, in another effort to find middle ground, was willing to find savings elsewhere to at least partially pay for the final bill.
But he couldn't find a negotiating partner. While conversations continued at the staff level, Sanders and Miller did not talk again. According to both offices, the two haven't actually spoken since that Monday phone call.
A reform effort that seemed likely to fall apart began doing just that on Wednesday. Upping the public pressure, Sanders took to the Senate floor to warn about the possibility of Congress leaving for recess without solving an issue that lawmakers themselves had deemed a must-fix crisis. He then journeyed a floor up to the Senate press gallery to brief reporters.
At 9:53 p.m. Wednesday, Jessica Eggimann, the chief clerk of Miller's committee, sent an email to a top staffer on Sanders' committee, asking her to forward a notice. Miller would be hosting an open conference committee meeting the next day to discuss VA reform legislation. Sanders' office took umbrage with the move, seeing it as inconsiderate at best (as the lead Senate member of the conference committee, Sanders should have been consulted in advance) and a political stunt at worst.
"Our Clerk will not be sending this notice to our members," Dahlia Melendrez, a top Sanders' aide, responded at 11:22 p.m. "As you know, this meeting was not coordinated with Chairman Sanders. He is very disappointed by this turn of events."
Thursday morning, Miller held the meeting anyway. Around a conference table, House Republicans gathered, joined by one Democrat: Rep. Ann Kirkpatrick of Arizona. Afterward, Miller's office sent out a letter, outlining a new proposal that incorporated portions of the Senate bill and provided $10 billion for veterans to get outside care. But his proposal dismissed Gibson's $17.6 billion request and dramatically chopped funds the Senate bill had set aside for improving VA infrastructure. The worst offense for Democrats, however, was a line asking Sanders to join Miller in convening a conference on July 28 "for a formal vote on this proposal."

Reid's office, which had held off pushing the issue, quickly pounced, mocking the meeting as a pointless spectacle and noting that attending members would be skipping an actual committee hearing with Gibson that had been scheduled for the same time. The most peeved, however, was Sanders. He hastily organized a press conference with fellow Senate Democrats in which he rapped Miller for demanding a vote on a proposal that, according to an aide, did not adhere to the outlines of earlier discussions.
"You cannot talk about negotiating, you cannot talk about a conference committee, when somebody is asking you to join you ... for a formal vote on 'this' proposal," said Sanders.
Amid the signs of impending wreckage, however, some Hill aides saw small reasons for optimism. Sen. John McCain (R-Ariz.), who had crafted the Senate bill with Sanders, had been conscripted to help smooth relations with House Republicans. He spoke out in support of Sanders on Thursday morning and showed up at the open conference committee meeting later, where he urged the two sides to sit down. Sanders and McCain "have been talking," Michael Briggs, a Sanders' spokesman, told The Huffington Post.
A Senate Democratic aide, meanwhile, said that by ratcheting up the politics of VA reform, the party enhanced the possibility of passage.
"It was already on a bad path," the aide said, speaking on condition of anonymity to discuss strategy. "If we didn't say anything or do anything, it was just going to die a quiet death before we headed out of town."
And, by the end of Thursday, both Sanders and Miller seemed to be paving the way to restart talks. At his press conference, Sanders said he was prepared to scrap his trip home and stay in D.C. through the weekend to finalize a deal. Curt Cashour, a spokesman for Miller, said his boss was willing to do the same thing.
"The whole point here is to negotiate," Cashour said.
Want more updates from Sam? Sign up for his newsletter, Spam Stein.
Before You Go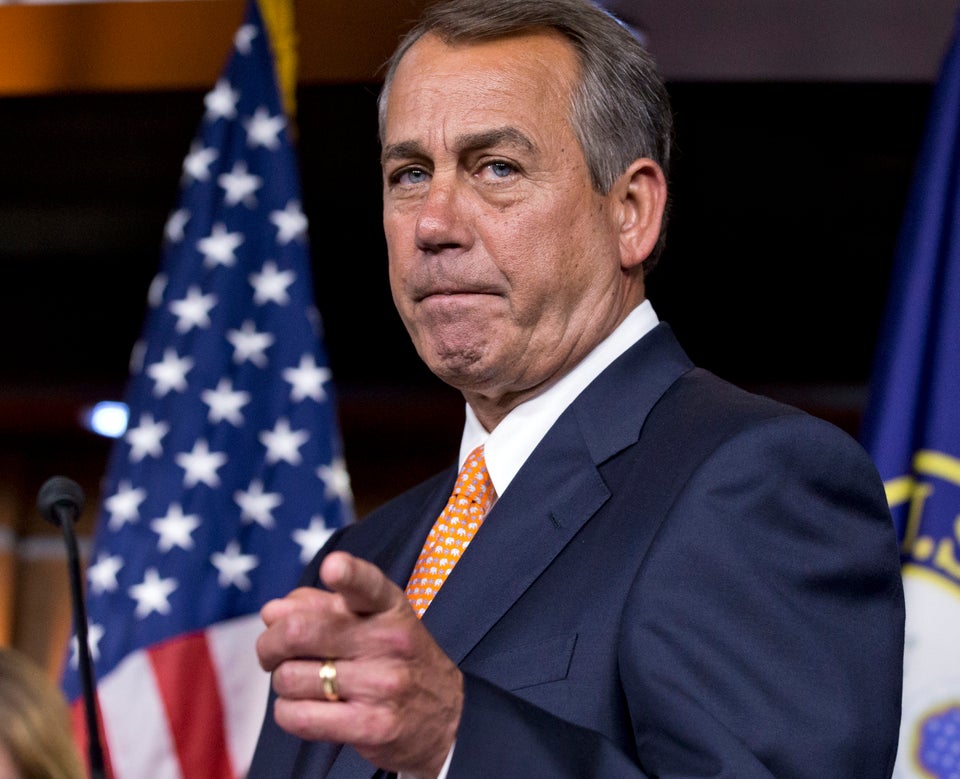 Conservatives Pointing Fingers
Popular in the Community