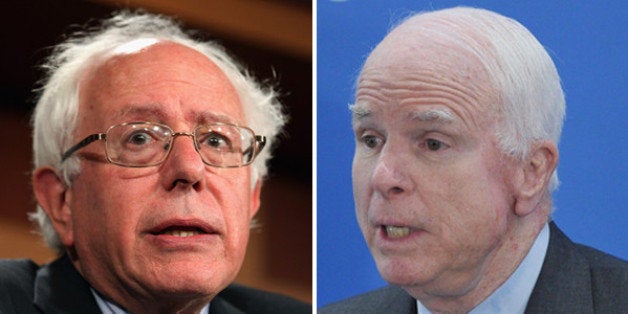 WASHINGTON -- Congressional efforts to address problems with the veterans health care system may have the added benefit of creating an educational entitlement for nearly 2,000 military spouses a year.
Tucked into a Senate-passed bill to reform the Department of Veterans Affairs is language expanding Post-9/11 GI Bill benefits for the husbands and wives of military service members who die in the line of duty. The provision, known as the Spouses of Heroes Education Act, has received scant notice, even as many have closely followed Congress' response to a crisis that saw veterans facing inordinate delays in receiving health care and VA officials falsifying the records of actual wait times. But on Wednesday night, the practical impact of the education measure became clearer.
In its assessment of the Senate bill, which was crafted by Sens. Bernie Sanders (I-Vt.) and John McCain (R-Ariz.), the Congressional Budget Office estimated that 1,900 spouses would use the benefit each year, according to Sanders' staff.
The provision is not yet law. For that to happen, the House must include the measure in the VA reform bill that it passes, and the measure must survive negotiations between the two chambers on how to combine their respective bills. But because the Sanders-McCain legislation has broad bipartisan support, and because the provision to expand post GI benefits to spouses has wide support too, lawmakers are hopeful that it will remain intact.
Leadership aides in both chambers told The Huffington Post that there were no current concrete plans on how they would proceed in melding the multiple VA reform efforts.
The legislative alteration to the Post-9/11 GI Bill is actually quite minor. Section 701 of the Sanders-McCain Veterans' Access to Care through Choice, Accountability, and Transparency Act of 2014 simply inserts the words "or spouse" after "child" in the current law. Currently, spouses of service members who die in action are eligible for education benefits up to $936 a month, under the Survivors' and Dependents' Education Assistance Program. What the proposed expansion of the Marine Gunnery Sergeant John David Fry Scholarship would do is provide full in-state tuition and fees as well as a monthly living stipend and book allowance to those spouses.
"When our servicemembers go to war, their spouses are also called to service and sacrifice. And should a servicemember die in the line of duty, we should do everything possible to support his or her family," Sen. Jeff Merkley (D-Ore.) told The Huffington Post in a statement.
Merkley has been the chief Senate sponsor of the provision alongside Sen. Dean Heller (R-Nev.).

"As a nation, we take great care to remember and honor the men and women who have given their lives for this country," Heller said in a separate statement to The Huffington Post. "It's important to also remember that families have made incredible sacrifices on our behalf. By ensuring that spouses have access to an education, Congress can help these families put their lives back together and build bright futures for their children."
The education benefits would not be made available in perpetuity. Under the proposal, a spouse would be eligible up to 15 years after the date the service member died or until the date the spouse remarried. In addition, while an estimated 1,900 spouses would be expected to use the benefit each year, that number would change over time -- likely decreasing as U.S. military operations overseas are drawn down.
REAL LIFE. REAL NEWS. REAL VOICES.
Help us tell more of the stories that matter from voices that too often remain unheard.
BEFORE YOU GO
PHOTO GALLERY
Politicians Who Look Like Disney Characters