WASHINGTON -- In 2011, a significant chunk of the congressional agenda was taken up by banks and merchants battling over swipe fees -- namely, how much could banks charge Walmart and others to run a debit card. The focus on the penny brawl made no sense from a public policy perspective.
But merchants and banks rained down a staggering sum of money in their fight -- on lobbyists, consultants, campaigns, public relations firms and any other bucket that Washington put out. That flow of dollars determines what gets on Congress' agenda.
The opposite dynamic dictates what doesn't get lawmakers' attention.
Six years earlier, and every year after, the inspector general for the Department of Veterans Affairs warned of serious backlogs and unreliable recordkeeping in the VA's health care system, on which millions of veterans rely. But the congressional calendar was not stacked with meetings with VA officials or auditors. Veterans didn't have the cash to be heard.
Money molds not just the agenda but the shape of Congress itself. Think of it as a host-parasite relationship in which the host, Congress, adjusts to interact most effectively with the parasite, money.
The House Financial Services Committee is one of the most desirable panels on the Hill, coveted for its access to bank cash. As a result, it has 61 members. Energy and Commerce is another money committee, as is Ways and Means, both of which enable members to profit off the big-dollar industries whose interests are at stake. Those panels have 54 and 39 members respectively, many with decades of congressional tenure and the clout that comes with it.
There is much less jockeying for a seat on the House Veterans' Affairs Committee. It has just 25 members. When Republican David Jolly won a special election in Florida this spring, the House's most junior addition -- himself a former lobbyist -- probably knew where he was headed: Veterans' Affairs.
Democrats, meanwhile, couldn't even fill their seats on the committee at the beginning of this Congress and had to ask Rep. Tim Walz (D-Minn.) to take on an extra panel assignment in order to fill their 11 slots, sources familiar with the arrangement told HuffPost.
Because the Veterans' Affairs Committee comes with no opportunity to rake in campaign cash, senior lawmakers seek out other panels. "There are really only three money-raising committees in the House: Financial Services, Ways and Means, and Energy and Commerce," said veteran Rep. Jim Cooper (D-Tenn.), who does not sit on the Veterans' Affairs Committee. "That's why you see people exiting those [other] committees as soon as they can."
Because the committee has so few senior members, it has little access to congressional leadership, cable news, the White House or the various levers of power in Washington. It should be little surprise then that a powerless committee has found itself powerless to oversee the VA.
On Wednesday, House Speaker John Boehner (R-Ohio) and other Republican leaders sent a letter to the president about the VA scandal that was notably not signed by the VA committee chairman -- not as an intentional slight to him, but because it doesn't much matter what the panel thinks. The letter-writing leaders sought to stick up for their little brother. "[W]e request that you direct the VA to cooperate with the House and Senate as both chambers conduct the necessary oversight. As you may also know, the department has repeatedly failed to provide the House Veterans' Affairs Committee with timely information," the letter reads.
The panel members' lack of experience also makes them less effective. "You have green and inattentive members on the committee, very few who are willing to conduct systematic oversight," said Cooper. "Most couldn't name senior officials below the secretary level. Most don't know how [the VA system] works. The warnings were not heeded."
Freshman Rep. Beto O'Rourke (D-Texas) is a member of the committee. "It's not a place from which a member can successfully raise money from the special interests who have a stake in the legislative outcomes," he noted. "It's also not a high-profile committee, and the work is really tough -- these are longstanding systemic problems that predate [recently resigned VA Secretary Eric] Shinseki."
The committee roster is a who's not who of Congress. The top Democrat on the panel, Rep. Mike Michaud (Maine), is a serious lawmaker with seniority and pull on the Hill, but he is likely to depart soon to become governor of his home state. After Michaud, the bench is thin. Besides Walz, the only other Democratic panel member with experience is Rep. Corrine Brown (D-Fla.). All the other Democrats on the committee are freshmen.
The lack of interest in the VA panel is not confined to one party. Five Republicans on the panel are freshmen and, other than the chairman, none has more than four terms' experience in Congress.
After one member, Rep. Tim Huelskamp (R-Kan.), was caught in a coup attempt against Speaker Boehner, among other offenses against GOP leadership, he was booted off the Budget and Agriculture committees. He was not kicked off Veterans' Affairs. He was being punished.
The only political value to being on the committee, members and staffers said, is the opportunity to co-sponsor popular-sounding bipartisan bills that benefit vets. "As far as Veterans' Affairs goes, you're not gonna get any benefit in terms of fundraising. The appeal might be a little limited unless you're gung-ho about it," said a GOP committee aide, adding that there is a PR benefit.
"We've got all kinds of press releases with headlines touting the bipartisan nature of things. It creates the impression you're working across the aisle," he said.
Senate fundraising dynamics are different: An individual senator can raise money much more easily, and senators often sit on four or five committees, several more than House members do. That means the Senate Veterans' Affairs Committee has plenty of senior members, but the sheer number of committee assignments a senator enjoys means lower-priority ones receive little attention.
And the VA is low priority: A Congressional Research Service report found that in the most recent Congress, the Senate vets committee had the second lowest budget to spend on staff and other expenses -- just a few thousand dollars more than the Committee on Indian Affairs. It is also one of the few, if not the only panel, without its own press operation. And it's such an afterthought that the Senate lets a socialist run it. (We kid, but it is chaired by Vermont independent Bernie Sanders.)
House fundraising totals are also revealing. The average House Republican has raised just over $1.1 million so far this Congress, according to the Center for Responsive Politics. Meanwhile, Veterans' Affairs Committee Chairman Jeff Miller (R-Fla.) has hauled in just $280,000 -- a staggeringly small sum for a panel boss.
"Jeff Miller is a good chairman and he does good work, but the dynamic you're describing is a real one," said one top House Republican aide about the committee's lack of power.

The median fundraising total for members of the committee clocks in this Congress at $638,000, according to a HuffPost analysis. The median total for all House members is $775,000. A Sunlight Foundation analysis found a similar pattern going back more than a decade.
Lawmakers must devote the bulk of their time to raising that money. At the beginning of this Congress, the Democratic campaign arm, according to a presentation obtained by HuffPost, warned its incoming freshman that they ought to be spending roughly four hours per day on the phone calling rich people to ask for money -- a chore known as "call time."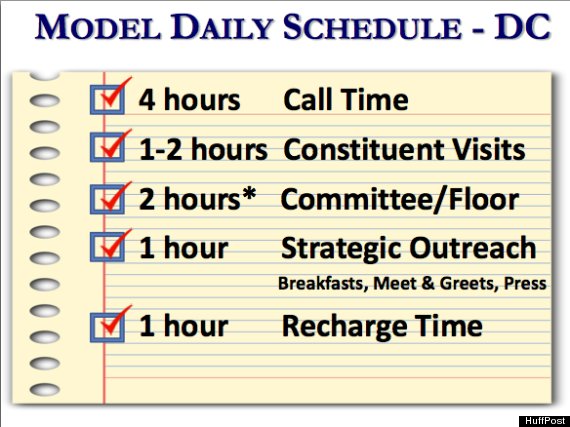 "The number one job is now fundraising, and everything gets distorted by this need to fundraise," said Harvard professor Lawrence Lessig, who studies congressional corruption. The silence of the Veterans' Affairs Committee, he said, is a "really interesting other dimension of this. You can't even get the ordinary work done because it doesn't pay."
Last Wednesday, when Shinseki came to receive his congressional tongue lashing, the hearing was packed, O'Rourke noted. But a subcommittee hearing the next day was sparsely attended by camera crews and, not coincidentally, members of Congress. "Subcommittees are where the real work is done -- questioning officials, listening to testimony from VSOs [veterans' service officers] and veterans, hearing from the inspector general, marking up bills," said O'Rourke.
Or, in the case of Congress, not done.
CORRECTION: A previous version of this story stated incorrectly that Rep. David Jolly missed most of a major committee hearing on the VA scandal last week. In fact, Jolly was in attendance for more than half of the hearing, according to his office.
To get an email when Ryan Grim writes a new story, sign up below.
Before You Go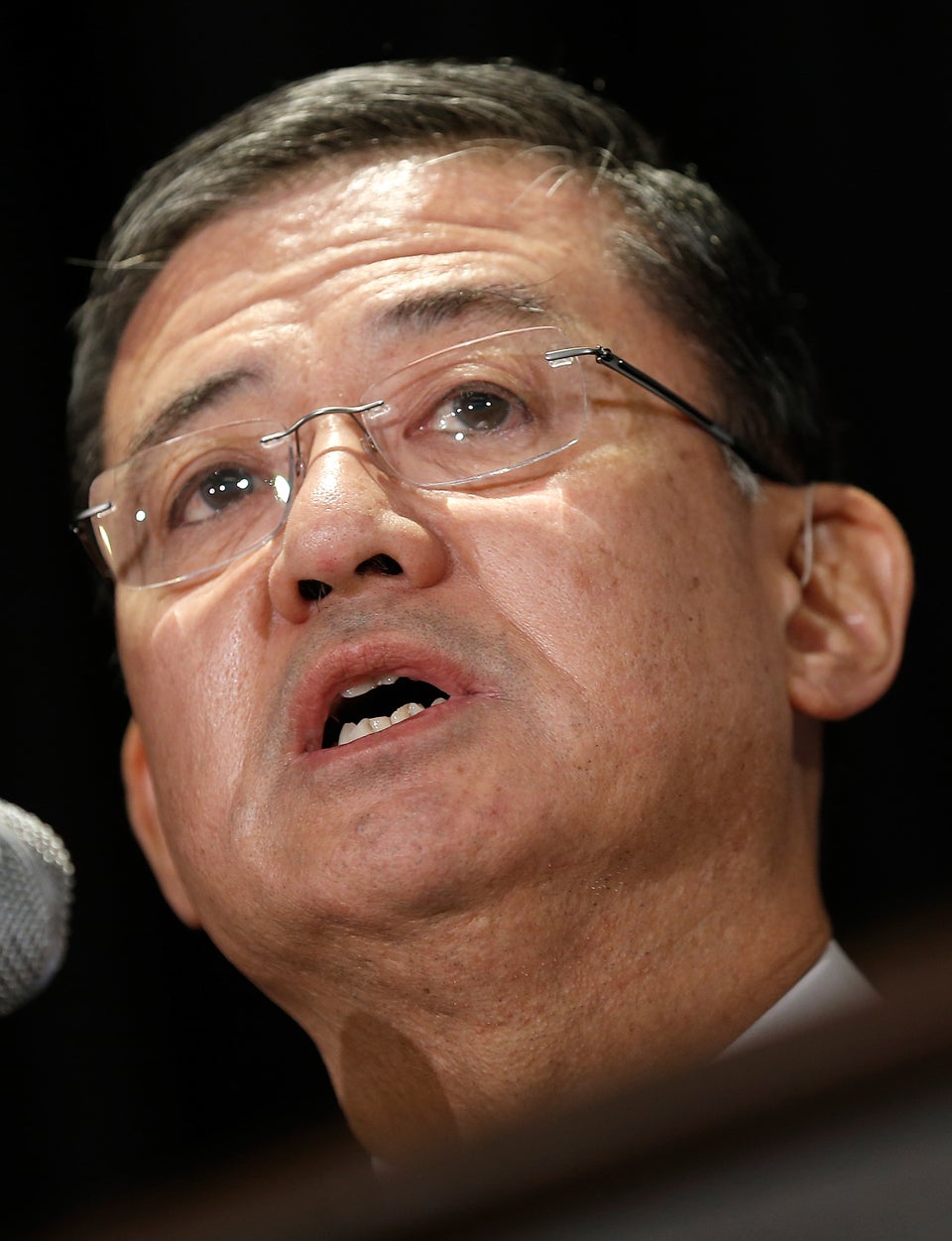 Veterans Affairs Secretaries
Popular in the Community