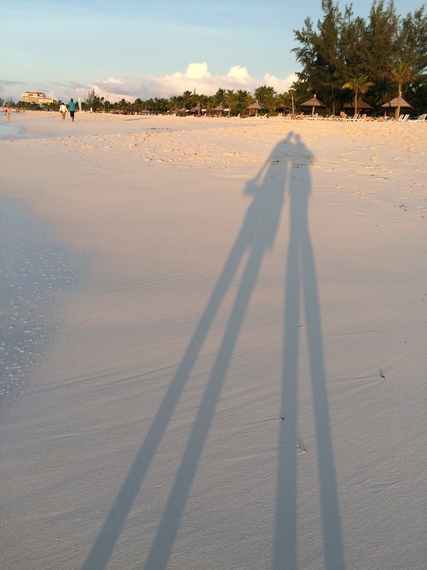 "We're really good at vacation" I said to my husband of ten years as we sat on padded lounge chairs, staring at Grace Bay from our perfect screened in balcony at Ocean Club West in Turks & Caicos. Pinch me. I couldn't believe this is happening!
We booked this trip half a year ago as a 10th wedding anniversary present to ourselves. It was just what we needed and just what we wanted.
Much like all parents of young children, finding the time to sit still and relax EVER is virtually impossible. Let alone spend valuable time with your spouse - the time that reminds you why you said "I do" - versus fighting over petty household chores.
So cut to our second-moon - which as luck would have it - was actually a baby moon - even more of a reason to sit in quiet, smiling at each other, instead of shouting. The eye of the storm before the second trimester comes, then the third, then - as I hear - all bets are off.
I love my husband very much. He is thoughtful (he holds my shoes as we walk on the beach), is a great cook, loves to clean (sorry ladies - he's taken), and takes good care of me and our family. He's even funny (at select times). But he is still a man and can't find things in front of him, comes home with ice cream when I send him to the store for milk, buys the wrong toilet paper despite us using the same brand for fifteen years, and sometimes just doesn't get it. Sigh.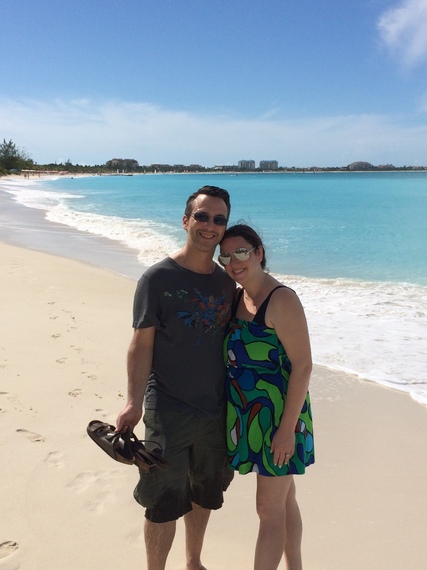 In the middle of all of that (read: life) it's hard to take a step back in your day to day - especially with long work hours and commuting - to reconnect with each other.
To simply be the kids who met and fell in love.
We both work so hard, it was just a dream for us to get time alone together. For us to sit next to each other for hours, reading and not talking. For us to walk aimlessly on the beach until we had enough. To sit and eat seaside for hours with the only worry being enough time to take a nap before dinner.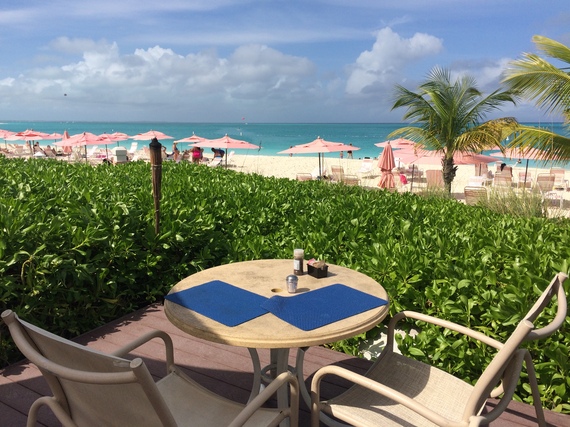 I was thankful for this beautiful hotel's relaxed attitude and spacious room so I didn't feel forced to leave due to confinement. Our screened in balcony had the most spectacular ocean front view. The full kitchen let us relax with food at our fingertips (I'm hungry every 20 minutes. There may be a pack of cheddar cheese sticks, several types of chocolate as well as half of Trader Joe's in our kitchen... don't judge).
I was thankful for the bedroom - painted in the exact shade of the sea - with a huge luxurious bed and open balcony doors allowing us to fall asleep and wake to the sounds of the ocean. To me - this was the very definition of luxury. But then again, I'm a cheap date.
We were lucky that this was the second time we've been able to sneak away like this, thanks to the grandparent trifecta watching our kids. Ironically the previous time we had just found out we were pregnant with #2 (apparently my fertility is tightly tied to my redemption of airline miles). But this time we traveled smarter. We opted for a lazy beach vacation versus an Italian getaway chock full of moving around and seeing stuff.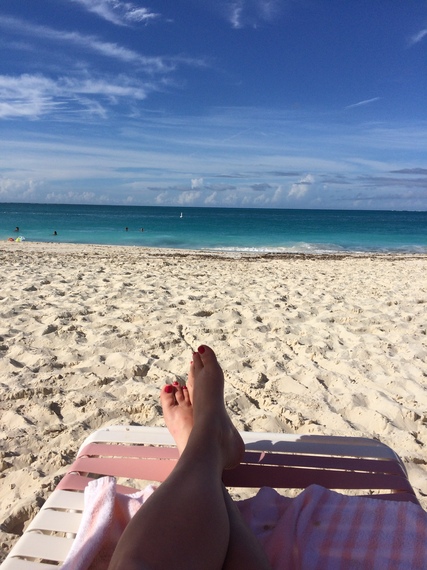 We used to like to sightsee (ok me, not we) but getting away from one's offspring should have a mandatory 72 hour relaxation edict attached. You simply need a few days to recharge your batteries. Down time is hard as a parent - which, if you've noticed between folding loads of laundry - doesn't come very often.
I love my babies more than anything on Earth. But I sure as hell was happy to get a little break from them so I could be reminded that somewhere in the world sleeping late, reading, sitting down and quiet still exist.
Plus, with THREE kids to babysit for, this may never happen again!
But honestly, regardless of the view, it was just nice to get some time alone. Together. To hold hands. To walk and talk for hours, like in the olden days.
Next time, the hotel a mile away from our house may do the same trick.
But for now, the ocean is still calling me....
Popular in the Community