Imagine yourself bedding down in someone's villa on, say, the island of Bali, while your local host arranges sightseeing tours, clues you in on shopping deals, sets up car and bike rentals, makes restaurant reservations and whips up a plate of authentic Balinese delicacies.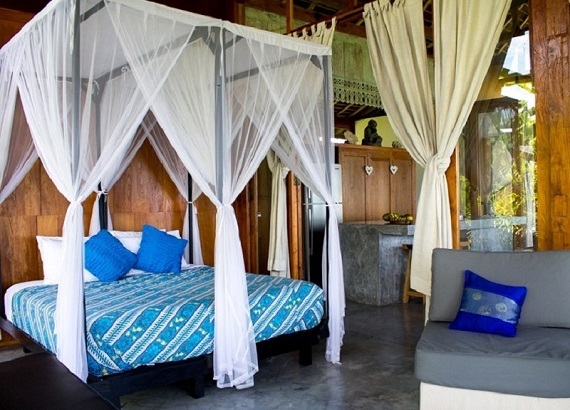 Bedroom in a homestay villa on Bali.

The concept of vacationing in a home away from home - called "homestaying" - is rapidly gaining traction with demand in this sector tripling in just three years. The most popular destination of global homestay travelers is the United Kingdom, followed (in decreasing order) by Ireland, Cuba, the U.S., Australia, Canada, Japan, Spain, New Zealand and Italy. Havana leads the 10 most popular homestay destinations of U.S. travelers.
One of the major arrangers of homestays is a Dublin, Ireland-based company named Homestay.com, which markets over 50,000 places to stay in some 150 countries. "Our guests come from all demographics," says Alan Clarke, the company's CEO. "Solo travelers, which account for 60 percent of our bookings, feel more confident in a homestay. Families love to stay with other families to save money and introduce their children to new cultures. In a city with big festivals and major events, it's a great solution for a hotel room shortage. Whoever they are, guests get insider intel about restaurants, transportation, attractions and shopping..."
The company uses a filtering process to help its guests pick their destinations and match up with compatible hosts. Guests and their selected hosts can get acquainted face-to-face before the trip by way of a video chat through Homestay's website.
Among places to stay on the Homestay list is a romantic villa on the Greek island of Mykonos; a luxurious home overlooking the geyser-packed attraction of Rotorua, New Zealand; a 16th century artist's cottage in Avignon, France; a lakeside retreat in Halifax, Canada; a farm in a jungle village in Thailand; and a treehouse in the hills of Costa Rica.
Worldwide, the cost of an average homestay is $46 a night. Breakfast is included and often other meals prepared by the host.
Photos courtesy of Homestay.com.