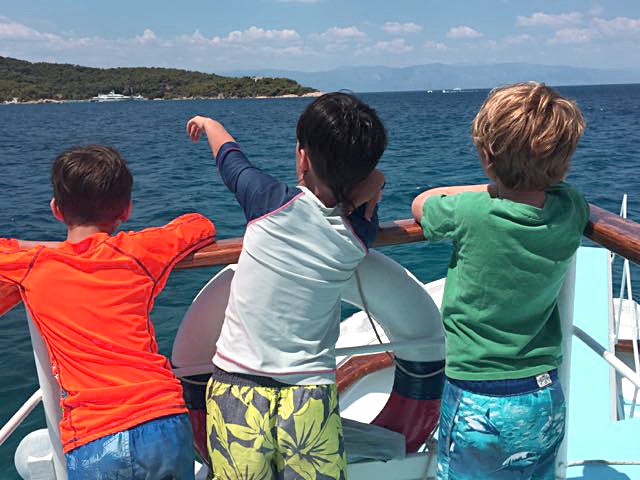 I long for summer days all year, and I used to mourn how quickly the days and weeks passed when I was working most of my adult life in a salaried, full-time position where I didn't have the full summer off. I want summer to last as long as possible and I am now able to enjoy staying outdoors and not being tied to a specific work schedule. I love to feel the full length of the sunny days and not be forced to stay indoors.
When I started my freelance career it was possible to arrange my summers off to coincide with my kids. They get to choose one or two weeks of their favorite camps and the rest of the time was ours – for travel adventures – close to and far from home.
It's a romantic ideal really: easy, laid back summer days. In reality it's work. Un-planned days are long and full of strife heightened by heat, boredom and screentime. Being with the kids 24/7 (as much as I love them) is not easy. It can be exhausting, drive you bananas and cost you more than a week at NYC summer camp. I also still hold onto the idea of 'my summer', while still making it about them.
This year we took the family to Greece for 5 weeks - 2 with my husband and friends and 3 with my parents. This article is written while we are here, in a small remote village in the mountains. I've compiled a list of ideas and tips that have worked for our family over the years, whether you stay local state-side or plan a bigger European vacation.
As a QueenBee, this is how I keep myself and the kids happy so I can be a fun and joyful summer mama. I'd love to hear your own tips and ideas to support each other and increase the adventure in our lives.
Kids are used to structured days, as am I. Yet summer is a time to let loose and not be tied down by structure, we all need that. Without structure, I can lose track of the day and barely make it out of the house. What works is to plan one thing a day (outside of dinner) and go with that. Then, we work around that plan without timetables and expectations. Little adventures can be sourcing a new ice cream spot in a new neighborhood, or visit a new park. Bigger adventures can be taking the train to a new town for the day, a destination further away. The structure comes from having the one goal and then having experiences around reaching it.
A day that also squeezes in my agenda while fulfilling theirs is definitely worth extra points. For example, free yoga class in the park while they practice sword techniques near by, or shopping or exploring a new store that happens to be by a new park can feel like an accomplishment.
Company is always enjoyable. The kids don't always have to be best of friends either. Because playdates are so structured during the school year and kids tend to see the same friends consistently, summer is a time where these new encounters can create special memories and unique friendships based on the summer activities. Plan an overnight stay up-state on a weeknight or a special excursion to a farm, horse-back riding, berry picking - these are great activities with friends you want to catch up with by don't always see.
Traveling Abroad with Kids
Here are a list of ideas that I've compiled traveling out of town or country with young kids over the years that work for my family.
Activities in Bursts
Similar to structured time, have bits and bursts of thing to do and let the rest of the agenda GO. With selected bursts you'll likely get half of the sightseeing or local activities done. Be picky on the ones that are important to you but also logistically doable. We find ourselves sitting in cafés more, or chatting with locals in parks rather than waiting in line at museums etc.
Include the Kids in the Planning
Ask them what they would like to do or see - especially elementary and up ages. You'll have more acceptance of the plans overall if you can plan as a family. Even young kids can find some great ideas.
Book the Right Hotels
For us space and location is key. We don't want to all go to bed when it's lights out for the kids, so we plan with space in mind. Location allows us to get to areas of interest easily and also pop back for a rest if needed.
A hotel with a pool or by a beach is also key, because after a day of visiting the attractions you still have somewhere to 'go' without being closed up in the hotel room with 2 beds. That is always worth the extra cost.
Kids Autonomy
Even at an young age, allow them to pack their backpacks (with some guidance of course). This way they have their own things - stuffies, books, even a bag full of lego. Also encourage them to write their own travel journal. Our boys use bullet point lists and drawings of the various activities they did in each place as a quick and painless way to get connected. (note on electronics: with our 7 & 10 year old we still only travel with 1 ipad and have timed screentime as downtime).
Find New Friends
Find other kids - don't worry about the language. If there are kids running around a town square in Europe (which there always is around dinner time), let yours join in. They'll make friends and you get to enjoy your espresso without worrying about entertaining them. It's a true taste of the local culture.
Food
I always insist on local cuisine and avoid the kids menu if I can. Europe barely has kids menus so we just choose the types of foods they typically like and let them discover the local flavor.
I do however bring a few favorite foods that reduce the costs, provide comfort and are easy to pack - primarily these include breakfast foods such as packaged oatmeal, (also good for late night), almond butter packs, or granola bars for snacks.
Learn the Basics
Learn the basics in each language - everyone loves it when the kids say hello, good morning, thank you and delicious, and the kids are super proud too. These small things instill a love for various cultures.
Let go of American Standards
Europeans love kids. There are often kids rates at sights or museums, and they definitely don't blink an eye when bringing kids to restaurants at night. However, American standards of child-proofing are very different in Europe, so keep your eyes open to what is acceptable to you.
Don't Forget your Vitamins
…or your bandaids, insect bite creams or other health products you rely on.
For us vitamins and probiotics are essential as they keep your system in check when you are out of your timezone and not eating home-cooked meals. Basic first aid will ensure you have the products you trust on hand as needed. I find traveling is not the time to experiment - you may not always know what you're getting or you could end up paying way more for it. I trust my vitamins and I want to feel 100% wherever I am.
Lastly, and perhaps most importantly:
Adult Time
Allow for some time apart. If you're traveling with friends, plan to have sleepovers so each set of parents can have a break. Without friends plan for some time where one parent takes the kids and the other has some alone time to go do what they really want to and the kids wouldn't (like a specific museum, a spa or concert).
If summer is also your favorite season I hope these tips can assist you in enjoying your own QueenBee time as well as enjoying these precious warm days with your kids.
QueenBee self-care moment: Taking a break and renewing your self over the summer is as essential as ensuring your kids have a great summer. The freedom of the season belongs to you as well.
___________________________________________________________________
Related
Popular in the Community