All March long, HuffPost Arts is celebrating Women's History Month. How better than by singling out the organ from whence all human history sprang?
It helps that vaginas are having an art world revival. From a knitting project with a twist to a yonic super-stadium, the works below aren't your mama's Georgia O'Keeffe print. Behold, the latest and greatest in vagina art.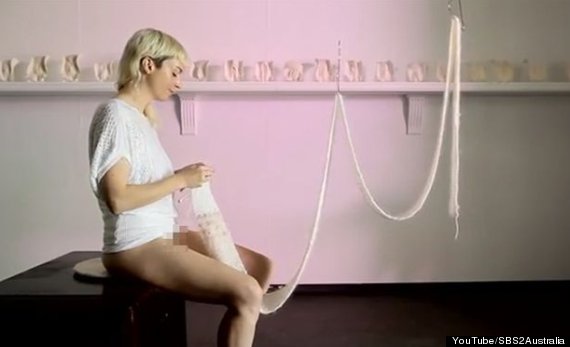 "Craftivist" Casey Jenkins caused a stir last year when she commenced "Casting Off My Womb," a 28-day performance art piece. Every day, the Australian artist inserted a skein of wool with a centrifugal design into her vagina and unraveled it with knitting needles as the hours went by.
By engaging in something "warm and fuzzy and benign and even boring -- just knitting for a long period of time," said Jenkins in a slightly NSFW YouTube video, she hoped to force watchers to question any "fears and negative associations with the vulva." And of course, "the performance wouldn't be a performance if I were going to cut out my menstrual cycle from it." It's the blood-tinged yarn that seemed to set people off the most in the YT comments section. Point: made?
2. The Great Wall Of Vagina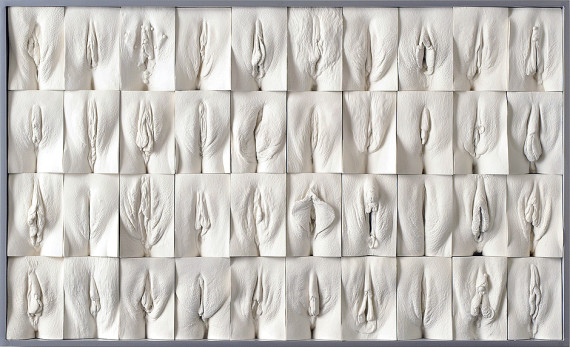 British sculptor Jamie McCartney saw something worth addressing in the "designer vagina" trend, the upshot of a risky but popular plastic surgery wherein women nip and tuck their labia, hymen or both, usually into smaller versions.
Compiling plaster casts of hundreds of real labia took McCartney the better half of a decade, but the "Great Wall Of Vagina" was worth it. The series of 10 panels is a cross-section of McCartney's volunteers, from identical twins, to transgender individuals, to pregnant women, to pre-labiaplasty patients. The idea was to use "humour and spectacle" to show audiences "what normal women really look like," states the project site. The sheer range on display is hard to miss.
3. The World's First 3D Scanned Vagina Boat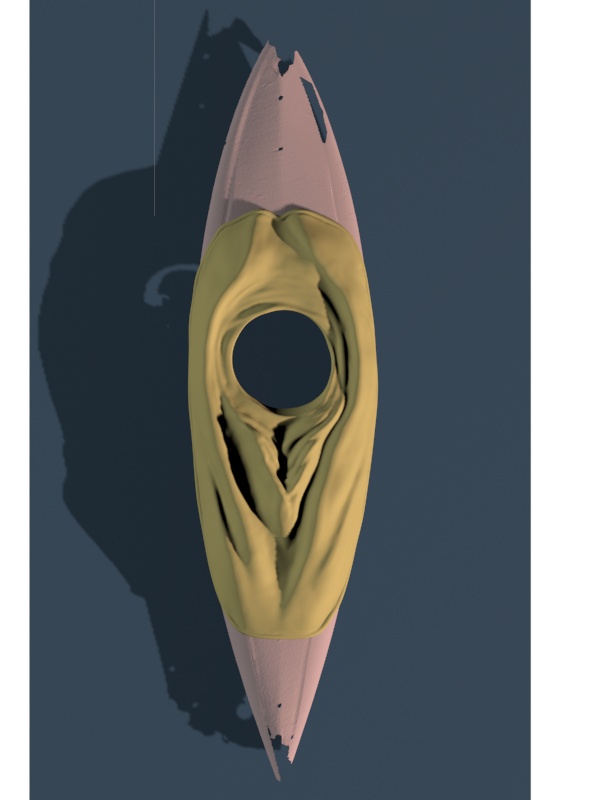 Last summer, Japanese artist Rokudenashiko told HuffPost all about her quest to make the "pussy" (her term of choice) "casual and pop." Like Jamie McCartney, she was inspired by the confining ideals of labiaplasty, but unlike him, she'd undergone the operation herself.
Her investigation into why this desire was within her started with a series of cheeky dioramas built around her own genitalia -- one involves toy soldiers sliding down a life-size labia mold styled as a hill. She calls her ouevre "Deco-Man," after the Japanese words for "decorated," and a slang term for vagina. Since we spoke, Rokudenashiko's piece-de-resistance, pictured above, has been realized thanks to a successful crowdfunding campaign: a life-size boat with an anatomically correct gunwale shaped to mimic, of course, her own vagina. Did we mention it's made with a 3D printer?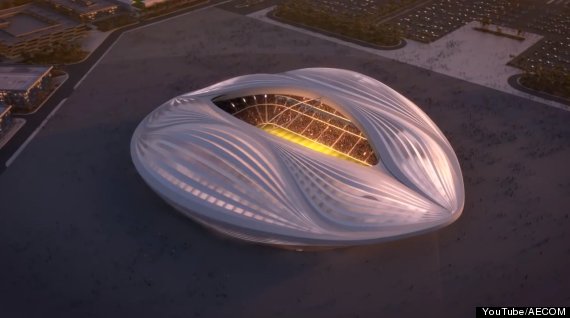 She didn't mean to, but Zaha Hadid gave us the perfect counterpoint to all the phallic towers that define the world's skylines. When the British starchitect revealed the designs for her Al Wakrah stadium -- part of Qatar's World Cup 2022 building binge -- its likeness to a vulva was not lost on anyone. An unamused Hadid told papers the real visual reference is a traditional fishing boat from the stadium's locale. Ok, but this GIF.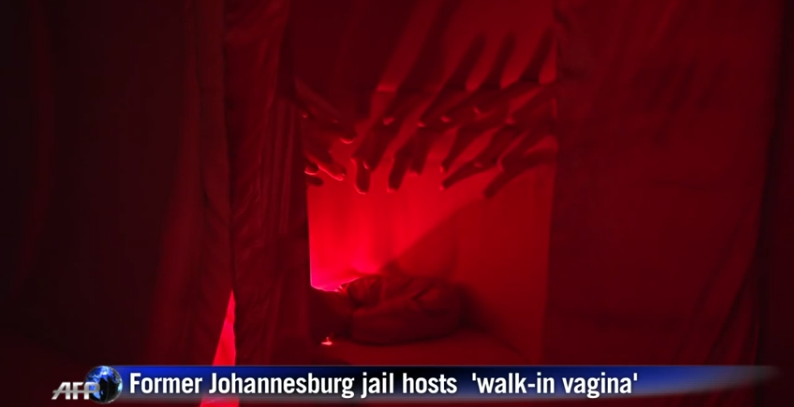 "Screaming" and "walk-in" do not typically describe vaginas. But last summer, artist Reshma Chhiba turned a wing of a former women's prison in Johannesburg into a deep red chamber. Visitors traversing the vulvic tunnel were treated to recorded shrieks and laughters. "In some sense," Chhiba told the AFP, "it's revolting against this space... and also mocking [it] by laughing."
6. American Apparel's Period Tee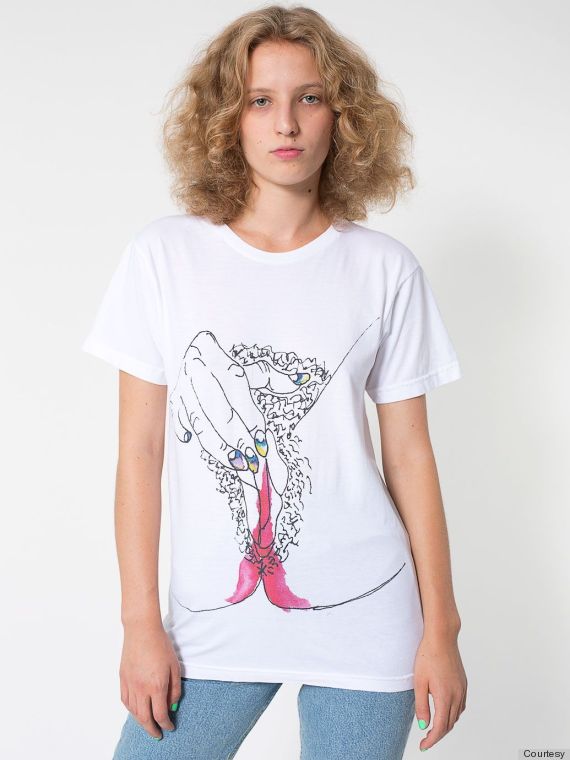 Sold by the LA-based clothing company as of last fall, the Period Power Washed Tee is screenprinted with a drawing by Petra Collins. Half of the proceeds go to The Ardorous, an "all-female online art platform" that Collins curates. The other half goes to a company with a soft-core porn advertising aesthetic. If any product embodies the one step forward two steps back conundrum, it is a feminist t-shirt sold by American Apparel.
Related
Popular in the Community