A viral Facebook post shows a woman donning a dress resembling female genitalia from Wayne by Wayne Cooper, which retails on Australian department store chain Myer's website for $219 AUS.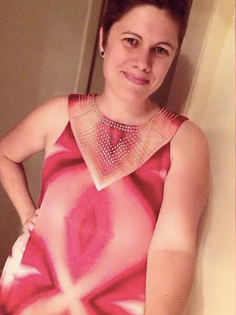 On Oct. 25, Facebook user School Mum posted a photo of herself wearing the dress along with the status, "So I bought this dress today from Myer because I really liked it ... I got home and put it on for hubby and any guesses first thing he said?? 😂😂😂 #dressfail #onceyouseeyoucantunsee."
Apparently, she initially failed to realize the dress, called a Sahara Beaded Neck Maxi Dress, features a pink repeating diamond-like pattern that would make a porn star blush.
To top it all off, the dress features a bejeweled neckline reminiscent of a vajazzled vajayjay.
As the image of the dress went viral, people left comments, including some women who'd tried on or purchased the same dress.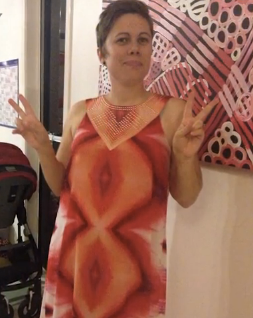 "I tried it on with my 15-year-old daughter in the change room. She burst out laughing 'take it off mum!'" Facebook user Jennifer Sewell commented.
Luckily, School Mum was able to return the garment.
"So I took 'the dress' back today for a refund and one of the ladies at the sales counter recognised me from the post I did of me in 'the dress,'" she posted on Oct. 26.
"We all had a little chuckle and they happily returned it."
Additionally, she noted that some people have recognized her and her viral vaginas.
"I guess I will now be known as the vagina dress lady," she posted.
Popular in the Community