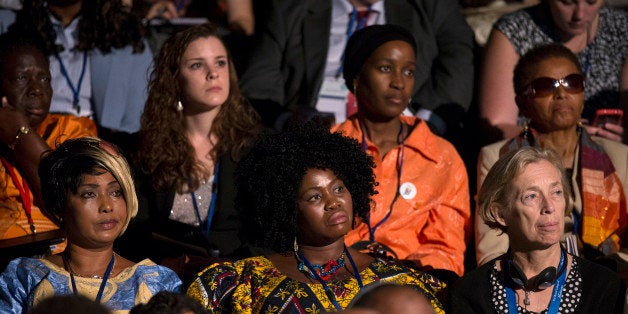 People often think vagina is a bad word. It is not. Half of the people in the world have vaginas, and the other half have penises. I cannot understand why we avoid talking about vaginas. When I am spending time with friends and I mention the word vagina they say, "June, stop! People can hear us!" It puzzles me how people can not deal with saying 'vagina.' Ok, maybe I've said the word vagina too many times, but you get the point.
When I talk about Female Genital Mutilation (FGM), I often begin by saying that we are going to have a conversation about vaginas, fannies and muffs. FGM is the partial or total removal of a woman's genitals for non-medical reasons and has life-long consequences on women and girls. FGM breaches at least five human rights of women and girls, and takes away a woman's right to choose what happens to her body. In these cases, someone else has control over a girl or woman's vagina.
On July 22, the UK government hosted the Girl Summit, a day to focus on ending FGM and Child, Early and Forced Marriage (CEFM). The Girl Summit brought together young people, ministers and change makers who made serious commitments to stop these heinous acts of violence. I was extremely happy to have attended the summit, and to be on the #YouthForChange panel. However, I am angry that it has taken this long for the government to take the issue of FGM seriously.
I am angry because we live in a society where discussing vaginas and FGM is simply not done. Thousands of girls in the UK alone have been subjected to this barbaric practice. I am angry that because we cannot talk about vaginas and FGM in schools, many of my peers are still unaware that a practice like FGM exists. I am angry that because we cannot talk about vaginas, we dismiss FGM as a 'cultural' practice that we do not need to interfere in. The idea that 'culture' could justify this practice horrifies me. If it were part of a culture to chop of people's ears or men's penises, there would be worldwide uproar. Why is it any different when we are dealing with vaginas?
When I think about FGM, I think about how our patriarchal and misogynistic society allows the practice to continue. We are often reluctant to have conversations about women's rights.
The Girl Summit was a landmark moment, a moment that when I first started talking about FGM three years ago, I did not think I would see.
We still have a lot to accomplish before we can end FGM and CEFM. Before we can talk about FGM properly, we can no longer see vagina as bad word.
Men must be involved in the conversation on vaginas and FGM too. The fact is, all men were birthed through a vagina, but more importantly, men have daughters, sisters and wives. They need to understand why FGM is wrong and join the fight to stop it. We cannot leave half of the population out of the discussion. Mothers do not cut their daughters because they want to, but because they want their daughters to be accepted in the society, especially by the men. If girls are not cut, they are ostracized in their communities.
There have been some amazing women already paving the way in the UK and worldwide: Efua Dorkenoo OBE, Naana Otoo-Oyortey, Leyla Hussein, Nimko Ali, Alimatu Dimonekene and young people such as Ifrah and Muna Hassan from Integrate Bristol. We are all standing as proud members of the Fanny Defence League (Female Defence League if you're under 18) declaring that vagina is not a bad word. It is only when we no longer see vagina as a bad word that we can have honest conversations about FGM. FGM is not an issue that only affects women. FGM is everybody's business and now is the time to act to end this practice in this generation.
This post was originally published here on August 11, 2014.
Related