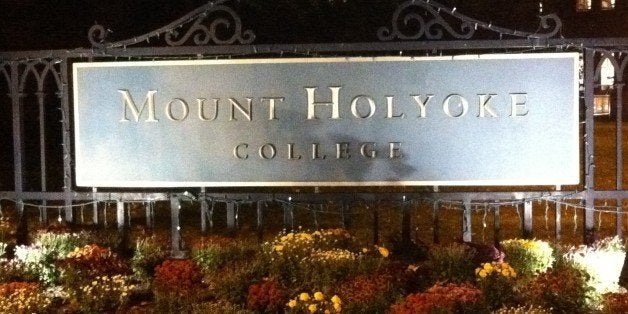 Mount Holyoke College, an all-women's school in Massachusetts, has scrapped plans to host a performance of "The Vagina Monologues" because it is not inclusive enough.
Mount Holyoke student Erin Murphy explained on behalf of the student-run theater board in an email to students on Wednesday that the play is problematic because it is not inclusive of trans women, Campus Reform reported.
"At its core, the show offers an extremely narrow perspective on what it means to be a woman," Murphy explained, according to Campus Reform.
"Gender is a wide and varied experience," Murphy continued, "one that cannot simply be reduced to biological or anatomical distinctions, and many of us who have participated in the show have grown increasingly uncomfortable presenting material that is inherently reductionist and exclusive."
Murphy did not immediately return a request for comment from The Huffington Post
In 2014, Mount Holyoke began admitting transgender women for the first time, but the college told The Huffington Post that had nothing to do with the Vagina Monologues performance.
"The student-group decision to cancel the play was made independently of the College's transgender admission policy," the college said in a statement to HuffPost. "As a women's college with a long tradition of educating women leaders, Mount Holyoke College supports and encourages students to take the lead in establishing and governing their own organizations. The College encourages students to seek peer input through open discussion and to consider and respect all viewpoints in their decision-making process."
The school's annual performance on Valentine's Day is a fundraiser for the V-Day campaign, a nonprofit that works to end violence against women and girls globally. The Vagina Monologues was written in 1996 by Eve Ensler, who founded the V-Day campaign. Ensler's play has been translated into 48 languages and performed in 140 countries, according to the V-Day campaign.
The college said the student-run Project Theatre sought input from students on campus in November as the membership considered whether to continue performing the play. The students had the Mount Holyoke dean of students distribute an email on its behalf to collect input from fellow undergrads about the play and its continued production.
"As a student-run group, Project Theatre makes all decisions about production, content and performances," the school continued.
At Columbia University in 2013, a student group created its own Vagina Monologues controversy in an attempt to be more inclusive of marginalized communities when it decided to only feature women of color in its cast. The intent, students said at the time, was to create "a space in which the voices, stories, and experiences of women of color can be heard, acknowledged, and addressed."
Related
Popular in the Community