BEDFORD HILLS, N.Y. -- Elisia Dones, 59, gazed out the window of the bus as it passed Bedford Hills Correctional Facility, New York's only maximum-security prison for women, and made a left turn.
The scene in front of her was familiar. Dones spent 1982 to 2003 at Bedford after being convicted of murder in the second degree. Some years, she sang in the inmate talent show, belting out Michael Bolton's "When I'm Back On My Feet Again." Now, she was returning to prison voluntarily -- this time to perform in "The Vagina Monologues."
Dones was one of three formerly incarcerated women cast alongside actresses and activists to perform this past Wednesday at Taconic Correctional Facility, the medium-security women's prison across the street from Bedford. The benefit production was a local effort within V-Day's One Billion Rising Campaign to end violence against women. Eve Ensler, the playwright and Tony Award winner who wrote "The Vagina Monologues," accompanied the cast as a guest.
Dones, who now lives in the Bronx, said she believed the themes of the iconic feminist play would resonate with the women. "If you watch them, there will be tears that sneak out of a lot of their eyes," she said.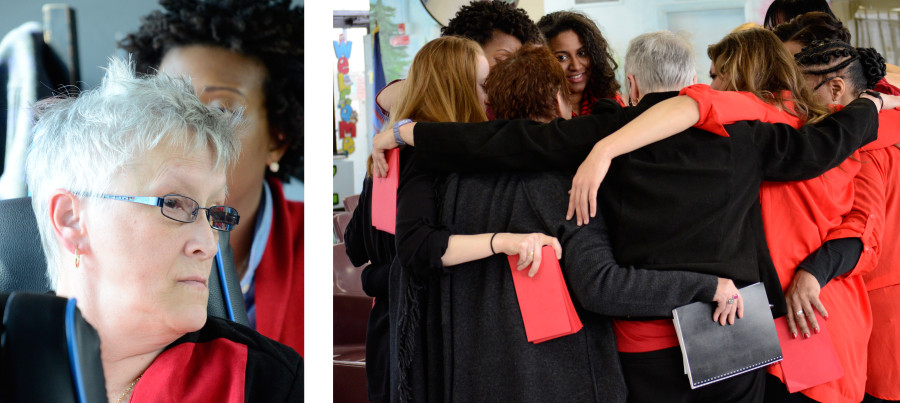 Elisia Dones (left) was incarcerated for 23 years at Bedford Hills. At right, the cast has a group hug before performing "The Vagina Monologues."
Ensler's play, for those not in the know, is a series of monologues about the vagina, based on interviews the playwright did with more than 200 women. The work, which premiered in 1996, explores such topics as menstruation, feminine grooming, orgasms and childbirth, as well as more difficult subjects like child abuse, sexual assault and rape as a weapon of war.
"The women's stories in 'The Vagina Monologues' are the stories of many women in prison," said Elyse Sholk, who produced the play at Taconic with Elizabeth Mackintosh. "Most are victims of gender-based violence, and more often than not, protecting themselves against this very same violence is what led to their incarceration."
According to a 1999 report by the federal Bureau of Justice Statistics, 57 percent of women in U.S. state prisons had experienced physical or sexual abuse prior to their incarceration. A separate 1999 study that looked at Bedford found that 94 percent of the women studied had experienced physical or sexual abuse, 82 percent had been physically or sexually abused as children, and 75 percent were survivors of domestic violence.
Mackintosh said that due to the slow-moving prison bureaucracy, it took a full year to get approval to bring "The Vagina Monologues" to the facility. "With the lack of women-centric programming at Taconic, we felt it was important to start the conversation with Ensler's play," she said.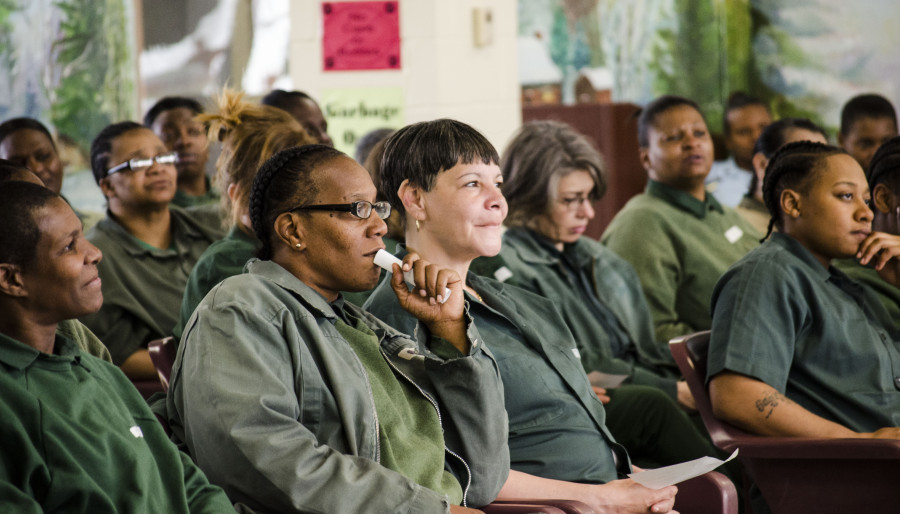 Women at Taconic Correctional Facility watch a performance of "The Vagina Monologues."
The production was held in the visiting room. With its vending machines and colorful murals of children flying kites, the room resembled a high school cafeteria. But someone looking out the window would have seen 20-foot fences topped with three rows of barbed wire.
The rate of women incarcerated in the U.S. has risen precipitously over the past four decades. In 2013, approximately 111,300 women were in U.S. prisons, an increase of 900 percent since 1977. According to the Sentencing Project, the number of women in prison is increasing at nearly double the rate of men.
With a capacity of 390 women, Taconic houses about 15 percent of New York's female prison population. Over 60 percent of women in New York state prisons are women of color, even though they make up only 35 percent of the state's female population. At Taconic, 43 percent of the inmates are black, 38 percent are white and 16 percent are Latina.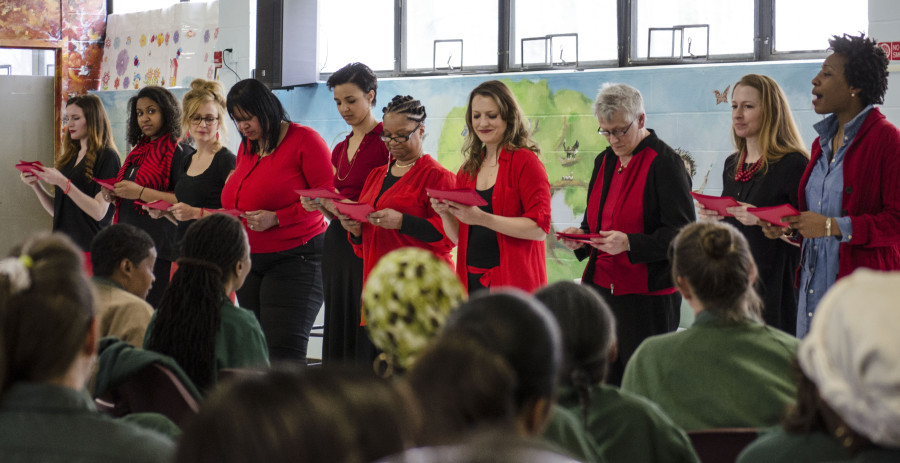 The cast included three formerly incarcerated women, as well as several actresses and activists.
Some of the monologues were particularly apt for the incarcerated population. One, called "My Angry Vagina," describes the dehumanizing aspects of gynecological exams.
"Why the scary paper dress that scratches your tits and crunches when you lie down, so you feel like a wad of paper someone threw away?" the actress says. "Why the flashlight all up there like Nancy Drew working against gravity... the mean cold duck lips they shove inside you?"
Still, despite the seriousness of much of the play's subject matter, the overwhelming reaction from the audience was laughter. Throughout the show, the women dissolved into fits of giggles and chatted among themselves privately.
"Thank you," said one woman during a Q&A session after the show. "I don't know the last time I laughed."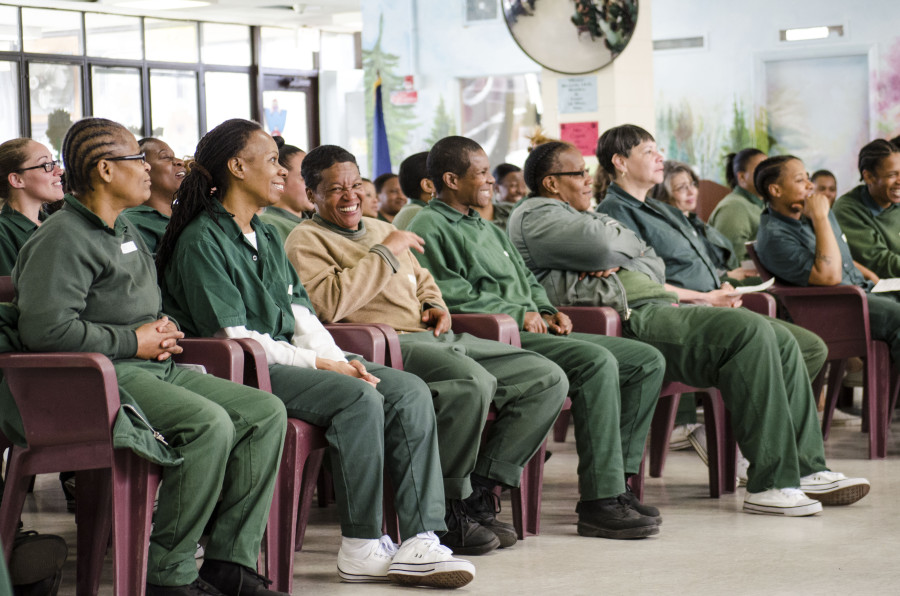 The audience found the play very funny at times.
After the show, the cast introduced themselves. When the audience learned that Dones used to be incarcerated, they applauded wildly. "It gives us hope!" one woman yelled. "God bless you!"
Another woman said she was moved by how the play tackled the diversity of the vagina. "It touched me," she said.
Josie Whittlesey, an actress who runs a theater program for incarcerated youth in New York City, said that in her experience, simply bringing outsiders into prison facilities can help those on the inside feel better. "Incarcerated populations are incredibly isolated," she said. "Anything that can be done to facilitate human connection is rehabilitative and can be healing."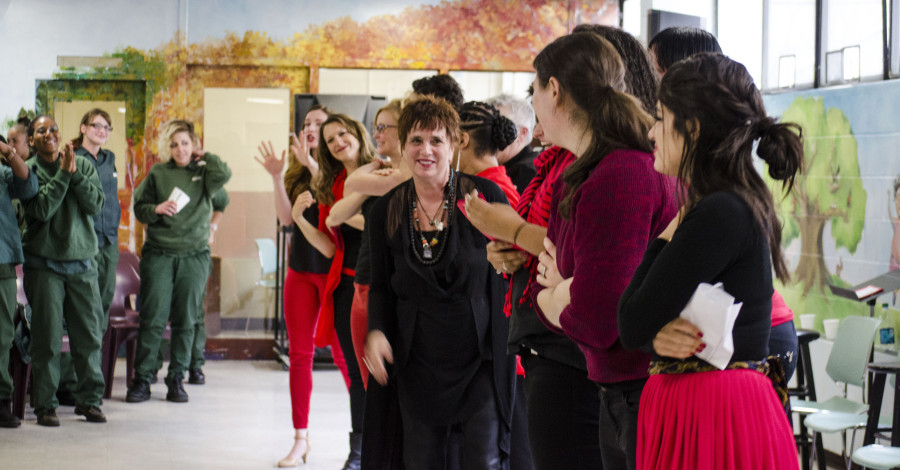 Eve Ensler, who wrote "The Vagina Monologues" in 1996, stood with the cast of Wednesday's performance.
Ensler offered some closing remarks at the urging of one of the inmates.
"We are here today to say 'We see you, and you mean something to us,'" she said. "When you are in here, clean out the stuff that's in you. Write, paint, start a dialogue with yourself. When you get out, it'll be easier."
Ensler told The Huffington Post that she hoped the play could help the women break the silence on sexual violence in their own lives.
"Violence -- once it's happened to you, you are a prisoner of it. As a survivor, I didn't feel my life was my own. Things were just happening to me. I didn't have control," she said. "I think the path to transformation and liberation is to articulate what has gone on in your life and bring some consciousness to what happened to you."
She said that she does not support the prison system at all. "We have systems that don't look at the origins of crimes," she said. "I don't see how brutal structures of incarceration are doing anything but creating more violence."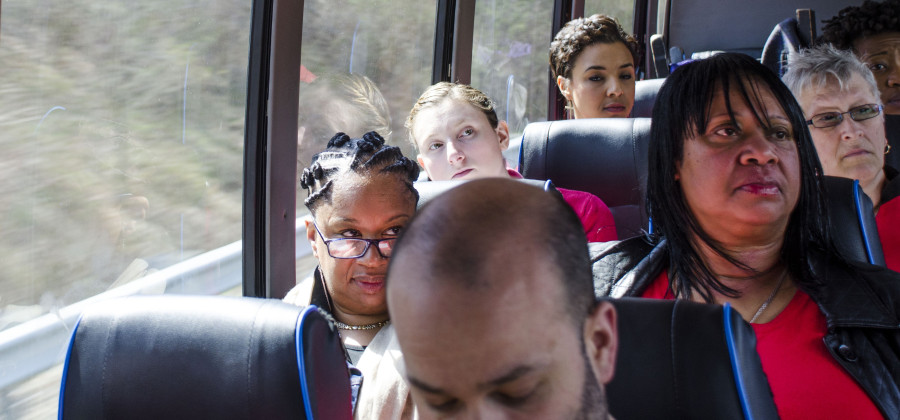 Sharon Richardson (left) sits next to Rhonda Covington.
On the bus ride home, Sharon Richardson and Rhonda Covington, who had both performed that day and who had each spent more than 20 years in prison, reflected on the experience. Richardson said it felt good to entertain the women and take their minds off the reality of incarceration for a few hours. "Being inside, it's like being cut off," she said. "But in that moment [witnessing a performance], you are back to a time where you are not in prison."
"It was amazing to see the excitement on the women's faces," Covington said. "It was more amazing that we were able to walk out."
Support HuffPost
The Stakes Have Never Been Higher
Related
Popular in the Community