Parents-to-be now have a new way of connecting with their unborn babies. Introducing Babypod, a small speaker that pregnant women can insert into their vaginas to play music for their uterine inhabitants.
Put simply, Babypod is more or less a "musical tampon" that lets fetuses listen to music or other sounds in utero.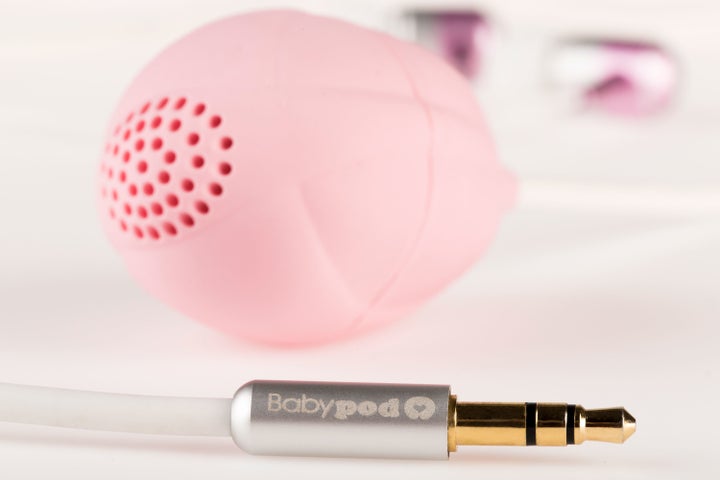 Developed in Spain, Babypod was inspired by research from Institut Marquès, a Barcelona-based medical center focused on gynecology and assisted reproduction.
Dr. Marisa López-Teijón from Institut Marquès told The Huffington Post that her team studies the influence of music on embryonic and fetal development."We've conducted a study showing that musical vibrations increase the chances that the sperm fertilizes the egg, i.e. that music improves IVF," she said.
Having found better results in in-vitro fertilization through musical vibrations for embryos, the researchers decided to apply their idea to fetuses.
López-Teijón and her team placed speakers on pregnant women's abdomens during ultrasounds but found no fetal reaction. "In fact, gynecologists had never observed in an ultrasound a change on the fetus as a reaction to external noises or the voice of the mother," the doctor explained.
"We decided that we had to bring closer to them the source of sound," she continued. "We had to bring the background music into the uterus. And I had the idea of inserting a speaker in the vagina of pregnant women."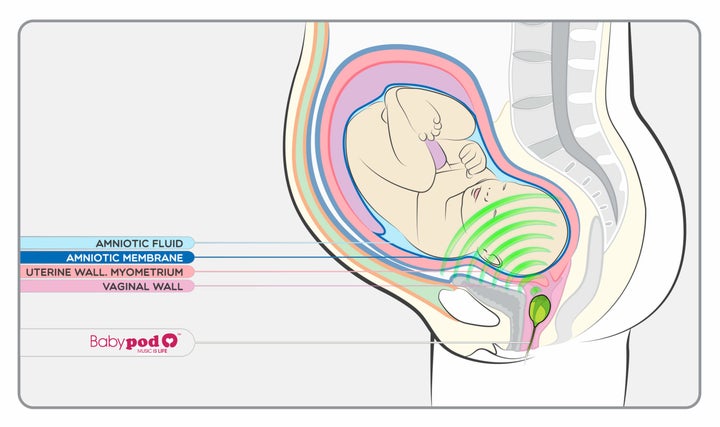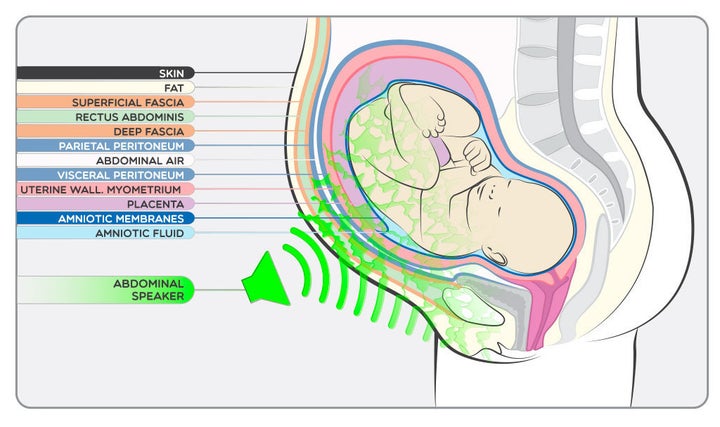 For three months, the team evaluated 106 expectant mothers and their unborn babies' reactions to intravaginal music. "We were pleasantly surprised to see the excitement of parents during ultrasound sessions to see the spectacular images of face, tongue and mouth movements of their babies,"López-Teijón said, adding that most patients wanted to repeat the experience and many more parents-to-be requested to participate.
López-Teijón added that they observed no adverse effects on the health of the mother or baby.
With Babypod, parents all over the world can try the experience for themselves.
"Pregnant women are excited to have the chance to communicate to their babies in a safe and effective way," Babypod cofounder Luis Pallarès Aniorte told HuffPost, adding, "They want to provide the best for their children even before birth."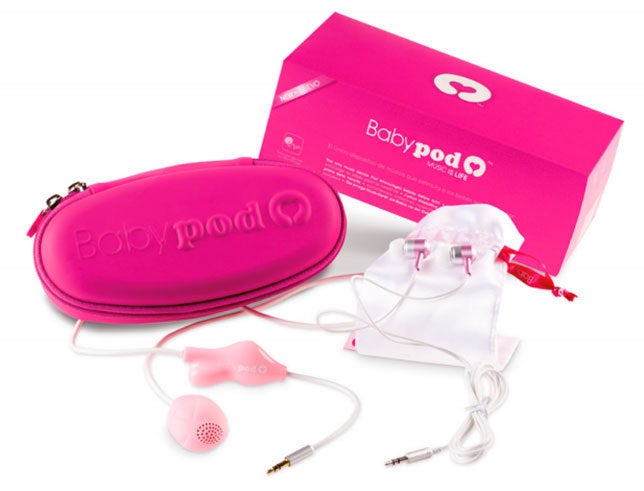 According to Pallarès Aniorte, Babypod can help wake fetuses and induce movement during ultrasounds, which could make these appointments more effective and efficient. The speaker device can also help babies connect with their mothers' voices and develop early language skills.
"Furthermore, we're all excited about the potential of Babypod on the screening of fetal deafness, and on early neurological stimulation," he added.
In December, a group of expectant mothers in Spain attended a special "concert for fetuses" to promote Babypod. Each mother was outfitted with one of the devices and serenaded by singer Soraya Arnela.
Babypod is available online and in stores in select countries. Pallarès Aniorte told HuffPost that the product has been sold to thousands of women in the U.S., Spain, India, Germany, the U.K., Australia, Japan, France, Sweden, Brazil, Peru and more.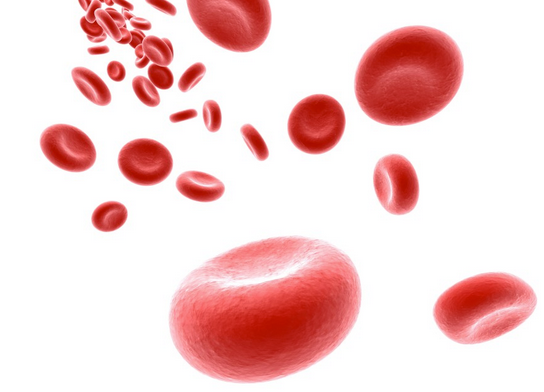 7 Awesome Things Your Body Does During Pregnancy