Even as a child growing up in Canada, Valérie Rousseau was always attracted to outliers. She somehow always felt the need to have multiple perspectives around her, and she always wanted to hear new and different voices. She was also constantly arranging and rearranging the pictures on her bedroom walls. Though she would formally arrive at her profession via a peripatetic route, both curating and seeking out what she characterizes as the 'untold story' are deeply intertwined into the very fabric of her work. Valérie Rousseau is now curator of 20th-century and contemporary art at the American Folk Art Museum in New York City.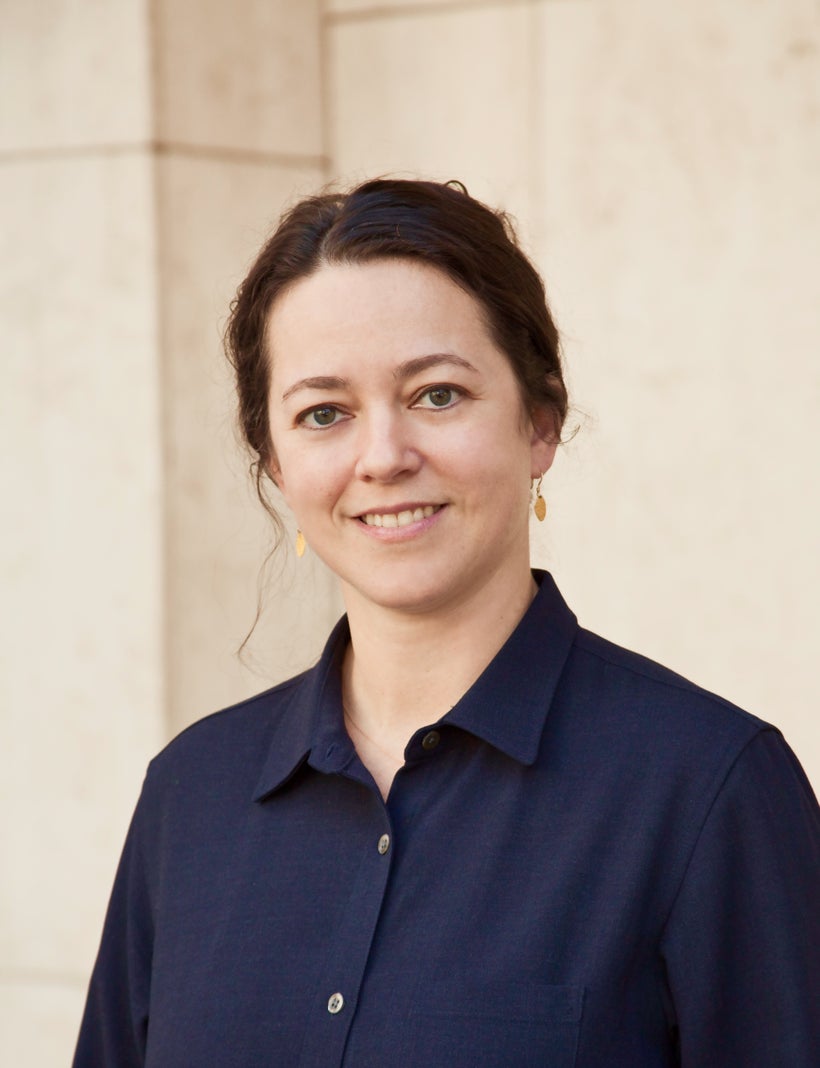 But what exactly does Rousseau mean by the 'untold story'?
"It is a term I heard photographer and historian Deborah Willis use in a recent conference," Rousseau explained. "Willis is interested in photographing and documenting stories about subjects that have been left out of our collective discussions, and once you see them, you realize what has been missing in a dialogue. That is what I mean by the untold story. Something that is brought forward once you actually see it."
Perhaps Rousseau got a head start in recognizing and appreciating these untold stories because she was raised to pay attention to details. Her paternal grandfather, who was an ethnobotanist, inspired his granddaughter to engage with an object or a subject at a 360-degree angle.
"My house was the first museum I ever visited," Rousseau shared with me, "because my grandfather worked with the Native American and Inuit communities I was exposed to the life of Native Americans and Inuits from a very young age. From his notes it was clear my grandfather insisted that one needs humility in approaching an object, and one needs time to forge your eye. In addition, my mother was a trained textile and glass artist who often had her students coming to her studio for drawing lessons. I learnt to really look for what was, and was not there, from my mother as well as from her father who was an accomplished woodcarver."
While in high school near the small town of Saint-Jean-Port-Joli, in Quebec, Canada, where she was born and grew up, Rousseau became very interested in pathology and medicine. "It was all quite fascinating, and now, as I think about it, I see that some of that early interest in science has found its way into the work I do as a curator. I really liked looking through a microscope at things. I liked looking for the clues. I liked how democratic and almost detached your eyes have to be to really see what you are looking at. I utilize a lot of those skills in my job as a curator today. There is a very scientific aspect to curating and I think it helps you to second-guess and reanalyze previous analysis. I find that I always have to go back to the very beginning of any project that I am engaged in, and I am extremely detailed."
Valérie Rousseau would go on to graduate from the University of Montreal with a degree in history and art history. She completed a master's degree in art theory, and a Ph.D. in art history from the University of Quebec in Montreal. She also holds a master's degree in anthropology from the School of Advanced Studies in Social Sciences in Paris. During her studies, she fell in love with folk art and outsider art and knew that these would be the subjects of her advanced studies. She sees the work that she does – bringing to light the work of both folk art and outsider art – as very much in keeping with that of telling untold stories.
As Rousseau sees it, "the least represented in the art history narrative are people with mental illness, people with disabilities, the elderly and other marginal people who are often the artists classified as 'self-taught, brut and outsider'. Oftentimes these individuals do not self-identify as artists and so they do not have a collective voice. They remain among the most marginalized and unexplored in the art world today. I am very committed to bringing to light art from these individuals and share their views."
As such, she became intrigued by artists who made complex life-long objects and her focus for a long time was the study and conservation of outsider art environments. She found that both these artists and their art are heavily undocumented and she ended up founding an organization in Canada to create a database on these non-mainstream artists and art environments. The goal of the Société des arts indisciplinés, a nonprofit research and documentation organization based in Montreal, was to archive the work of outsider, folk and self-taught artists.
Since 2013, Valérie Rousseau has worked primarily as a curator and exhibition maker. Indeed, it was while she was curating an exhibition in New York that she joined the team at the American Folk Art Museum in Manhattan.
Founded in 1961, the American Folk Art Museum has wide horizons. In addition to show-casing American art, the museum also displays art from all around the world. "We privilege," says Valérie Rousseau, "an artistic approach in our exhibitions and we like to provide a cinematic view of the artist's practice. We also want to situate these works within an international context."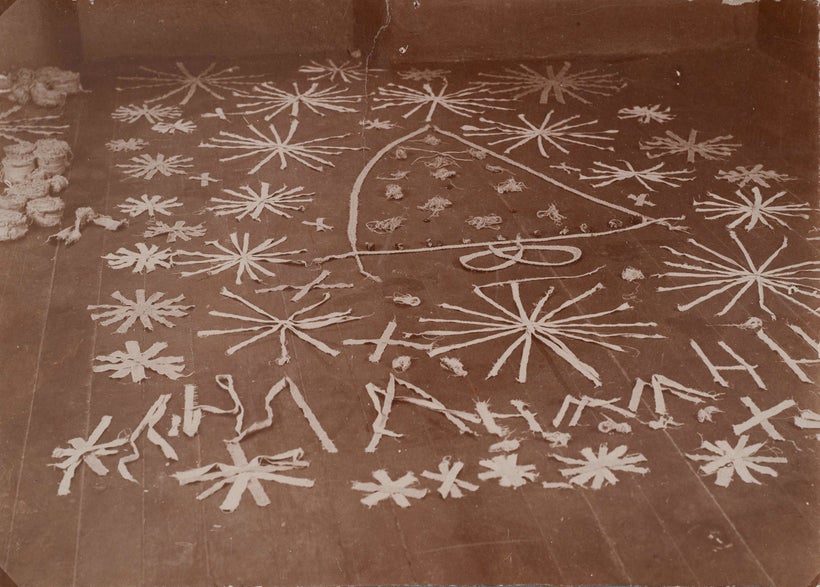 Perhaps the exhibition she has curated that has resonated the most, to date, was When The Curtain Never Comes Down, an exhibition about self-taught performance artists. The idea was to capture practices that were ephemeral and hard to document. The work within that exhibition that got the most attention was that of a woman in a mental institution in Heidelberg, Germany who laid out bands of fabric from torn bed linen on the ground that consisted of star shapes and floral shapes. All that has survived of Marie Lieb's work are two photographs. "Why don't we know more about her?" Rousseau asks, then answers her own question. "Because Lieb is a woman, and she was in an institution, and the work is ephemeral so there were no collectors. In the exhibition, we created life-sized prints on fabric of two of her known pieces. It was very moving to be able to include replicas of her work in the exhibition. Marie Lieb's inclusion in the exhibition points to all the work that is still waiting to be done, the work hiding out in places like mental institutions, the untold stories that are still waiting to see the light of day."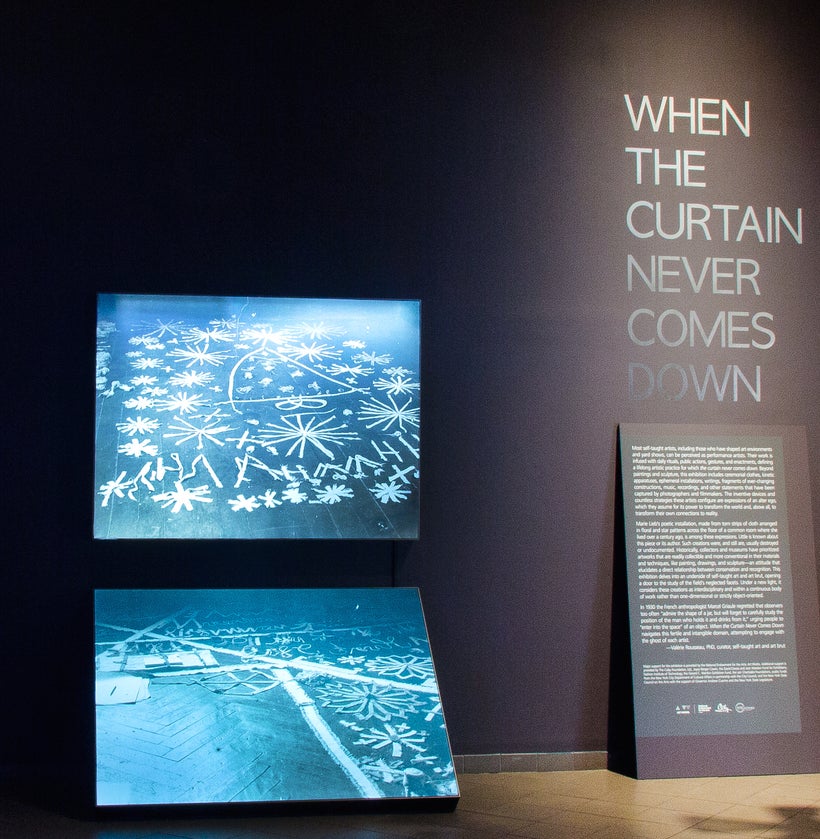 So, what then is Valérie Rousseau's advice to someone who wants to be a curator, particularly of outsider and self-taught work? And where does she see the field of outsider and folk art going?
As a curator, Rousseau believes that it is good to be exposed to a wide range of arts as part of a process to challenge her perceptions and assumptions. Furthermore, for Rousseau, the museum of the twenty-first century is and should be more inclusive to better translate the complexity of our society. "My daily inspiration are the artists I meet and I find it stimulating to take a closer look at their works. I also think it is important to access primary source materials, to conduct interviews and to listen to others. Outsider artists constantly force us to redefine what is considered the art historical canon. It is worth looking at their artworks for themselves. This is a voice that is more needed in our institutions. This is a field with an enormous future."
Photographer unidentified, installation by Marie Lieb with torn strips of linen on the floor of the psychiatric hospital where she lived, c. 1894, 4 1/2 x 6 5/16", color photograph, Collection Prinzhorn, University Hospital Heidelberg, Germany. © Collection Prinzhorn.
Installation view of the exhibition "When the Curtain Never Comes Down," American Folk Art Museum, New York, 2015. Photo by Olya Vysotskaya. © American Folk Art Museum.
Calling all HuffPost superfans!
Sign up for membership to become a founding member and help shape HuffPost's next chapter
This post was published on the now-closed HuffPost Contributor platform. Contributors control their own work and posted freely to our site. If you need to flag this entry as abusive,
send us an email
.