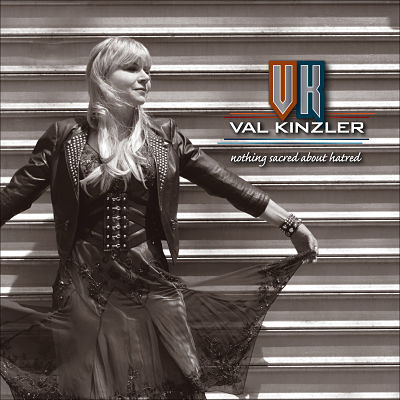 "There is a spiritual theme to this record. We were all working really hard, getting ourselves out there, playing the clubs, developing our chemistry. But one day I was sitting at my dining room table just teary eyed - I was about to give up, I was losing my faith. The day before I had found two bibles in the trash - and I brought them upstairs thinking somebody's gonna need a bible, right? It's not like I'm a holy roller, but I am spiritual. Then I thought, 'damn it I'm gonna throw these bibles back in the garbage!' Suddenly the phone rang and it was Tate Records asking if I'd got the contract they'd sent. Contract! What contract? For some reason their email with the contract had gone to my spam folder ---and I took that as a sign, that you gotta have faith!" Val Kinzler
"There is the faith in yourself as an artist, the faith in the power of rock 'n' roll, the faith borne of experience, and the faith in the music. Life is a learning experience. In music, you either have it in your soul, or you're constantly trying to find it. I always felt that it was a given with me. My father was an incredible musician. I grew up listening to Count Basie, Henry Mancini...that swing and that groove has been in me since I was six years old. And man, I fell in love with the bass... ta-da-da-dum...da-dum, ta-da-da-da-da dum...that was it!" Joe Vasta Jr.
Faith! That which is defined as fidelity to one's promises, allegiance to a duty or a person, and sincerity of intentions. The "faithful" were on stage and in the audience at the legendary Bitter End on Bleecker Street as Val Kinzler and her band officially introduced their debut album, which is aptly titled for the times we live in: Nothing Sacred About Hatred, out now on Tate Music Group (www.TateMusicGroup.Com).
Akin to all the great bands from this city past and present, the Kinzler collective is indeed the sum of their parts -every player in this band is exemplary. Which is why the younger musicians at the Bitter End studied their every move - musically and physically. As an invited guest to their rehearsal space on the West Side of Manhattan where music legends once roamed before Wall Street paved paradise and put up luxury condos and over-priced parking lots, a truly New York rock 'n' roll story unfolds.
Growing up in Queens, young Val Kinzler absorbed the music of her older male siblings, spanning Frank Zappa, Janis Joplin, and Black Sabbath, among others. "I instantly fell in love with Creedence Clearwater!" she recalls as if it were yesterday. "I started playing piano when I was five and dreamed of composing like the Beatles, Burt Bacharach, Patsy Cline, Johnny Cash, and Hank Williams. I was continually inquisitive on how to craft a song - solving that puzzle." By the age of fifteen Val was on stage with The Sirens, an all-girl ensemble which worked the local circuit.
As is the roller-coaster life of a rock 'n' roller, various development deals never quite materialized, bands of varying success came and went, yet Val's passion and persistence led her to study music at the esteemed Berklee College and Queens College. Diving head first into the New York City scene, which is among the most diverse in the world, she honed her performance and songwriting chops with ensembles that embraced punk, hard rock, metal, spoken word, blues, soul, avant-garde, and every permutation thereof, even backing such artists as Dr. John and Popa Chubby. She counts the great producer, promoter Sid Bernstein among her personal mentors and supporters. For younger readers, Sid was the guy who thought it would be a good idea to bring the Beatles to America. And he followed that up with the Rolling Stones, the Moody Blues, the Kinks...
Enter Joe Vasta Jr., one of New York City's premiere bassists renowned for his work on stage and in the studio as a member of the fabled Mink DeVille - including such seminal albums as Coupe De Grace / 1981, and Where Angels Fear to Tread / 1983. Joe's collaborations of note also include Billy Idol, Ronnie Spector (Siren / 1980), John Waite, and Joan Jett among others too numerous to mention, in addition to his significant contributions on scores of session dates and gigs. Trust me, if you have ears and you love rock 'n' roll, you've heard Joe Vasta Jr.
Val emphasizes "it all started when Joe came to hear me at the Grand Victory with my past band - which was more punky, theatrical stuff. I was overplaying, over singing, over working. Joe recognized the gem that needed to be polished. He told me flat out 'listen you got a lot of spirit, spunk and stage presence, and you can write...but..."
At first sight, Vasta knew that Val needed a band that put the singer and the song foremost - just like he had done with the above referenced icons with whom he toured, recorded, and made rock music history with. Joe preaches "music has nothing to do with how fast you can play...it's about what you are playing, does it make sense? You can't get away from the truth -the truth of a live performance, the truth of musicians playing together, the truth of a live voice. Today you hear all these so called 'divas' howling. I want to hear the voice! I want to hear where it is coming from, I don't need to hear what people are trying to put on top of it...I want to hear the truth!"
As you would expect from a bass player and arranger, Vasta, in his own words "started from the bottom up" recruiting his long-time rhythm section colleague Jon Ihle to fill the drum chair for the album sessions. Ihle, who turned pro before he could shave and is also multi-instrumentalist, producer, singer, and composer in his own right, possesses an encyclopedic knowledge and deft command of rock, prog, soul, blues, jazz, funk, punk, polka, country, folk and a few genres that haven't been invented yet. Which is why he has spent his life on the road and in the studio with artists who have forged music history including Ian Lloyd, John Ford (Strawbs), Michael Brown (Left Banke), Chuck Berry, The Drifters, Bo Diddley, The Crests, The Righteous Brothers, The Crystals, and The Marvelettes to reference a very select few.
Says Ihle "I met Joe on Staten Island years ago, I was auditioning guitar and bass players ...we were so young, Joe showed up with his Rickenbacker and a big Afro! We became friends and Joey would call me for projects over the years. I'm really playing in-the-pocket on this album. Val is an incredible lyricist, I love her flowing lines, her choices with melody. She's also a killer harmony singer with herself. Val knocked out a lot of the vocals you hear in one take. We had a blast making this record, and it shows."
Guitarist David White, who has worked with The Hollies and Stumble Bunny among others, agrees with Vasta regarding Val's previous incarnation. "Too much shredding!" he bellows from his rehearsal studio perch. In the same mindset and approach as Vasta and Ihle, White is the consummate ensemble player. To my ears David is also a finesse player in the manner of Steve Cropper, Mick Ronson, Phil Manzanera, and Chris Spedding -his motifs leave space for the songs to breathe and the rhythm section to groove. His solos knock you out within a few bars - no filler, and every note rendered has a purpose. Vasta interjects "David is a veteran, his musicality blows me away."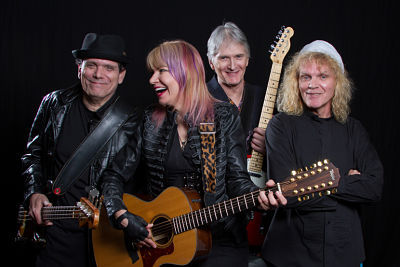 Due to music business machinations beyond my understanding, the foursome actually cut this quintessential New York City record in Oklahoma City, which is approximately 1400 miles from Bleecker Street. Vasta didn't give it a second thought until it was time to go. "What? Oklahoma City! At first I went nuts, I wanted to jump in the river, then I thought, well, life is a learning experience..."
White emerges as voice of reason. "It was fun! It had a positive physic effect on us. We were all living in the same place. In truth, we could have spent a month in New York making this record and it could have sounded like crap. There are so many distractions here. Going to the Midwest gave us the opportunity to focus on what we were doing. It was kind of a sanctuary."
By way of their swagger and traditional rocker swag, the Oklahoma City locals presumed that the band members were international stars. Val laughs "when we went to the Sonic (a classic fast-food restaurant chain), they gave us a ton of coupons! Of course, we gave them to the engineer."
Determined to make the best of their unfamiliar environs, the band encountered a few power blackouts in Oklahoma City, however Ihle came to the rescue. "I was comic relief through all the tension," the drummer reveals. "I began singing the fake folk tunes from the mockumentary film A Mighty Wind. Then I'd break into a real bad Oklahoma accent....it made the down- time go quicker..."
And with engineer Guy Prier, whom the band universally lauds, Val and company were able to capture the energy of a live gig in the studio in all of four days. Listening to the song-cycle that is Nothing Sacred About Hatred strikes me as simultaneously classicist and modern: strong melodies, cinematic meaningful lyrics, a rhythm section that can swing, rock, and groove as the composition warrants, and vocals as big as the city Val represents: it's the Brill Building meets the Lower East Side.
As for the timely title track, which kicks off the album, Val relates "it's a song with a universal concept, a universal message, something that is going to resonate." Vasta interpolates "it covers all the bases, musically, rhythmically, lyrically...it's perfect! What's the word I'm looking for? What? Help me out here. You know..."
No assistance regarding "the word" is forthcoming from Vasta's colleagues. Silence ensues. Vasta ponders and blurts: "Orgasm! Listening to this song is like having an... orgasm!"
Val Kinzler's Nothing Sacred About Hatred is available now on Tate Music Group www.TateMusicGroup.Com
Album photographs and design by Beth Wilson of Wilson Ink
For more information about the Val Zinzler band, go to www.ValKinzler.Com
The Val Kinzler band is live at Pianos 158 Ludlow Street, New York NY on Friday, January 8, 2016,
at 9:00 PM (The $10.00 admission includes a digital download of Val Kinzler Nothing Sacred About Hatred)
To purchase the album go to: http://www.tatemusicgroup.com/store/album/847726036759/nothing-sacred-about-hatred-by-val-kinzler
Calling all HuffPost superfans!
Sign up for membership to become a founding member and help shape HuffPost's next chapter