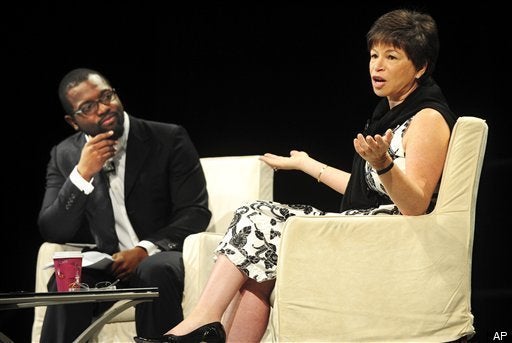 One year ago at the Netroots Nation conference in Austin, Texas the mood of the crowd was one of excitement and elation over the possibility of a Barack Obama presidency.
A year later, with that possibility achieved, a sense of cynicism has begun to creep in. On Saturday morning, one of the president's closest advisers, Valerie Jarrett addressed the Netroots Nation conference in Pittsburgh. And while attendees were largely supportive throughout the question and answer session, the reception was warm at best. The defining moment, in fact, came when Jarrett was hissed and heckled.
Roughly midway through the session, Jarrett was pressed to explain why the President was "continuing so many of [Bush's] policies many of which he criticized as candidate Obama." Knowing the mood and makeup of the audience - largely progressive activists from across the country - she acknowledged off the bat that it was "a fair question." But from there, things grew a bit rough.
Jarrett defended the work Obama has done outlawing torture, and releasing Office of Legal Counsel memos detailing how such interrogation practices came to be. At that point, a protester in the audience screamed out a question about why the White House was trying to keep additional photographs of detainee abuse from becoming public.
"I heard somebody shout out about the pictures," Jarrett replied. "Everybody knows what's in those pictures. And this is where it gets very delicate and I know it is a touchy subject for this audience. But what he is trying to balance as president, is keeping us safe, not giving ammunition to people who already have ample ammunition from what they've seen before to be adverse to us."
More shouts and protests followed. "I can't hear you," Jarrett said. "You know what you've got to do? You've got to figure out a way to get your question on here [pointing to the computer on stage that was receiving emails from questioners]. We are not going to have shout outs from the audience."
The moderator agreed. "This is not a town hall meeting like that," said Baratunde Thurston, of Jack and Jill Politics and The Onion. The crowd got the reference to the boisterous demonstrators at health care town halls. But they didn't stop. From the back of the room, someone shouted a question about why the private security contractor, Blackwater, was still being paid for work overseas.
"Well we are certainly trying to get rid of the no bid contracts," said Jarrett. "He has been very clear about that."
A group of individuals sitting at a table off to the side started hissing. "I hear the frustration and I hear the kind of hissing," said Jarrett. "I hear you. Settle down over there, settle down."
"I'm asking you to trust [the President]," she pleaded. "And I know that's hard. Because I know how pure you are to the cause. But he also has to keep in mind that he has to keep those folks safe."
At that point the protests ended. It was a minor glitch in an otherwise smooth, albeit little news making, a four minute portion of an hour-and-fifteen minute long event. Still, it provided something of a window into the small but mounting frustrations the progressive community has with the president they helped elect.
Ironically, when it came to policy questions, Jarrett hit all the right notes for the audience. On a public option for insurance coverage, which progressives hold near to their hearts, she insisted that it was and remains a philosophical commitment for the president.
"Let me be very clear and I talked to the president yesterday about this, knowing I was coming here," said Jarrett. "The president wants the public option, he has made that clear everywhere he has gone."
On Don't Ask Don't Tell and the Defense of Marriage Act - two places in which the administration has taken some heat from its more liberal backers - Jarrett was firm in saying the White House wanted both laws repealed.
"He believes that DADT is wrong and he attempts to seek repeal in Congress," she said. "He believes the DOMA discriminates."
In fact, the only other place Jarrett got tripped up was when the topic, once again, turned from policy to politics. Asked by Thurston why the administration didn't push back hard against Blue Dog Democrats for not backing the president's health care agenda, Jarrett tried to play diplomat rather than offer the type of aggressive, red meat response that the crowd wanted to hear.
"I know that obviously that hit a note here," she said. "And, I know that there is a lot of frustration here and around the country. I'm telling you, I'm convinced this President has it right... He is not one to punish or do any of the things that perhaps you want to do in a moment of spontaneity or a moment of anger. But he is going to count on you. He is going to count on the American people to put the pressure on their elected representatives because that is the way the system works the best. It doesn't work the best when he decides to punish them from the Oval [Office]."
The crowd clapped softly. "Not quite as much applause [as the question got]," Jarrett said. "But trust me, this will work."
REAL LIFE. REAL NEWS. REAL VOICES.
Help us tell more of the stories that matter from voices that too often remain unheard.