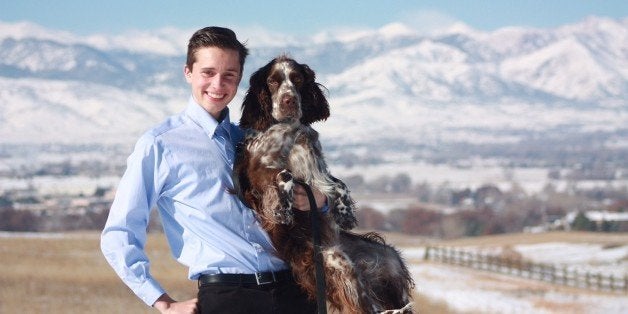 A high school valedictorian is getting a chance to deliver his graduation speech at a fundraiser for an LGBT group -- after his school forbade him to give it at his graduation.
"The central message of my speech was that you must learn to respect people even if you disagree with them, a lesson which I learned during my four years as a student at Twin Peaks High school, and I thought briefly disclosing my sexual orientation in my speech would be the perfect catalyst for this discussion, " Young wrote in a statement read aloud by his father, Don Young, at a Wednesday afternoon press conference.
Young resubmitted his speech with most of the requested edits, but insisted that he still be able to state in the speech that he is gay, he told the Daily Camera.
But Young was forbidden from speaking at the event "to protect the solemnity of the evening and to preserve and protect the mission of the school," according to the school's statement, which says he "failed to follow the guidelines established by the school" and did not submit a revised speech.
Before the event, the school's principal, BJ Buchmann, outed Young to his parents.
Buchmann called Don Young, Evan's father, to inform him of the issues with an early version of his son's speech and mentioned that Evan was coming out in the speech, Don Young told the Daily Camera.
The teen's parents "had no indication beforehand" of their son's sexual orientation, Young added.
Mardi Moore, executive director of the LGBT advocacy group Out Boulder, told The Huffington Post it was a "highly irresponsible and dangerous move" for Buchmann to out a student.
"Luckily, Evan has really great parents," she said. Otherwise, the situation could have ended much worse. She noted that Boulder has a significant population of homeless kids who were kicked out of their homes for their sexual orientation.
Out Boulder asked Young to deliver his speech at a fundraising event Sunday. Moore, who saw the edited version of the speech, feels there is no reason he should not have been allowed to deliver it.
"It was more than appropriate," she said. "It was funny — he's a very witty young man."
She added that none of Young's references to being gay were sexually explicit in any way.
"If more young people were to be able to embrace who they truly are, then the world would be a better place and schools would be safer," she said.
Don Young told the Daily Camera that he while he can understand the school's position, he feels administrators mishandled the situation. Evan and his family were only told a few minutes before the ceremony that Evan would not be speaking and would not be recognized as valedictorian, according to the newspaper.
"The kid worked hard for four years," Young said. "Straight A's and everything else. He wasn't even recognized."
Twin Peaks Charter Academy did not return a request for comment from HuffPost.
Evan Young wrote in his Wednesday statement that he was neither angry nor bitter, and did not want personal publicity. He said the reason he brought the issue to the media was because he hoped his story could inspire LGBT students and others who may feel differently.
"I want them to know they should not be ashamed of who they are," he said.
This article has been updated to include Evan Young's statement.
Popular in the Community